Tiny Flying Robot Musicians Play the 007 Theme (Video)
Wow, U Penn does really cool stuff with robots. A few weeks ago, it was autonomous bots playing hockey against one another. Now, it's a band of flying quadrotors programmed to play the guitar, piano, maracas, cymbal and drums, together producing the James Bond theme song. The incredible video below was presented at the TED2012 [...]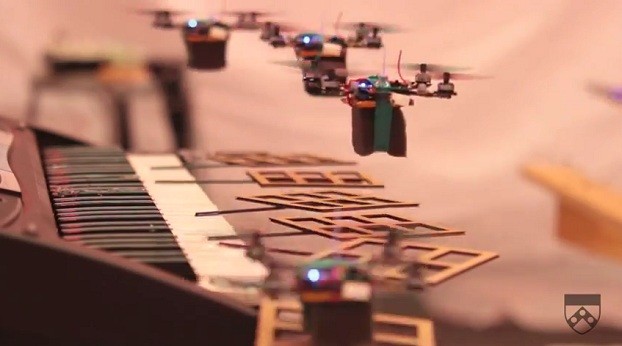 The pianists. Image via YouTube screenshot.
Wow, U Penn does really cool stuff with robots. A few weeks ago, it was autonomous bots playing hockey against one another. Now, it's a band of flying quadrotors programmed to play the guitar, piano, maracas, cymbal and drums, together producing the James Bond theme song. The incredible video below was presented at the TED2012 Conference today by Vijay Kumar of Penn's School of Engineering and Applied Science.
The quadrotors are the result of research by Penn's General Robotics, Automation, Sensing and Perception (GRASP) Lab. They are designed to move in unison and perform individual tasks, all while not hitting one another in flight. A few play the piano, others hit drums and the cymbal, a few more fly over a guitar to pluck its string.
Altogether, they make a pretty impressive band, and just might be cool enough to be Bond's next gadget, even if they're only there to keep the music going.