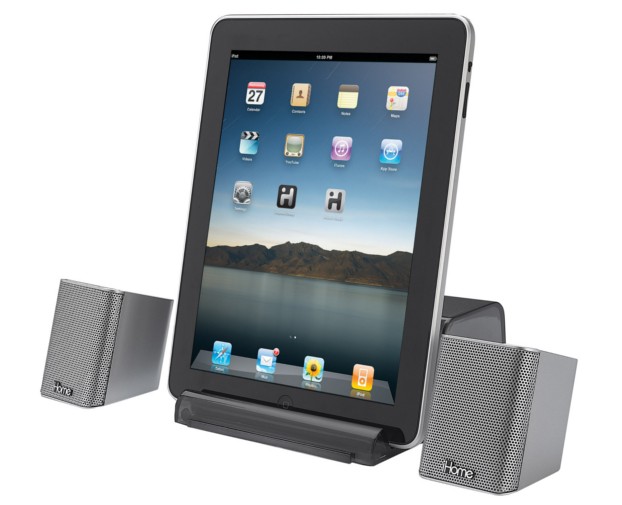 iHome Audio iDM15 Rechargeable Portable Bluetooth Speakers: $99.99
Somewhat reminiscient of the lead character in Rudy, iHome's new Bluetooth speakers are small and spunky. But first, a few words about their impressively multifunctional plastic case. Sure, it forms the perfect economical home for the silver trapezoidal speakers. But the case's top — which stores the two included wires — also acts as a stand for a tablet sitting in landscape mode. And the case's bottom attaches behind the top to give enough stability for standing up a tablet in portrait mode.
Wait, did we say "two included wires" above? Yup. Although the speakers are wireless up to about 30 feet from any Bluetooth-equipped music player, they need to be connected to each other via one of the wires for the oh-so-worthwhile stereo. The other wire has a USB jack for recharging the Lithium-ion battery housed in the powered (right) speaker and a 3.5mm jack for attaching the 3-Watt pair to any auxiliary audio source (no Bluetooth needed), such as a DVD player or laptop. The system can also be used as a hands-free speaker phone, but the iDM15's strength lies in blasting you out of your cube or filling a small room with tunes. Speaking of which, depending on how you adjust the built-in volume controls, you can expect to get between four and ten playing hours from a full charge.