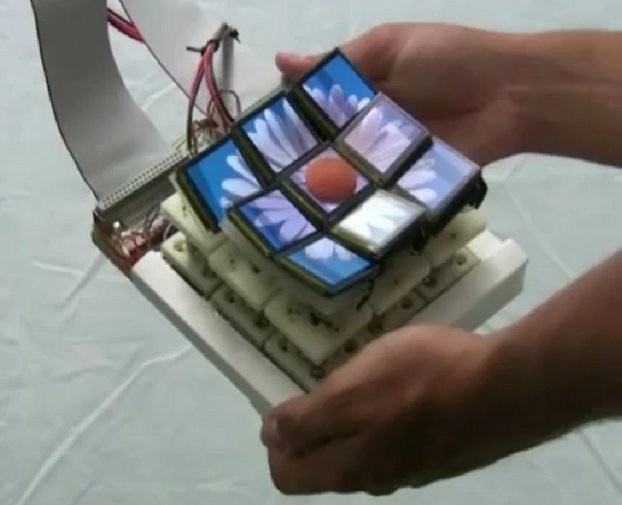 Whether for television or mobile devices, most 3-D displays have used autostereoscopic parallax barriers, such as liquid crystal displays, to give users a three-dimensional viewing experience.
However, a team of scientists, led by the University of Bristol, have chosen a different route. They've developed Tilt Displays, a new type of screen composed of nine smaller panels that physically tilt and contort to give the impression of depth.
BLOG: A 50,000-Megapixel Camera Points and Shoots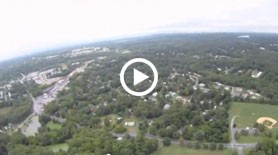 DNEWS VIDEO: IPHONE IN SPACE EXPLAINED
Collectively, its display surface is approximately half the size of a standard tablet, with each individual screen capable of tilting on one or more axes and moving up and down.
Imagine looking at an image of a soup bowl where the screen mutated itself into the shape of a bowl.
While Tilt Displays only exists as a three-screen by three-screen prototype, one could easily imagine a screen composed of tens, hundreds or even thousands of smaller individual screens capable of turning the surface into an undulating display full of tangible contour.
Researchers from the Bristol University's Department of Computer Science presented the the display in San Francisco this week at MobileHCI 2012, an influential conference in the field of Human Computer Interaction
(HCI).
BLOG: New Service Takes the Faux Out of Photos
"The ability to tilt
along multiple axes distinguishes our display from previous actuatable
displays. Such screen versatility opens a range of opportunities for
providing an additional integrated information channel to the user," Sriram Subramanian, Professor of Human-Computer Interaction in the
Department of Computer Science's Interaction and Graphics group and
co-chair of the MobileHCI 2012, said in a press release.
He added: "These opportunities include collaboration, terrain modeling, 3D
video that is beyond auto-stereoscopic 3D and tangible gaming. We can
imagine many scenarios that would benefit from the physicality offered
by Tilt Displays. However, we need to establish whether users can relate
to the new experiences and advantages of using such a device."
Credit: Bristol University