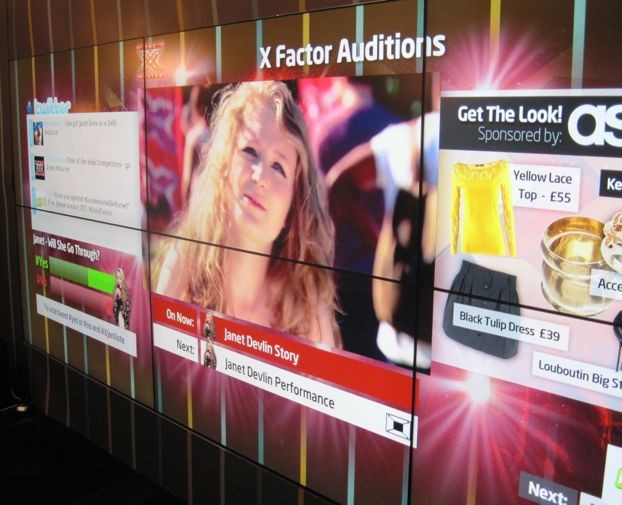 Here's one way to fit a big-screen TV into a not-so-big living room: Tile it with flat screens.
At the just-concluded Cable Show in Boston, interactive-TV developer NDS demonstrated an array of six LCD sets that it calls "Surfaces." Mounted flush with a wall, that sextet of screens functioned as a single display spanning almost 12.7 feet corner to corner, or some 54 square feet.
The Middlesex, U.K.-based firm (set to be acquired by the networking conglomerate Cisco later this year) went to that trouble to make two points about bigger TVs.
PHOTOS: Top Strange and Impractical Techs from CES 2012
One is how to construct them. Instead of fabricating ever-larger panes of glass — my colleague Scott Tharler notes that the current record seems to be the 145-inch giant recently unveiled by Panasonic — NDS proposes to combine smaller, cheaper screens. Telescope designers switched to that approach years ago, employing computer-controlled arrays of smaller mirrors instead of trying to grind and polish one enormous slab of glass.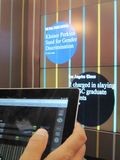 The frames of the LCDs used in the Surfaces demo left visible black lines between them, but NDS expects OLED (organic light-emitting diode) technology to deliver frameless displays that can be butted together seamlessly. (Technology vice president Simon Parnall joked that hypothetical "video grout" might help.)
While most vendors use this long-awaited technology to craft exceptionally thin screens, NPD DisplaySearch analyst Jennifer Colegrove wrote that some have successfully tiled together bezel-free OLED panels at expenses of "$100K to $800K, depending on the size."
Parnall said that an OLED edition of Surfaces, first shown off at a trade show in Amsterdam last September, could be a reasonable proposition in about five years. Today's LCD model cost about $25,000.
The second point of this exercise involved the content on all that glass. For much of the demo, video only played on part of it, leaving the balance filled with interactive widgets like those populating the screens of Android devices — and a recreation of the wallpaper on the surrounding wall.
ANALYSIS: Giant Outdoor LED TV Emerges from Underground
The idea there is to save the entire display for compelling fare like movies, while video that doesn't command your attention (such as a traffic report on the morning news) only gets a subset of the screen. As you can see in the photo above, there's also plenty of room for a TV show or service to provide related content like Twitter updates or audience polls. Later on, NDS showed how video from a baby monitor could pop up alongside a flick when the infant started crying.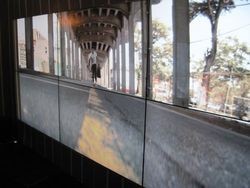 Odds that marketers could abuse this capability? Quite high. In the demo, a viewer could control these items with an iPad app, bringing up new ones and flicking others away.
The last part of the demo involved screening "4K" footage, with about four times the pixel count of today's best HDTV picture. I've been seriously skeptical of 4K's relevance to most home viewers, and yet when viewed on this big of a display, from only maybe eight feet away, the added detail swept me in.
But while such a wall-mounted set might fit into your house of the future, I doubt it has a spot in our house of the present. Have you seen the kind of mess you make when you rip into 92-year-old plaster walls?
Credit: Rob Pegoraro/Discovery