This is the Entire Universe Squeezed into One Image
An enterprising artist has taken on one of the biggest concepts known to man: the universe.
Space Stories 2015
Every year, Discovery News turns to our faithful readers to see which space stories excited you the most and 2015 has been yet another incredible year for astronomy, spaceflight, planetary science and solar system discovery. After pulling together the nominations by considering web traffic over the past 12 months,
the selection was put up for a vote
across social media and the top 10 quickly became obvious -- with a very clear winner. Can you guess which stories made it into the top 10? Read on to find out.
(Want to compare this year's top 10 with last year? Read "
Top 10 Space Stories of 2014: Readers' Choice
")
NASA/JPL-Caltech
With NASA's Dawn mission arriving at Ceres and New Horizons flying past Pluto, 2015 will forever be known as the "Year of the Dwarf Planet." But Ceres will forever be known as the dwarf planet we visited
first
. In March, the mission, that had made the slow transit from massive asteroid Vesta,
arrived in Ceres orbit
, revealing a fascinating, pock-marked surface. A puzzle quickly presented itself -- what the heck are those bright spots? Although Dawn is orbiting the tiny world closer than ever,
these bright patches still perplex scientists
, highlighting just what a mysterious and fascinating place Ceres is.
PHOTOS: Ceres Delights: Dawn's Latest Dwarf Planet Views
20th Century Fox
Sure, it's a movie, but it's a movie that starred Matt Damon and co-starred SCIENCE! Not only did "The Martian" become a box office success, it was a rare movie that pleased scientists and the general public alike. There were a
few scientific missteps
, but overall, it was a science fiction movie that realized that scientific accuracy can drive a great story forward without having to unnecessarily stray into scientific fantasy.
MORE:
The Martian: Science vs. Fiction
Tour 'The Martian' Movie Set... On Mars
NASA/JPL-CALTECH/SSI
After a decade of orbiting Saturn, NASA's Cassini mission has started
its farewell tour
. Having most recently carried out its final flyby of enigmatic moon Enceladus, the spacecraft will begin maneuvers in 2016 that will ultimately see the mission fly through the planet's ring plane. Then, the spacecraft
will conclude its "Grand Finale"
, burning up in Saturn's atmosphere. 2015 has been a huge year for Cassini, revealing more incredible science about Saturn's system of moons, rings and dynamic atmosphere and we look forward to more science and beautiful images like this one
before mission end
.
MORE: Cassini's Final Flyby of Ice Moon Enceladus
NASA/JPL-Caltech
Ahhh, water on Mars. Yes, we already know that there's water ICE on Mars, but this time it's different. Well, it MIGHT be different. Way back in 2011, some strange seasonal channels were spotted by NASA's Mars Reconnaissance Orbiter on Martian slopes. Though they looked like channels created by flows of liquid water, scientists urged caution -- Mars' atmosphere is so cold and thin, only short-lived water ice should exist, right? But after orbital analysis this year, the chemical residue of these channels was analyzed, revealing that these channels may well be caused
by gushing liquid water
. However, this water isn't your fresh mountain spring variety --
it's highly toxic water
laced with perchlorates,
if it is indeed liquid water...
MORE: So Liquid Water Flows on Mars -- Now What?

An enterprising artist has taken on one of the biggest concepts known to man: the universe.
Pablo Carlos Budassi is drawing eyes across the Internet this week for a dazzling logarithmic visualization of the observable universe that he created and uploaded to Wikimedia Commons in 2013.
VIDEO: Is There a Universe That Mirrors Our Own?
The spectacular illustration features our solar system at the very center, followed by "inner and outer planets, Kuiper belt, Oort cloud, Alpha Centauri, Perseus Arm, Milky Way galaxy, Andromeda galaxy, nearby galaxies, Cosmic Web, Cosmic microwave radiation and Big Bang's invisible plasma on the edge," according to the file's description on Wikimedia Commons.
In an interview, Budassi told Tech Insider that he was inspired to craft the visualization while drawing hexaflexagons.
ANALYSIS: Our Universe: It's the 'Simplest' Thing We Know
"Then when I was drawing hexaflexagons for my sons birthday souvenirs I started drawing central views of the cosmos and the solar system," he told the website. "That day the idea of a logarithmic view came and in the next days I was able to it with Photoshop using images from NASA and some textures created by my own."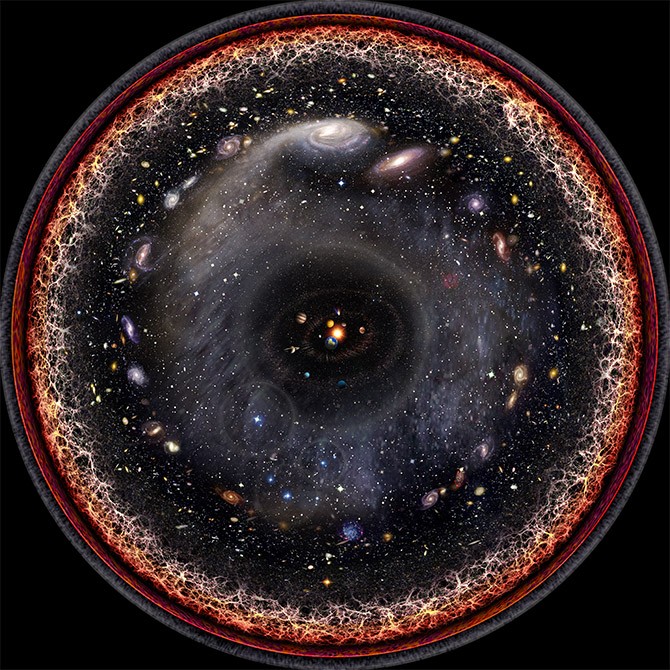 Pablo Carlos Budassi/Wikimedia Commons
This blog originally appeared on DSCOVRD.