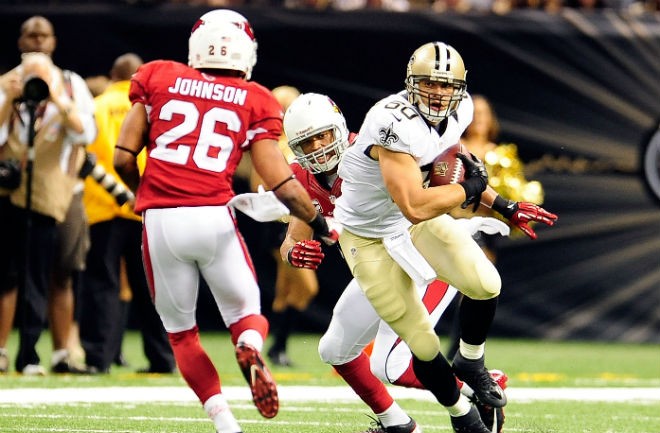 Rashad Johnson's gruesome injury isn't even the first amputation in NFL history.Getty Images
NFL football is a punishing sport. Injuries are to be expected. Concussions, torn ligaments, broken bones: they're all part of the game.
Although players brace themselves to receive damage over the course of the game, there are some injuries that could surprise even the most seasoned veteran.
That appeared to be the case on Sunday after a game between the Arizona Cardinals and New Orleans Saints. The Cardinals lost more than the game, apparently, following reports that safety Rashad Johnson lost part of his middle finger. The injury was likely sustained during a punt return, and doctors are concerned about a possible infection given that the bone was exposed, according to a CBS Sports report.
Johnson's gruesome and bizarre injury isn't the first time that the hazards of playing pro ball have manifested themselves in an unexpected way.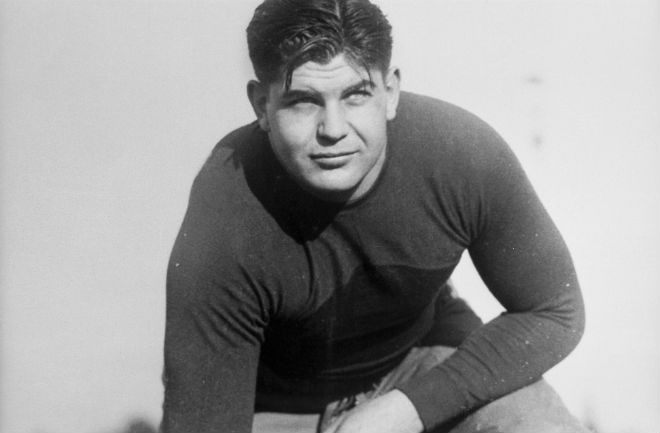 Turk Edwards was a trailblazer when it comes to freak pro football injuries.Corbis Images
Turk Edwards was an early pioneer of freak NFL injuries. In 1940, Edwards, playing tackle for Redskins in a game against the New York Giants, saw his career come to an end as a result of an injury sustained during the pregame coin toss.
On his way to his team's sidelines after the toss, Edwards' cleats got caught in the turf, causing him to blow out what had already been a weakened knee. The game proved to be Edwards' last.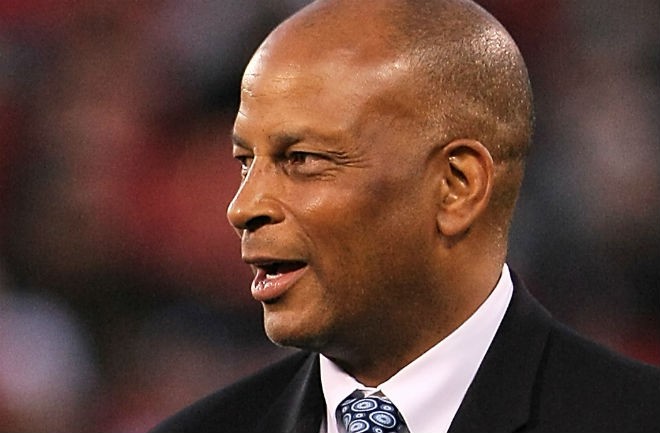 Ronnie Lott's injury didn't sidetrack his career as an eventual Hall of Famer.Corbis Images
If Johnson's injury sounds at all familiar to football fans, it's because a similar story played out in the 1985 season for San Francisco 49ers defensive back Ronnie Lott.
In a game against the Dallas Cowboys, Lott's finger got wedged between the helmet of Cowboys fullback Tim Newsome and Lott's chest, after which the top of Lott's finger "exploded," according to his account.
After the injury, rumors circulated the Lott himself amputated the finger in the locker room after the game.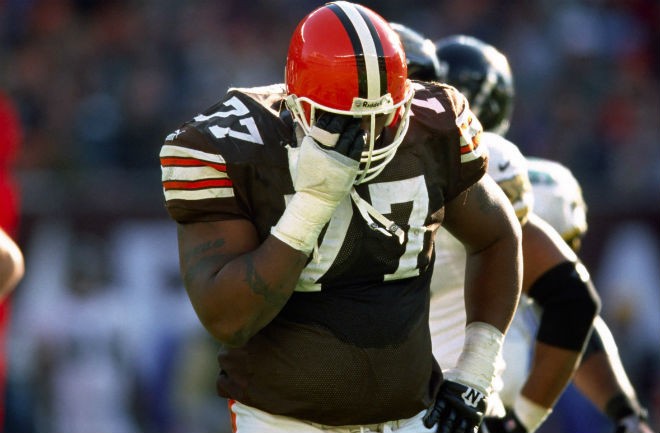 Orlando Brown's eye injury forced him to sit out a couple seasons.Getty Images
At 6'7" and 360 pounds, Cleveland offensive tackle Orlando Brown had the build of a man who could withstand just about anything thrown at him on the field -- anything except a penalty flag, that is.
During a game against the Jacksonville Jaguars, a penalty flag weighted with metal ball bearings, tossed by a referee, struck Brown in the eye, temporarily blinding him.
Brown later sued the NFL for $200 million, settling out of court for an amount estimated to be between $15 million and $25 million. As a result of Brown's unfortunate injury, the league ruled that all penalty flags would be loaded with sand instead.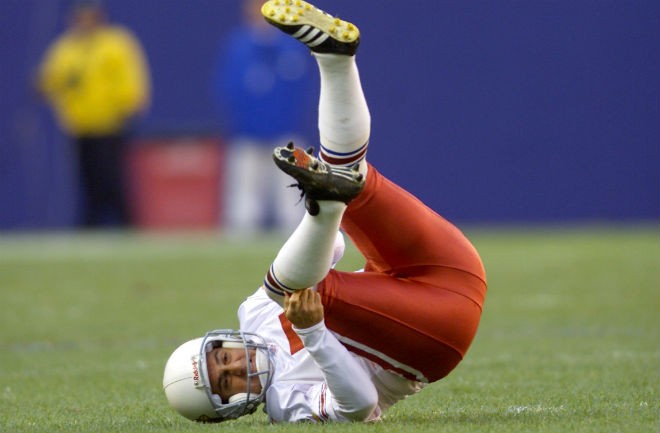 Bill Grammatica's rookie mistake may have cost him a more promising career.Getty Images
You can't blame Bill Grammatica for celebrating a little. In a December 2001 game that pitted the Arizona Cardinals against the New York Giants, rookie kicker Grammatica gave the Cardinals an early 3-0 lead in the first.
When the overexuberant Argentinian jumped for joy at his minor achievement, he landed badly on one leg, and tore his ACL.
Grammatica recovered after the injury but his career never really did, and he was out of the NFL three years later.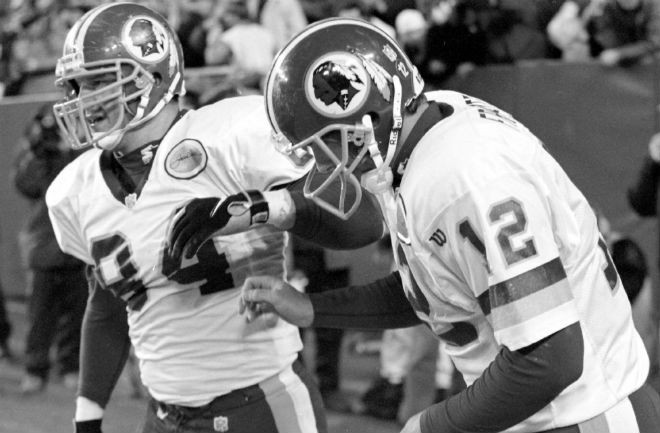 Gus Frerotte's antics at the 1997 game against the Giants made him the (head)butt of jokes for years to come.Getty Images
Some players jump for joy when they've achieved something; others apparently think it's a good idea to slam their heads against concrete walls when they're playing well. Or at least one player did anyway.
Celebrating a touchdown in a 1997 game against the New York Giants, Washington Redskins quarterback Gus Frerotte headbutted a padded wall, behind which was solid concrete. Frerotte ended up needing to be taken to the hospital, where X-rays revealed a sprained neck.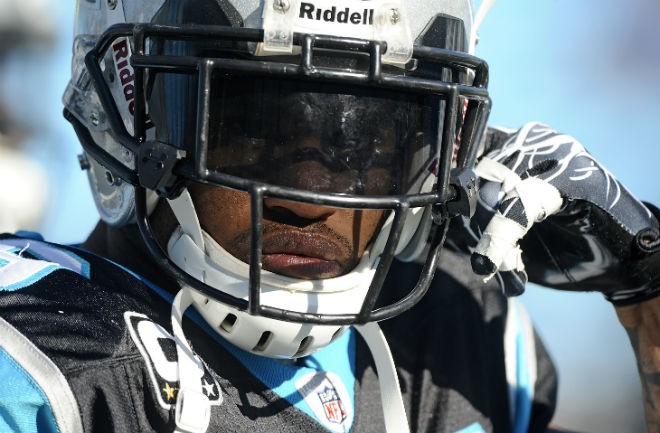 Flag football can be a rough game, too. Just ask Steve Smith.Getty Images
Carolina Panthers receiver Steve Smith suffered a broken arm in 2010 playing a game of football. What's remarkable about that injury is that it was sustained not in a heated NFL game, but rather a flag football game.
Initial reports suggested that game was played with children as part of Smith's youth football camp, but in fact occurred during a game with a recreational adult league, according to ESPN.