The Incredible Shrinking Lake
Satellite images capture the dramatic changes to New Mexico's largest reservoir after more than a decade of drought. Continue reading →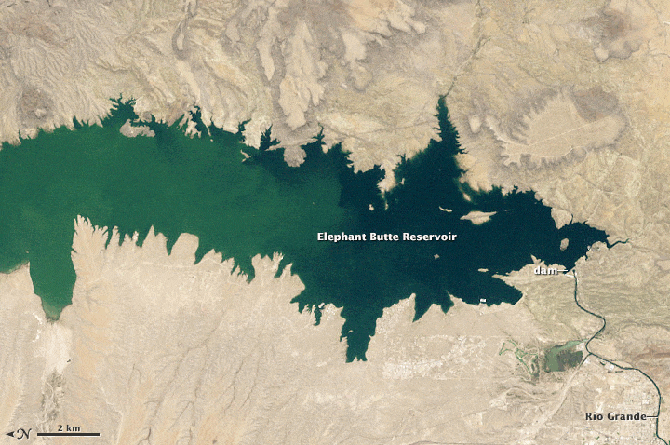 Elephant Butte Reservoir in New Mexico is now at its lowest level in 40 years. One image shows the lake full in June 1994. The other the current water level in July 2013. Images courtesy NASA's Earth Observatory.
The U.S. Drought Monitor lists five levels of thirsty: Abnormally Dry, Moderate Drought, Severe Drought, Extreme Drought and Exceptional Drought. Much of New Mexico is in that last category, and it has taken years to get there.
Amazing Stories of Summer Fruits
These images of New Mexico's largest reservoir — Elephant Butte along the Rio Grande river near Truth or Consequences — are a stark illustration of how dry it has become. The 89-percent full reservoir image is from June 2, 1994. The now starved reservoir was captured by the Landsat 8's Operational Land Imager on July 8, 2013. The lack of water has already started quarreling between New Mexico and Texas, the next state downriver, where farmers and the city of El Paso depend heavily on Elephant Butte.
Despite a decent summer monsoon season, the state is a long way from getting off the drought list. The U.S. Army Corps of Engineers put the July 24, 2013, water level at about 3 percent of capacity. It last hit that low point in 1972 after many drought years. From 1985 to 2000 the lake was filled almost to capacity, and has dwindled ever since.