The Green, Freeskiing Machine, Alison Gannett (Interview)
Discovery: What came first--your passion for skiing or the environment? Alison Gannett: I learned to ski practically the same day I learned to walk and next came the environmental activism, which started around nine years old, inspired by my mom and grandmother who were activists and lovers of the outdoors. My "make the world a [...]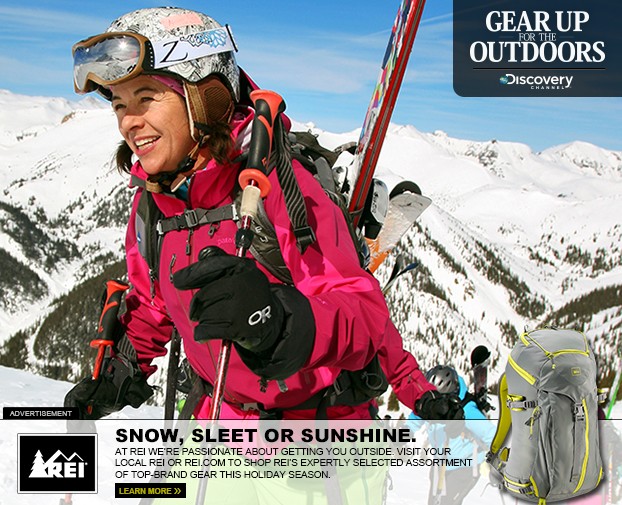 Photo: Sherri Harkin
Discovery: What came first—your passion for skiing or the environment?
Alison Gannett: I learned to ski practically the same day I learned to walk and next came the environmental activism, which started around nine years old, inspired by my mom and grandmother who were activists and lovers of the outdoors. My "make the world a better place" addiction continued to worsen in high school and university, where I graduated in Environmental Science. I started my first business for solutions to climate change in 1991, after graduating from Solar Energy International, and then went on to found three global cooling non-profits including LocalFarmsFirst, ResourceEfficiency, and Save Our Snow. I didn't become a professional extreme skier until I was 28 years old, and that all happened mostly by accident when a Warren Miller film crew saw me freeskiing.
D: What do you want to save most?
AG: Of course I love epic powder, surfing glassy waves, and mountain biking through chest-high wildflowers, but "our" environment is much more than that, as it is the basis for survival. Almost 50 percent of the world depends on snow for drinking water, and we have an obligation to protect this irreplaceable resource for future generations.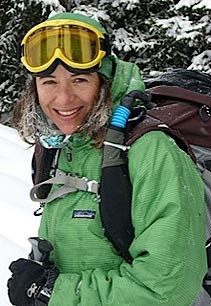 D: You're a huge advocate of "walking your talk." Explain what that means.
AG: Having been in the environmental world for over half my life, I am continuously appalled by folks not practicing what they preach. Around ten years ago, I set out to calculate my carbon footprint, initially thinking I would find out how incredibly green I was, only to find my energy use was almost as high as the typical America over-consumer. I've now managed to cut my carbon footprint in half, with mostly no-cost, low-cost, and cost-saving solutions—all while improving my quality of life.
D: You've designed the world's first SUV solar-powered, plug-in hybrid SUV and built the first straw-bale house in a National Historic District. How do you decide which projects you're going to tackle?
AG: This is a question that haunted me for years. I found that if I calculated my carbon footprint, I could then start where my impact was the highest, instead of throwing darts at being green. I always would implement cost-saving solutions first, that had a fast return on investment. There are so many simple choices we make each day that have massive impacts—such as eating chemical-free-local-as-possible food, to not drinking bottled water, to getting a free energy audit. Just turning of our computers at night could save two trillion dollars in the USA alone. I also learned from my failures—my solar-powered plug in my hybrid SUV actually increased my carbon footprint. I spend a lot of time talking people out of big sexy solutions, as you get much more bang for your buck with smaller more carbon-effective reductions.
D: Which of your projects has raised the most awareness and generated the most change?
AG: Walking the talk in general has inspired the most change, but all in all I'm a bit frustrated with our over-consumer hedonistic society that wants to start doing something perpetually "tomorrow." We need also need to vote for more political change, because it is not what we do, it is what we all do together that matters.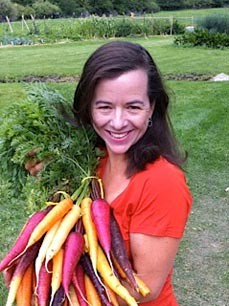 D: You recently moved to a farm where you grow chemical-free vegetables, fruits, nuts, berries, beans and grains, and raise Scottish Highland beef cows, rare-breed chickens, and pastured pigs. Why? And how do you have time to shovel pig poo?
AG: In my attempt to cost-effectively reduce my carbon footprint, food became the elephant in the living room. While I had reduced my footprint in half with some big changes, growing food at 9,000 feet in perpetual winter was really hard. So my better half, Jason Trimm, and I, started a local online farmers market—LocalFarmsFirst, to enable a year-round supply of food from small chemical-free farms nearby at lower altitudes. We then evaluated how sustainable it was to live even 43 miles from our food sources, moved down 3,000 feet in elevation to better enable our goal of self-sufficiency. Farming is super hard for crappy pay, but I really now love the meditative qualities of it all—shoveling pig poop empties my mind just like powder skiing does! And after work and chores, I can strap on my skis and head into the mountains right on the farm.
D: Sometimes you still take an occasional flight to teach a surf clinic in El Salvador or film a ski movie in India. How do you feel about emitting carbon?
AG: I agonize over emitting any superfluous carbon or burning any unneeded energy—whether it is for work, play or making the world a cooler place. I've had to make some hard choices that could have cost me my job as a pro-skier, such as giving up heli-skiing and selling my snowmobile, and I daily turn down jobs that I feel are a waste of carbon. On the other hand, I don't think many people will be inspired if I tell them that they have to move into a cave and give up powder skiing and their computer. In the end, we can all make simple everyday choices that reduce our energy use while also improving our quality of life.
D: What is the single-most important thing a U.S. citizen can do to save the planet?
AG: Start doing something!! Ideally everyone would want to calculate their carbon footprint and look at it as an opportunity to make meaningful and measurable changes, and vote for politicians willing to tackle climate change before it tackles us. Since that seems overwhelming for most, just start by doing simple things that make a difference—bike to work, take public transport, call your utility company for a free energy audit, by local food supporting local jobs, etc.
D: What's your 20-year-prognosis?
AG: "The Americans will always do the right thing… after they've exhausted all the alternatives." — Winston Churchill