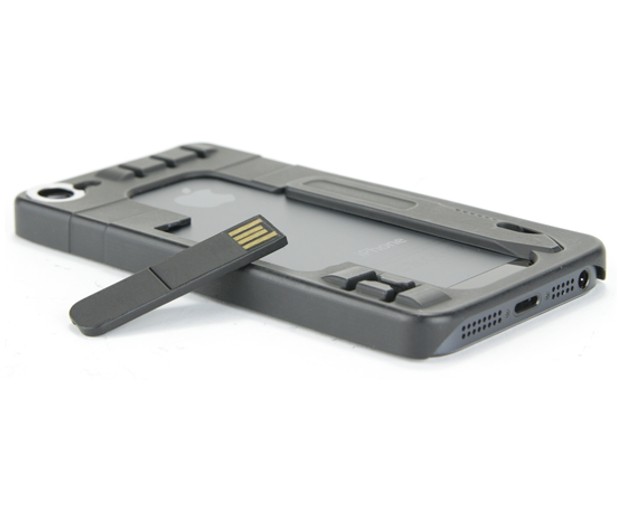 ReadyCase: $40 and up
We were fans enough of Ego's Hybrid Series cases (which store a flat USB memory stick) to include it in a recent back to school roundup. So you can imagine how ecstatic we were to find an even more resourceful case. Not only does ReadyCase pack seven handy little tools (including a memory stick) into an iPhone shell that's less than 3mm thick, but it's future proof.
What makes ReadyCase (at least short term) future-proof is that every order includes both cases made for iPhone 4/S and 5. They both feature a little clip for tangle-free storage of your earphone cord, a multi-tool (standard and serrated blades, flathead screwdriver and bottle opener), a built-in lens ring attachment, the USB drive (either 8GB or 16GB) and slots for using that memory stick as a kickstand for your phone at two angles in either portrait or landscape.
With a few weeks to go in their crowdfunding campaign, they've already more than quadrupled their goal. So now it's just about getting a good deal on a resourceful product. For $40, you can get the cases with an 8GB stick; and for just twenty bucks more (at the time of posting), you can get a 16GB version that includes compatible macro, fisheye and wide angle lenses.