The Coolest News This Week from TreeHugger (and It's not Just for Greens)
Our sister site TreeHugger delivers all the freshest news on environmental news and culture. Here are items from the past week we thought you'd dig, even if you've never recycled. Tech-y Stuff Forty years ago, the CIA considered flying a dragonfly lookalike drone. Known as the Insectothopter, it was designed to carry out covert audio-recording [...]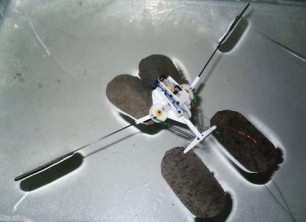 It's a microrobot, inspired by a water-strider bug.
Our sister site TreeHugger delivers all the freshest news on environmental news and culture. Here are items from the past week we thought you'd dig, even if you've never recycled.
Tech-y Stuff
Forty years ago, the CIA considered flying a dragonfly lookalike drone. Known as the Insectothopter, it was designed to carry out covert audio-recording missions, but never got to take off.
A 16-year-old South African created a wildlife tracker for an African game reserve. Because, you know, he just hangs out with lions and stuff every morning. Oh, and now Google might buy it.