The Cheapest Gadgets for Black Friday
It might only be the beginning of fall, but some people are already gearing up for Black Friday. dealnews released its fourth annual predictions on gadget sales for this November, using a methodoogy taking into account how much prices have fallen year to date, this time last year, on Black Friday last year and the [...]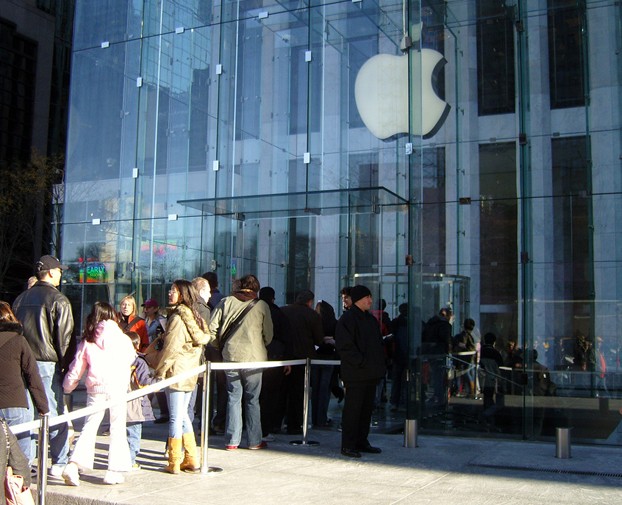 Black Friday at the Apple store in New York City, 2006. Image: jardenberg/Creative Commons
It might only be the beginning of fall, but some people are already gearing up for Black Friday.
dealnews released its fourth annual predictions on gadget sales for this November, using a methodoogy taking into account how much prices have fallen year to date, this time last year, on Black Friday last year and the year before that.
Before we get to the list, a couple disclaimers from dealnews.
First, these are predictions of the best deals for the Black Friday season. They're the lowest of the lows, not averages. (See our Methodology section on the last page.) Second, some of these deals will involve mail-in rebates. However, the good news is that most won't. Best Buy, OfficeMax, and Walmart have long given up on mail-in rebates after numerous customer complaints. Third, we're predicting that these deals occur during "Black Friday Season," a dealnews euphemism for mid-November to Cyber Monday.
Now for the fun stuff. (Make a mental note of this list for your holiday shopping in two months.)
HDTVs
32″ 1080p LCD HDTV for $199

40″ to 42″ 1080p LCD HDTV for $319

46″ 1080p LCD TV for $399

55″ 1080p LCD HDTV for $549

55″ 1080p 3D LCD TV for $999

60″ 1080p LCD TV for $699
Laptops
Basic 15″ to 16″ Laptop with dual-core processor for $189

Mainstream 15″ to 16″ Laptop with Core i5 CPU & 4GB RAM for $325

17″ desktop replacement with Core i7 & 8GB RAM for $720
Apple
Free shipping with no minimum at Apple Store online

The newest Apple iPods for 5% to 10% off

iMac and MacBook computers for 5% to 10% off

No deal on the new iPhone 5

Deals on refurbished iPhones from Apple and AT&T

Better discounts than Apple from an authorized Apple reseller
Tablets
Motorola XOOM for $319

Samsung Galaxy Tab 7″ for $239

Generic Android 7″ tablets for $75
eReaders
Kindle 3 WiFi eBook reader for $99

Nook Color eBook reader $179

Bundles with at least a $25 credit
Blu-ray players
Blu-ray player with Netflix support for $45

Blu-ray movies from $5

Roku HD 2 box from $60
Hard drives
1TB external drive for $39

64GB SSD laptop kit for $45

2TB external hard drive for $49

128GB SSD laptop kit for $109