The 12 Steps to Highlining (Video)
Slacklining can be a great way to increase your balance and your strength, as well as an enjoyable way to spend the afternoon at the crag. But if you're ready for something new, highlining takes that experience to a whole other level, in terms of both your elevation and your fear factor. Here's a step-by-step [...]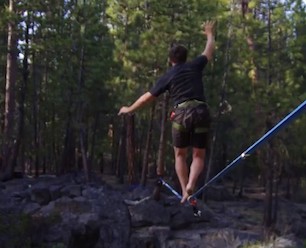 Slacklining
Slacklining can be a great way to increase your balance and your strength, as well as an enjoyable way to spend the afternoon at the crag. But if you're ready for something new, highlining takes that experience to a whole other level, in terms of both your elevation and your fear factor.
Here's a step-by-step humorous guide from the YogaSlackers to the 12 necessary steps for getting to "SendTown" on your very first highline experience.
Granted, you'll still need to get the hang of anchors and rigging, as well as work on your own slacklining skills before you go, but other than that, it looks easy enough. Just be prepared to spend a lot of time on number 11.