Thar She Blows! 'Moby Dick' Heard Online
Find "Moby Dick" too challenging to read? A new project allows you to listen to it instead, with a new chapter every day.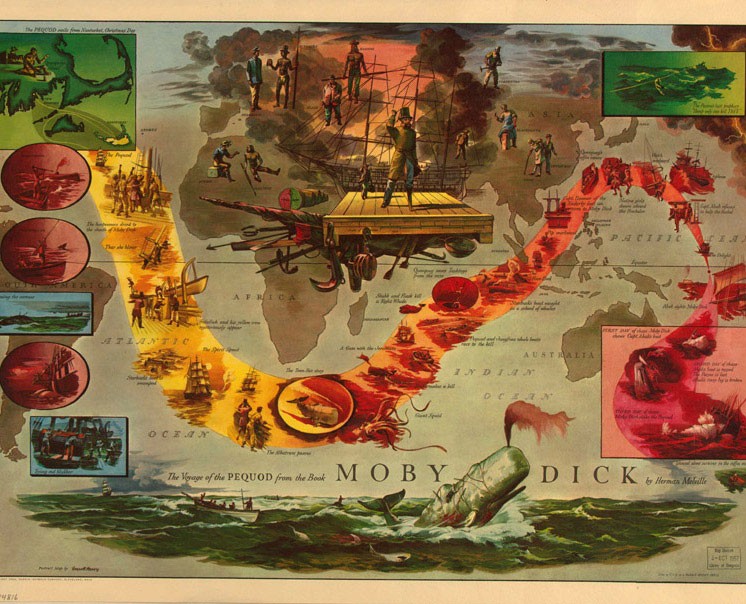 I first read "Moby Dick" as I set out on, appropriately enough, my first lengthy ocean voyage. Candidly, I knew far less about the book than I thought I did. I knew it had been written by Herman Melville, I knew it's opening line was "Call me Ishmael," and I knew its basic plot: Crazy man seeks to kill a great white whale. (Editor's note: Actually Kieran knew more about the plot, but spoilers have been deleted).
But that, I thought, was essentially it; the story was an adventure yarn, albeit one that contained injunctions against hubris and the dangers of becoming consumed with the need for revenge. What I hadn't anticipated was the masterful discourse, the abundance of allegory, the willful disregard that Melville at times showed for narrative convention. As author Kathryn Harrison observed last year in the New York Times:
"Moby Dick" has the wild and unpredictable energy of the great white whale itself, more than enough to heave its significance out of what Melville called "the universal cannibalism of the sea" and into the light. Melville challenged the form of the novel decades before James Joyce and a century before Thomas Pynchon or David Foster Wallace. Calling for tools befitting the ambition of his task — "Give me a condor's quill! Give me Vesuvius's crater for an ink stand!" — Melville substituted dialogue and stage direction for a chapter's worth of prose. He halted the action to include a parody of the scientific classification of whales, a treatise on the whale as represented in art, a meditation on the complexity of rope, whatever snagged his attention.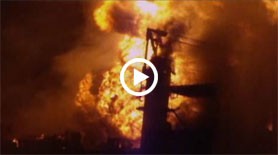 WATCH VIDEO: Disaster In The Gulf: BP Oil Spill: What Happened?
For a young writer, it was a revelation. Here was a chapter written, not in novel form, but as a screenplay. Here was a discourse on the whiteness of whales and other objects, organic and inanimate. Here was some history, some science.
The plot would alternately advance and then meander as Melville tangentially addressed the crew of the whaling ship 'Peqoud', or life at sea, or matters not immediately obviously related to any of the above. In so doing – I realized, as I rocked slowly back and forth in the cabin I occupied for three long months – he captured the rhythms and shifting attentions of a long sea journey, in which bursts of activity and adventure interrupt long periods of monotony and reflection.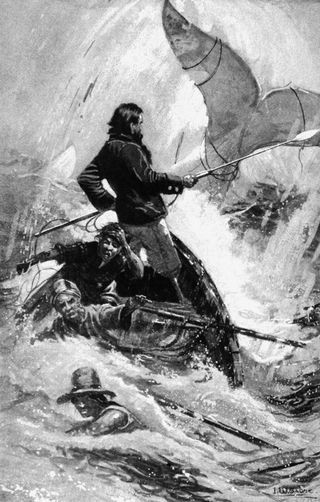 "Moby Dick" is, in short the quintessential Great American Novel. But, as the organizers of a British project celebrating the book acknowledge, "it is also the great unread American novel."
A literary masterpiece, it can nonetheless be challenging to a reader, particularly one from the short attention span generation. Captain Ahab, the nominal protagonist, doesn't even appear until Chapter 28, and there are 107 chapters after that.
Kathryn Harrison's ode to the novel, excerpted above, came from a review of a book by Nathaniel Philbrick entitled, "Why Read Moby Dick?" Meville's tome is so difficult that books have been written about why to read it!
Which is where the aforementioned British project comes in. Entitled "Moby Dick: Big Read," it presents a chapter a day in audio form, each recorded by a writer, actor, artist or politician, and accompanied by contemporary artwork, so that everyone can consume the entire book over the course of 135 days (or less) without having to read one word of it.
Even British Prime Minister David Cameron is in on the act. Although such is the nature of Melville's work, that determining which chapter the resident of No. 10 Downing Street could safely read (in the event, he selected Chapter 30, the Pipe) took some effort, as project co-creator Phillip Hoare (whose own book, "The Whale," is a splendidly discursive undertaking in its own right) explained to The Guardian:
"The problem for any politician is the coded messages in "Moby-Dick" … It's an incredibly political book, and there are entire chapters about the whale's foreskin. The difficulty for No 10 was finding a chapter which was not fraught with messages. I wouldn't say it's an anodyne chapter. No chapter is anodyne, every chapter is freighted with meaning. But it's fairly innocent."
It has been twenty years since I lay on my bunk, bound for the Southern Ocean, opened my copy of "Moby Dick" and entered a literary world that I wished had been of my own invention. Two decades later, that quote about the Prime Minister's difficulties in selecting an appropriate piece of text prompted me to pick up that copy again and turn to Chapter 30. Only a few hundred words in length, it features Ahab smoking a pipe, deciding that the act no longer soothes him, and tossing the pipe overboard.
On its face, it is that and nothing else. But in the act, in the imagery, in the allegory, and in the foreshadowing of the pipe sinking beneath the waves, it is – as is the rest of "Moby Dick" – so much more.
IMAGES:
The Voyage of the Pequod by Everett Henry (1893-1961), from the book "Moby Dick" by Herman Melville; one of a series of 12 literary maps based on British and American literature, produced by the Harris-Seybold Company of Cleveland between 1953 and 1964. (Library of Congress)
Book Illustration from "Moby Dick" by Isaac Walton Taber. (Corbis)