Teen Breaks Youngest Seven Summits Record
A teenager from Britain breaks the world record for the youngest to complete the Seven Summits challenge.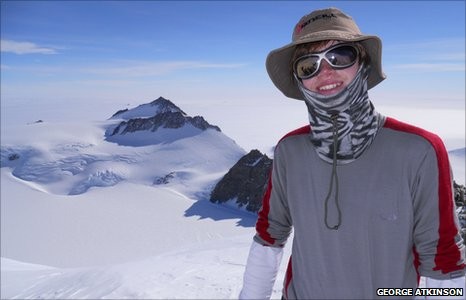 Standing at the top of Everest yesterday morning, Britain's George Atkinson set a new world record for the youngest person to scale the Seven Summits, Earth's highest mountain on every continent.
His adventure began at the age of 11 with Tanzania's Mount Kilimanjaro. While still only 13 he reached the top of Russia's Mount Elbrus and Indonesia's Carstensz Pyramid. At 14 years old he tackled Argentina's Mount Aconcagua. Since turning 16 he has climbed Alaska's Mount McKinley, Antarctica's Mount Vinson, and now Everest. As of last night, he was back at 7,800 feet according to postings from his parents on his blog. Atkinson celebrates his 17th birthday on Sunday.
Atkinson beat last year's record setting achiever American teenager Johnny Collinson who completed the Seven Summits challenge at age 17. But close on their heels is Jordan Romero from Big Bear, California, near the San Bernardino Mountains, who reached the top of Everest last year a couple months shy of his 14th birthday, but has yet to climb the peak on Antarctica. Still, Romero has plenty of time if he wants to break Atkinson's new record. Romero won't turn 17 until July 2013.
The summit of Everest is the world's highest peak above sea level and soars 29,028 feet (8,847 meters) into the sky. The Himalayan mountain sits on the border between Tibet and Nepal. Since 2003, Nepal has had a minimum age limit of 16 for climbers to gain permission to ascend from the south. In June 2010, following the controversy over Romero's young climb, the Lhasa-based Chinese Tibet Mountaineering Association restricted climbers accessing the mountain from the north to between 16 and 60 years of age.
IMAGE: George Atkinson (Wikimedia Commons).