Technologies Inspired by Sharks
Technologies inspired by sharks is explained in this article. Learn about some of the different technologies inspired by sharks.
Think "shark" and chances are images of technology are not the first to dance in your head. But plenty of technology is inspired by shark, from its skin to its speed. Here are five you might have never given a second thought.
1. Shark-Inspired Car
The first is a concept car imagined by Kazim Doku, a car designer who lives in Turkey. He won the Desire Design Competition in 2008 co-sponsored by Audi and Milan's Domus Academy. Named the Audi Shark, the car is a futuristic rendition of a hovercraft. Wheels are so last century.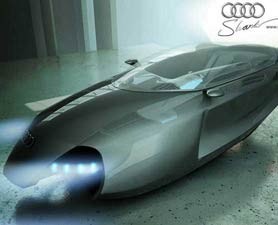 This futuristic looking car's design was inspired by sharks. kazimdoku.deviantart.com