Technical Water Shoe Designed for Rapids, Rocks and Roads has PFD DNA
What happens when a bunch of fanatical paddlers decide they need a superior sport shoe to handle the rigors of rapids, rocks and roads, and then -- because they create Personal Floatation Devices (PFDs) for a living -- add in their engineering expertise on durable, fast-drying fabrics that are designed to last? You get the [...]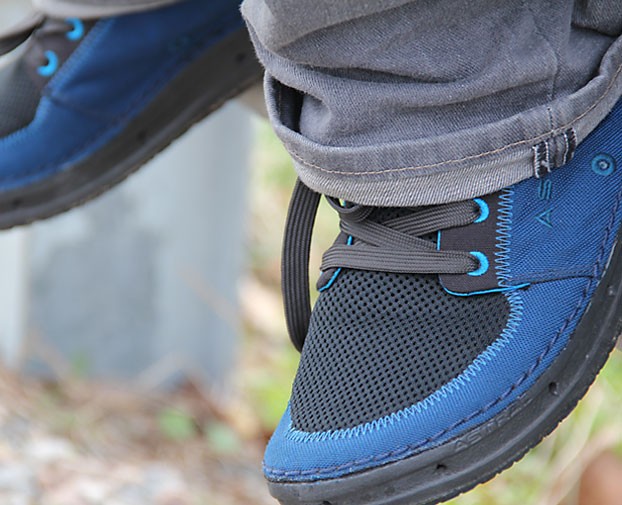 The Brewer from Astral Buoyancy is built to handle rapids, rocks and roads (Photos: Astral Buoyancy)
What happens when a bunch of fanatical paddlers decide they need a superior sport shoe to handle the rigors of rapids, rocks and roads, and then — because they create Personal Floatation Devices (PFDs) for a living — add in their engineering expertise on durable, fast-drying fabrics that are designed to last? You get the new Brewer, the ultimate wet adventure shoe whitewater fans have been waiting for.
Created by Astral Buoyancy, known for incredible PFDs that are designed to be as functional as they are protective (with features like cargo pockets, knife parks and hand warmers), the Brewer is an amazingly lightweight shoe that's built to take the punishment you're going to dish out during a weekend on the water. And, because it looks like a traditional shoe, when you're done for the day, it can take you out on the streets without making you look like you're wearing a pair of mandals out for dinner.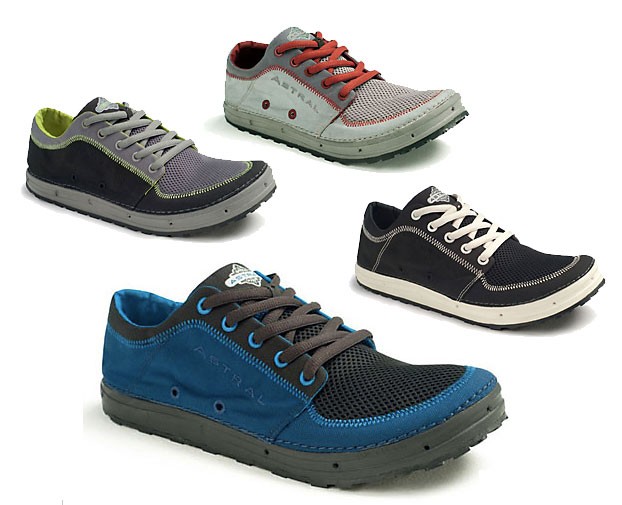 The Brewer is available in four colors
Available in four colors, the Brewer ($99.95) has an upper made from Cordura nylon and airmesh to be super quick-drying, breathable and stand up to abrasions. The outsole is made from Five Ten's Stealth rubber that provides legendary grip, even on slick river rocks. The sole also has drain holes in the front to keep water from pooling inside, and a wide toe box to keep your toes from jamming and for stability and balance while negotiating a climb up a steep bank.
I took a pair of Brewers out for a test drive on the beach and jetties near my house. Besides being comfortable (the first thing I look for when my sockless feet don't have anything to cushion them from the shoe's interior), they are perfect when your weekend includes sand. A lot of other "open" design water shoes can let in a lot of sand, making for an abrasive day. The Brewer's Silt Dump at the heel is very discrete and did a good job of keep the beach on the beach.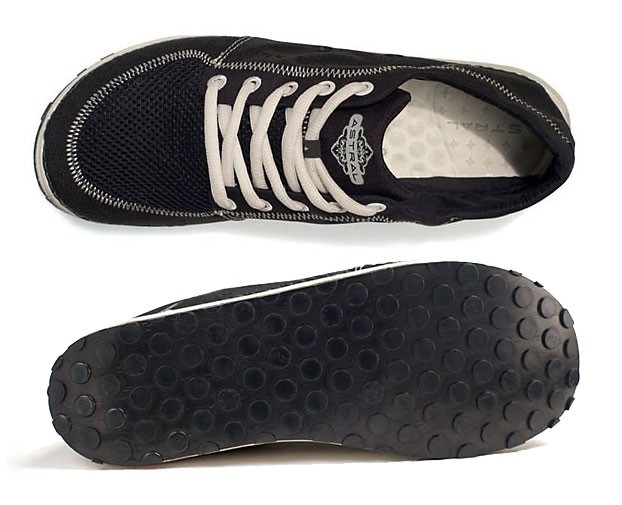 Rubber soles inside and out give stability in wet situations
Stepping out of the surf, the holes on the front of the Brewer did their job too, water squirting out with each stride, and since the insole is made of the same Stealth rubber (with small nubs that act like tiny massagers, not bad if you're taking on a river all day), it doesn't "squish" every time you step after a complete dunking. About ten minutes after immersion the Brewers felt fairly dry and ready to go again. And, as you'd expect from a company named Astral Buoyancy, the Brewers float, so should you and your shoes become separated, you won't have to dive deep to retrieve them.
As for the look, that's always a matter of personal taste, but for me I prefer the look of these over the open sandal design of other water shoes. And during my test, one of the construction crew working on my house saw them and asked where to get a pair. He wanted them for everyday, he had no idea they were designed for water, which I guess is the whole point.