Take a Bite Out of the World's Top Eating Contests
Everyone likes to eat. But for some people, eating is more than simple sustenance; it's a competition. As HowStuffWorks.com's Ed Grabianowski notes, competitive eating is a pastime that goes back thousands of years. The Major League Eating (MLE) and International Federation of Competitive Eating (IFOCE) suggested that, "If you have 30 hungry Neanderthals in a [...]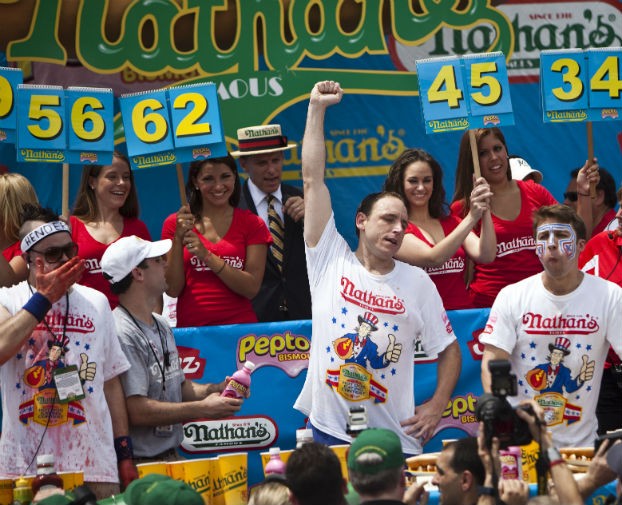 Joey Chestnut celebrates his win in the 2011 Nathan
Everyone likes to eat. But for some people, eating is more than simple sustenance; it's a competition.
As HowStuffWorks.com's Ed Grabianowski notes, competitive eating is a pastime that goes back thousands of years. The Major League Eating (MLE) and International Federation of Competitive Eating (IFOCE) suggested that, "If you have 30 hungry Neanderthals in a cave and a rabbit walks in, that is a competitive eating situation."
Not all eating competitions are created equal, however, and the MLE is the body that oversees the world's top eating contests among those who are considered professionals in the sport. If you're looking to enter the competitive eating circuit, these are the must-win events for any champion.
World Hot-Dog Eating Championship
Competitive eating events can have a number of "disciplines" that athletes can pursue, including pies, pizzas, pickles, ice cream, hamburgers and much more.
But if you're looking for the event that could be considered the Super Bowl of the MLE, it's the hot dog eating contest held by Nathan's famous every year on the Fourth of July. This event is where the league's biggest names like Takeru Kobayashi and Joey Chestnut became household names.
Chestnut won for the event for the sixth straight time this year, taking home $20,000 in prize money for his victory.
Current record for the most hot dogs consumed at this event: 68, by Joey Chestnut in 2009.
World Rib-Eating Championship
Hosted by John Ascuaga's Nugget in Sparks, Nev., the World Rib-Eating Championship for 2012 is just days away, due to take place Wednesday, Aug. 29. Top prize for this event is $2,500 for first place, according to the MLE.
As with Nathan's hot dog eating contest, Chestnut claimed first place at last year's rib-eating championship.
Current record for the most ribs eaten at this event: 9.8 pounds, by Joey Chestnut in 2008.
Wing Bowl
The Wing Bowl might not be as old as the Nathan's Famous Hot-Dog Eating contest. But since its debut in 1993, it has been a popular event in the Philadelphia area on the Friday before the Super Bowl, drawing crowds upwards of 20,000 people.
Unlike the most family-friendly Nathan's contest, the Wing Bowl might not be appropriate for all audiences. In recent years, local strip clubs have been sponsors of the event, giving it a more adult character than some other eating contests.
Current record for most wings consumed at the Wing Bowl: 337, by Takeru Kobayashi in 2012.
Nisei Week Festival Gyoza Eating Championship
Held annually in Los Angeles, Nisei Week is one of the longest ethnic festivals in the United States, according to the Los Angeles Times, celebrating Japanese-American heritage since 1934, with the exception of an interruption during World War II.
What better way to celebrate the fusion of the two cultures than with an eating contest, a classic American event, with gyoza, a deep fried appetizer that's a staple of Japanese cuisine.
The last event was held Aug. 19, 2012. Chestnut defeated San Jose-native Patrick "Deep Dish" Bertoletti, who won the event last year.
Current record for most gyoza consumed at this event: 266, by Joey Chestnut in 2012.
La Costena "Feel the Heat" Jalapeño Eating Challenge
Most eating contests seem to require competitors have an endless, iron stomach. For this event, however, eaters need a fireproof tongue if they want to win.
The winner of the competition earns $6,000, which hopefully is enough to replace the lining of their stomachs from consuming so many of these hot peppers.
Current record for most jalapeños consumed at this event: 275, Patrick Bertoletti in 2011.