Tailgater Portable Satellite Antenna Brings the Game to the Parking Lot, Campsite or Fishing Hole
Listening to games on the radio is so 2011. When you're tailgating, you should be able to see games playing before you head to your seat. A little pre-game game watching. That's why the satellite geniuses at DISH came up with the Tailgater. It's a fully portable satellite antenna that can deliver TV to you [...]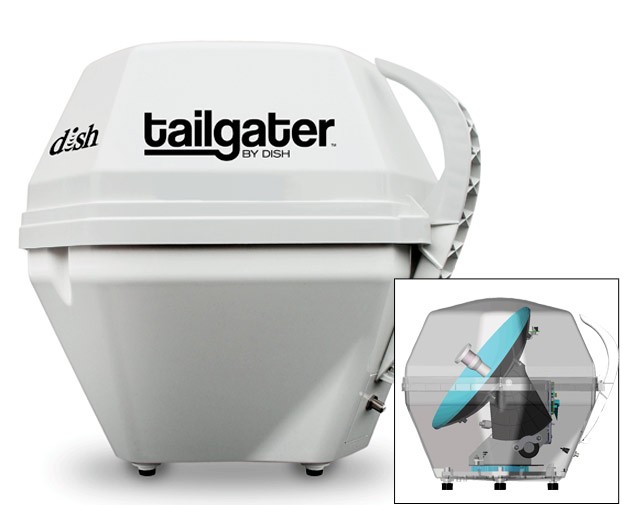 Tailgater lets you watch the game, or anything, virtually anywhere (Photos: DISH)
Listening to games on the radio is so 2011. When you're tailgating, you should be able to see games playing before you head to your seat. A little pre-game game watching.
That's why the satellite geniuses at DISH came up with the Tailgater. It's a fully portable satellite antenna that can deliver TV to you virtually anywhere you want to watch. Just connect the 17.5″x16″x16″ enclosed dish to a compatible receiver and you've got the game at the tailgate. (Great when you scored a party spot, but not a ticket.) You can also use it to keep the kids (or your date) entertained during a camping trip, or take it up to the lake house for movie nights.
The whole set up, including the receiver, is only $499, ($350 if you already have a receiver), and you don't need to be a DISH subscriber to enjoy it. They've got a pay-as-you-go plan, where you pay only for the months you use. Keep it going for tailgating until the Super Bowl, then only pay for the one month in the summer when you take that guy's fishing weekend. No contracts and no wasted months.
The Tailgater displays HD programming in 1080i, supports SD programs too, and comes in a weather resistant cover for those games when the tundra is getting frozen. Now you'll just need to find a weather-proof flat screen.
$499 – Complete system
$350 – Tailgater antenna only