No shameless scavenger, T. rex was six tons of teeth, muscle and sinew -- a born hunter.
Corbis
An enhanced sense of smell, inferred from enlarged olfactory bulbs, is a common trait among scavengers such as vultures -- but it can help a hunter too, they note.
IRSNB-KBIN/P. Golinvaux
As paleontologists increasingly unearth evidence of feathers in prehistoric fossils, our conceptions of what dinosaurs looked like when they roamed the earth has gradually evolved.
Instead of the reptilian appearance we all recognize from childhood toys and films like Jurassic Park, many dinosaurs in fact more closely resembled birds, kind of like this recently discovered little guy, Eosinopteryx brevipenna, a flightless theropod dinosaur that roamed China during the Middle/Late Jurassic period.
Todd Marshall
Archaeopteryx, also known as Urvogel, the German word for "original bird" or "first bird," was first discovered in 1860 and later fossils of this species presented some of the earliest evidence of flight in these prehistoric animals.
An intermediate creature that was not quite dinosaur but not exactly a bird either when it lived 150 million years ago, Archaeopteryx had teeth, a long tail, and wings capable of flight with claws at the end for grabbing prey.
ScienceDaily
A century after the discovery of Archaeopteryx, paleobiologists increasingly found anatomical connections between birds and dinosaurs. In the 1970s, artists began to portray dinosaurs with feathers based on accumulating evidence.
Megapnosaurus, shown here, was another species with whom researchers began early to identify with feathers. A lightweight animal that could reach up to 10 feet in length and roamed Jurassic Zimbabwe, Megapnosaurus, also known as Syntarsus, traveled in packs and preyed on small reptiles and fish.
Getty Images
Many of the fossils unearthed that provided evidence of feathers had deteriotated over the eons they remained buried. It wasn't until 2010 that researchers identified color pigments in feathers from dinosaurs and early birds.
Sinosauropteryx, illustrated here, was a theropod dinosaur that had "simple bristles -- precursors of feathers -- in alternate orange and white rings down its tail," according to a description of the study's findings.
Science/AAAS
Given that so many feathered dinosaurs were in fact flightless, the purpose of the feathers has been a subject of debate. Some dinosaurs may have evolved feathers for social signaling; others had plumage to provide insulation.
In the cases of some dinosaurs, such as the two oviraptors, herbivores related to T. rex that lived during the Cretaceous period, researchers believe the feathers were used for mating displays, similar to modern-day peacocks and turkeys.
Jason Brougham/University of Texas
You might be fooled into thinking the animals in this illustration are something between a murder of crows and a band of blue jays. In fact they are Microraptors that lives more than 130 million years ago.
These four-winged, plumed dinosaurs were no larger than modern-day pigeons and sported iridescent tail feathers.
Researchers believe the shimmering plumage was likely used in mating and other social interactions.
Brian Choo
Like the diversity among birds today, not all feathered dinosaurs were lightweight, agile animals. A massive tyrannosaur that lived in China until about 65 million years ago, Yutyrannus huali, meaning "beautiful feathered tyrant," grew up to 30 feet long and could weigh more than 3,000 pounds.
This titanic tyrannosaur, as it was described, significantly increases the size range for feathered dinosaurs.
Science/AAAS
In a stunning find published in the journal Science in 2011, paleontologists uncovered dinosaur feather preserved in amber that dated back some 79 million years ago.
This discovery provided scientists a new window into the evolution of feathers in terms of structure in the evolutionary timeline from dinosaurs to birds. Even shades of color remained well preserved in the amber.

THE GIST
- T. rex is often described as the king of all killing machines, but some scientists question that description.
- According to one theory, T. rex was too clumsy and slow to do its own hunting.
- Given other dinos that were around at the time, one researcher argues, T. rex couldn't have survived on scavenging along.
Palaeontologists fought back on Wednesday in a spirited debate over the Tyrannosaurus rex, saying revisionists who branded the great dinosaur a shameless scavenger have got it all wrong.
For more than a century after its discovery, many scientists routinely described the Tyrannosaurus as the king of the killing machines -- six tons of teeth, muscle and sinew, designed to run down dinos several times its size and shred them.
But over the last decade, a new wave of T. rex scholarship has painted another, less flattering, picture.
T. rex, according to this theory, was just a 12-meter (40-foot) freeloading lizard that was too clumsy and slow to do its own hunting.
It simply barged in on a meal after nimbler predators had done all the dirty work -- in other words, it was more hyena than lion.
The first broadside on the carnivore's predatory credentials came in 2003, when American expert Jack Horner concluded that T. rex's clawless forearms, beady eyes and lumbering legs meant it was "100 percent scavenger."
In 2007, John Hutchinson of the Royal Veterinary College in Britain dished out another blow, demonstrating the "clunky" dinosaur needed more than two seconds to pivot 45 degrees, making it easy for would-be prey to evade capture.
But a new study, published in the Proceedings of the Royal Society B: Biological Sciences, may help redress the balance.
Chris Carbone of the Zoological Society of London and colleagues say that some of the traits that raised doubts about T. rex's predatory prowess are larded with ambiguity.
An enhanced sense of smell, inferred from enlarged olfactory bulbs, is a common trait among scavengers such as vultures -- but it can help a hunter too, they note.
T. rex's eyes, it turns out, are not that small after all, and its binocular vision -- along with its crushing bite and impact-resistant teeth -- are all well adapted for killing.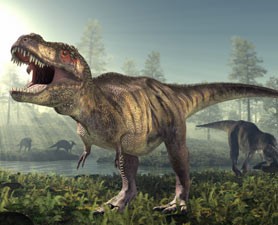 An enhanced sense of smell, inferred from enlarged olfactory bulbs, is a common trait among scavengers such as vultures -- but it can help a hunter too, they note. Corbis
But Carbone's most most persuasive argument for predation has nothing to do with the giant theropod's physical traits.
"We took an ecosystem approach, establishing a complete list of all the species in the area," he explained by phone.
"What is novel is that we make inferences about abundance from the size of the animals" in the Late Cretaceous, he said, referring to the period 85 to 65 million years ago when T. rex reigned supreme.
Drawing from fossil records and studies of fauna distribution in East Africa's Serengeti plains today, Carbone calculates that the ecosystem at the time would have been overwhelmingly populated by smaller dinosaurs.
Among carnivores, 80 percent would have weighed about 20 kilos (45 pounds), and T. rex would have accounted for only 0.1 percent of the population.
Among herbivores -- generally heavier -- about half weighed in at about 75 kilos (165 pounds).
The researchers calculated the range in which T. rex could roam on a daily basis, how many dead dinosaurs of different sizes it was likely to come across, and what other foragers might be around.
"Given the distribution of carcasses and the potential competition with other carnivorous dinosaurs, it is extremely unlikely that an adult T. rex could use scavenging as a long-term sustainable foraging strategy," the study concludes.
Carbone points out that modern-day wild dogs and hyenas -- similar in size and relative abundance as the smaller dinosaurs of the Late Cretaceous -- "can reduce a 70-kilo (154-pound) carcass to scraps of skin and bone extremely rapidly, certainly under an hour."
The consequences for a slow-moving scavenger would have been dire.
Even if T. rex could easily push aside other predators, once it arrived at a kill scene, more agile, fleet-footed meat-eaters would have probably picked the bones clean by the time it arrived.