SXSW Sights: Silly Robots and Serious Wi-Fi
It was a chance to hear some of the more interesting people in the technological universe talk about their work. ->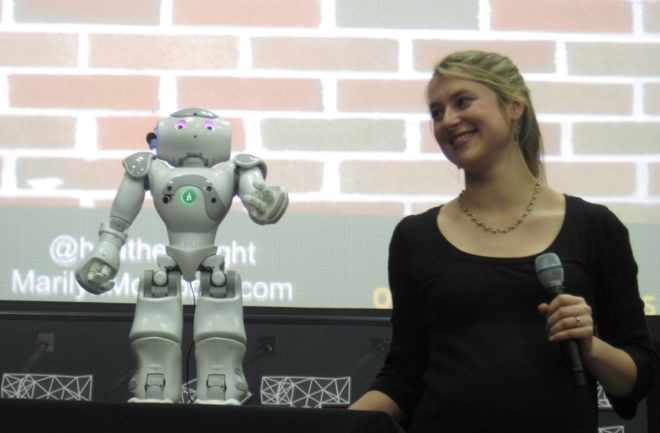 The South By Southwest Interactive festival is a mind- and waistline-expanding experience.
Its designed purpose remains to get technologically creative types to exchange ideas and opinions in panels and presentations. But thanks to past SXSW tech breakouts like Twitter's explosive growth in 2007 and Foursquare's take-off in 2009, the festival has evolved: Marketing types now flood Austin with happy hours, receptions and parties and stage increasingly elaborate PR stunts to try to cut through the clutter.
CES 2013: Three Ups, Three Downs
This year, no app or service had that big moment in the Texas sun. (For that matter, the people-discovery apps that got so much attention at last year's SXSW have greatly underperformed since.) So what did the 30,621 paid attendees get for their time beyond a lot of free tacos, barbecue and beer?
One thing was the chance to hear some of the more interesting people in the technological universe talk about their work.
For instance, Web inventor Tim Berners-Lee defended the Web's possibilities in an app-happy world of mobile devices in a keynote Saturday. SpaceX and Tesla founder Elon Musk confessed that his biggest anxiety in watching his rockets launch is that they will explode before they clear the tower. And Oatmeal cartoonist Matthew Inman recounted how his first reaction on getting sued was to think of the comedic possibilities.
The packed lineup of panels at SXSW, in turn, could serve as a rough guide to the future — if you didn't get shut out of an at-capacity room or find yourself on the wrong end of downtown Austin as an interesting talk was starting.
At one, I saw 3-D printing sold as a form of customer service: Synthesizer manufacturer Teenage Engineering offered an option to the high cost of shipping replacement knobs from its Swedish facilities by uploading 3-D files for users to print their own. Another offered some half-joking warnings about the social risks of people wearing Google Glass-style augmented-reality eyewear all the time: What if your significant other uses that to project somebody else's body on yours? A third pondered how we can extract artistic analog souvenirs from such fleeting digital experiences as a tweet or a text message.
ANALYSIS: The Wide, Wild World of Phones
Finally, there were the demos on and off the show floor. Carnegie Mellon University roboticist Heather Knight brought out her robot sidekick Data (see above) to tell jokes — he's been programmed to sense and respond to what the audience thinks funny — and make useful points about the need for robots to have a bit of a human face. I saw a new HP iPhone app that uses Aurasma's augmented-reality software to create a printed card with a still image from a movie; when the recipient scans the image with the app, the original video plays on the phone's screen. I tried on Interaxon's upcoming, brainwave-sensing headband that, among other things, gauged my focus; as you might expect in the chaotic confines of SXSW, my initial score on the latter was pretty terrible.
And, yes, Google showed off some sensor-laden, talking shoes – but in this overscheduled event, I didn't even get to see them. I also didn't bother waiting on line to see Grumpy Cat, but I think I'm okay with missing out on witnessing that Internet meme firsthand.
The most important advance at SXSW, however, was this: The free Wi-Fi, usually a miserable mess at large tech events, worked almost all the time, delivering speeds faster than most people's home broadband. I don't know how they did it and how much money it cost, but I do know that few of the mobile dreams discussed at SXSW will see daylight without reliable bandwidth.
Credits: Rob Pegoraro/Discovery