Survive the Zombie Apocalypse with a $24,000 Kit
If you're convinced of an impending zombie apocalypse, might as well splurge $24,000 on a survival kit. OpticsPlanet's Z.E.R.O kit -- short for Zombie Extermination, Research and Operations -- is chock full of gear to help you survive an invasion of the undead. Below is a sampling of what the kit includes: Stanley First Aid [...]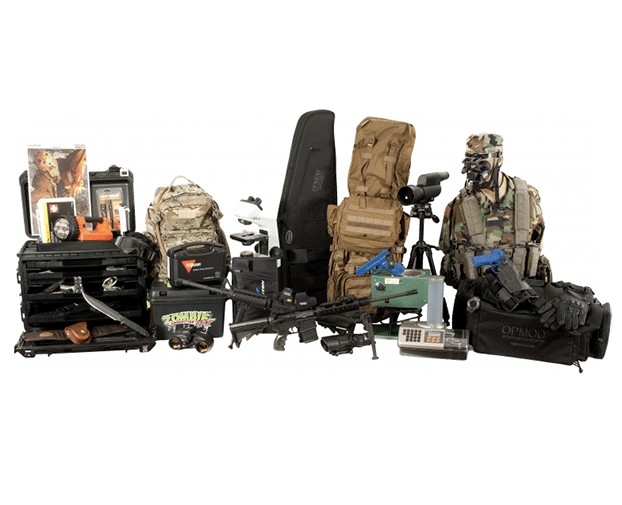 Image: OpticsPlanet
If you're convinced of an impending zombie apocalypse, might as well splurge $24,000 on a survival kit.
OpticsPlanet's Z.E.R.O kit — short for Zombie Extermination, Research and Operations — is chock full of gear to help you survive an invasion of the undead. Below is a sampling of what the kit includes:
Stanley First Aid to treat bite bounds and scratches

Blackhawk S.O.L.A.G. Kevlar Gloves to punch zombies

5.11 Tactical Field Ops Watch to help you find your bearings; an integrated SureShot calculator helps you take the perfect shot from 1000 feet away

OPMOD PVS-14 Night Vision Scope

Thermal-Eye X-50 Thermal Imaging Camera

SureFire 123A Lithium Battery Box to hold 400 batteries; if you run out of batteries there's the Brunton SOLARIS Portable Solar Panel Battery Charger

SureFire Benelli Forend Light for shotguns provides 120 lumens

Zombie Stopper Holographic Weapon Sight

Crimson Trace Zombie Edition Laser Grip, a Glock accessory, activates with a normal grip

Browning Zombie Apocalypse Knife

RCBS Pro-Melt Furnace reloads bullets quickly so you can shoot continuously

Qorpak Beakers, Labnet Pipettes and a Celestron Microscope to study (and hopefully cure) the zombie disease
Pretty hard core, right? And that's just a fraction of the Z.E.R.O. kit.