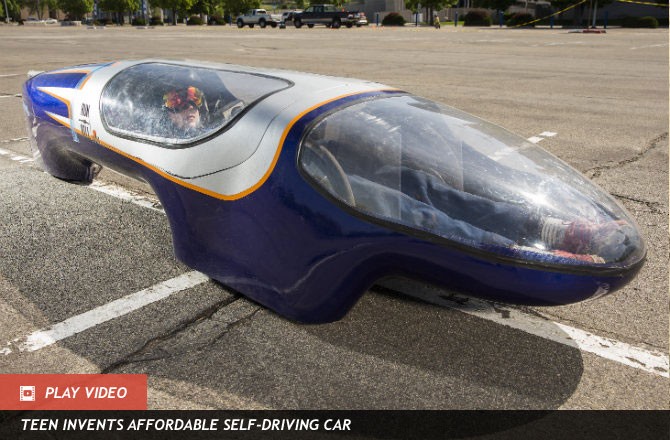 Usually we look at the most efficient vehicles on the market out there and think anything over 50 miles per gallon would be awesome. But we've obviously been aiming too low because college students made one that gets more than 1,300 mpg.
VIDEO: Kayak that Folds into a Suitcase
The vehicle was created by a group from Brigham Young University competing in the recent SAE Supermileage Competition in Marshall, Mich. The event tasks technology and engineering students to construct a fuel-efficient vehicle for one person powered by a small four-cycle engine. College teams then run their vehicles along a specific course and the one with the best design and highest miles per gallon wins.
For the competition, teams were each given about 20 grams of fuel. To give you an idea, that's like taking one decent sip from a water bottle. They were also required to have drivers who weighed at least 130 pounds, or had to add weight to make up the difference.
BYU's team constructed a fish-shaped vehicle with an aerodynamic and modular design. It also sports a high compression engine and thermoformed windows to maximize visibility for the driver, who has to recline to steer. In all the whole thing weighs 99 pounds, according to the university.
The big catch? The top speed was a blazing…25 miles per hour. "We're not the hare," team member Eric Wardell said in a BYU video about the vehicle. "This is definitely a tortoise car." Ultimately the team placed second to the Penn State team, which got 1,290 mpg but had a higher design score.
Plug-In Hybrid Vehicle Has Wings
Even though the BYU car is slow and its performance was limited to the Eaton Corporation's proving grounds, the insane fuel economy underscores the relationship between speed and efficiency. That's something for highway drivers to keep in mind the next time we feel the urge to leave other cars in the dust. The tortoise really does win.