Superhuman Robotic Arm Wins Dyson Award
An upper-body robotic arm that increases human strength just won big. Continue reading →
A battery-powered, upper-body robotic arm that increases human strength just won the 2013 James Dyson Foundation Award. University of Pennsylvania engineering students created the arm and will receive $45,000 to advance their prototype.
Sure, we've seen amazing robotic arms before. Some connect directly to the brain while others are basically external machines that help injured patients regain strength.
Unlike these other existing robotic arms, this one is ergonomic, non-invasive, wireless, battery-powered and affordable. The student team at Penn created the robotic exoskeleton Titan Arm for physical rehabilitation and super-human strength on the go.
When donned, the Titan Arm augments arm strength by about 40 pounds, according to the team that created it. While not quite Iron Man level, the added strength can accelerate rehab for patients with back injuries. It could mean being able to lift heavy objects for work despite having an arm injury or disability. And the arm could aid search and rescue operations. The prototype cost about $2,000 to make while similar robotic exoskeletons cost upwards of $100,000, the students pointed out.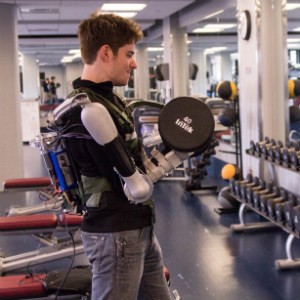 The Titan Arm team was handed the Dyson Award, an annual international competition for university-level engineering students that challenges them simply to "design something that solves a problem." In addition to the $45,000 to continue work on their prototype, the students' department will receive $16,000 for rapid prototyping equipment.
The runners-up for the top prize were Hiroshi Yamaura's affordable and adaptable prosthetic hand called Handie, and a 3-D-printed plastic cast system from New Zealand called Cortex.
Health-related designs also took some of last year's awards. A re-adjustable prosthetic socket project was one of the runners-up to the SafetyNet system for safely releasing juvenile and non-targeted fish from nets.
Robots Learn to Reach, Touch Gently
Exoskeletons generally aren't covered by health insurance even though robotic devices have helped speed recovery for injured people. Physical therapists have used them to provide assistance or resistance to rebuild muscle. The repetitive movements also retrain the brain when there's been a spinal injury. Having an affordable option could be huge for many patients.
Next the student team plans to use 3-D printing to make arms that are customized to fit specific users. They ultimately hope to make the arm commercially available for less than $10,000. Even if hospitals and physical therapy centers don't spring for them, Titan Arms could be a boon for movers. Sure beats wheeling around a dolly.
Photos: The Titan Arm in action. Credit: James Dyson Foundation.