Stray Dog Befriends a Cycling Crew and Runs Over A Thousand Miles to Tibet (Video)
Move over Lassie, Benji, and Baxter, there's a new dog out there that runs across the countryside in an act of loyalty. Meet Xiao Sa, a cute little mutt that encountered a group of Chinese cyclists riding from Kangding in Sichuan province to Lhasa in Tibet. The cyclists gave her a drumstick to eat, and [...]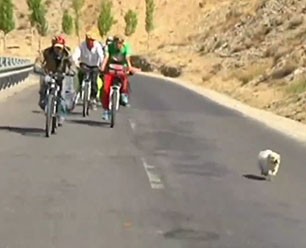 Photo via ITNNews on YouTube
Move over Lassie, Benji, and Baxter, there's a new dog out there that runs across the countryside in an act of loyalty. Meet Xiao Sa, a cute little mutt that encountered a group of Chinese cyclists riding from Kangding in Sichuan province to Lhasa in Tibet. The cyclists gave her a drumstick to eat, and it was that piece of meat that bonded them for life.
Xiao Sa followed them down the road — and then the next — and the cyclists realized that perhaps the little dog was in it for the long haul.
The cyclists continued their route, covering over 1,050 miles that went up and down ten mountains. Xiao Sa toughed it out on each ascent — some going above 13,000 ft. ASL. " ran on uphill sections where many bikers prefer to take the bus," said one cyclist. "The only portion of the journey where Xiao Sa didn't have to run was on a steep slope in Litang, where downhill speeds reach 70 km per hour, which made it impossible to catch up. So the cyclists made a cage for her and gave Sa a ride to the bottom, where she resumed her journey on foot."
One of the cyclists adopted Xiao Sa after the expedition, and the former stray finally had a home. That's quite a long way to go to find one for a stray, but hey, whatever works, I guess.