Strauss-Kahn Case: Past Lies Sink Prosecution
A real victim may have let her real attacker go because of a fake story from the past.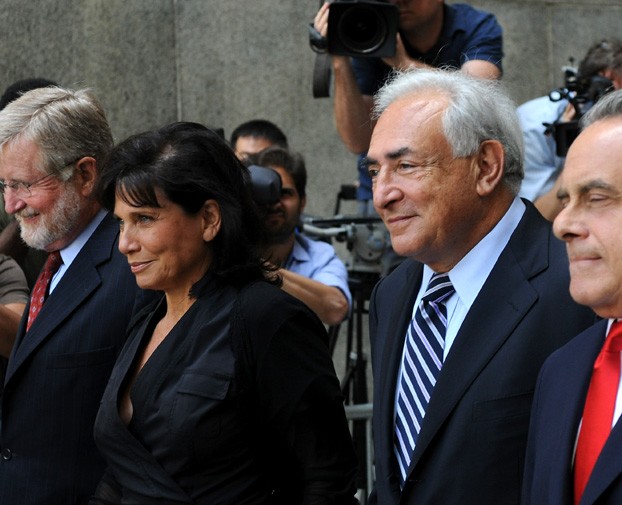 photo: Former IMF head Dominique Strauss-Kahn (2nd R) and his wife Anne Sinclair (3rd R) walk out of New York State Supreme Court after charges against him were dismissed. credit: Corbis/Xinhua/Shen Hong
A sensational rape case involving one of the world's most powerful men ended with a dismissal in a Manhattan court yesterday when prosecutors asked a judge to drop the charges against would-be French presidential candidate Dominique Strauss-Kahn.
The fact that a District Attorney decided not to take an assault charge to trial is not unusual; it happens all the time when police decide they arrested the wrong person, or a victim recants. But in this case the irony is that it's almost certain that a crime actually occurred, and that a real victim let her real attacker go because of a fake story.
Strauss-Kahn had been accused of raping a housekeeper, Nafissatou Diallo, in an upscale Manhattan hotel in May. Strauss-Kahn was arrested on May 14, and the wealthy banker immediately hired New York's best lawyers.
As it turned out, he didn't need them, because Diallo hobbled her own case with a series of lies. According to prosecutors and the motion to dismiss, Diallo's credibility problem went far beyond fudging some numbers or facts on tax or immigration forms; she was "persistently, and at times inexplicably, untruthful in describing matters of both great and small significance…. The nature and number of the complainant's falsehoods leave us unable to credit her version of events beyond a reasonable doubt, whatever the truth may be about the encounter."
The most serious lie was a false rape claim. Diallo told police that she had been gang-raped by soldiers at her home in her native country, Guinea. According to The New York Times, quoting from the prosecutor's motion to dismiss the charges, Diallo -
"Offered precise and powerful details about the number and nature of her attackers and the presence of her 2-year-old daughter at the assault scene, who, she said, was pulled from her arms and thrown to the ground. During both interviews, she identified certain visible scars on her person, which she claimed were sustained during the attack. On both occasions, the complainant recounted the rape with great emotion and conviction: she cried, spoke hesitatingly and appeared understandably distraught, and during the first interview, even laid her head face down on her arms on a table in front of her."
She soon admitted that she made up the story; it never happened. Prosecutors said that Diallo's ability and willingness to tell the false rape story with complete conviction was fatal to her credibility.
Diallo said that she and a friend had concocted and rehearsed her rape story in case she needed to use it to bolster her immigration asylum claim. Yet a review of her asylum application makes no mention of the gang-rape.
It's not clear if Diallo created the rape hoax specifically for the detectives in this case, or if she previously told Guinea police the same story. If so, what about the men who Diallo falsely accused of raping her and attacking her child? What were the consequences of her rape hoax? Were any of the men arrested, or charged, or even jailed? Were the reputations of innocent men tarnished by her lies? Nobody knows.
Diallo's lawyer admitted that his client had credibility problems but emphasized that DNA evidence proved that some sexual encounter took place, and Strauss-Kahn admitted it but claimed it was consensual (apparently hotel housekeepers routinely offer oral sex to much older men after restocking mini shampoo bottles). Just because Diallo lied about being raped does not mean that she was not raped by Strauss-Kahn.
The fact that the charges against Strauss-Kahn were dismissed does not, of course, mean he is not guilty; it merely means that the prosecutors did not feel that their case (which depended largely on Diallo's credibility) was strong enough to convince a jury beyond a reasonable doubt that he was guilty.
As the prosecutors said, "If we do not believe her beyond a reasonable doubt, we cannot ask a jury to do so."
If Strauss-Kahn is guilty, as many people believe (and the DNA evidence suggests), it makes Diallo's deception all the more tragic because she deprived herself of justice.