Strange Failed Star Found Hiding Nearby
An infrared survey spots a strange "blue" brown dwarf lurking in our stellar neighborhood. Continue reading →
ESA/PACS/NASA/JPL-Caltech/IRAM
On April 29, the European Space Agency announced that its premier infrared space observatory had run out of coolant and the mission had come to an end. Observing the cosmos in far-infrared wavelengths, the space telescope has given us some of the most striking views of cool nebulae, star forming regions, comets being pulverized around nearby stars, even asteroids buzzing around our own solar system. As we say goodbye to the historic mission, and astronomers continue to analyze the huge wealth of data Herschel has left us with, it's time to have a look back at some of the mission's most spectacular observations.
In this picture, embryonic stars feed on the gas and dust clouds deep inside the Orion Nebula. This image combines far-infrared data by Herschel and mid-infrared data by NASA's Spitzer space telescope.
ESA/Herschel/PACS & SPIRE Consortium, O. Krause, HSC, H. Linz
The Andromeda galaxy in infrared -- Herschel took this portrait of the famous spiral galaxy, picking out the fine detail from gas and dust running through its structure.
ESA/PACS & SPIRE consortia, A. Rivera-Ingraham & P.G. Martin, Univ. Toronto, HOBYS Key Programme (F. Motte)
This three-color image of the W3 giant molecular cloud combines Herschel's 70 μm (blue), 160 μm (green) and 250 μm (red) filters. W3 is located about 6200 light-years away and is a hub of intense star formation. Filaments of gas and dust cocooning protostars (yellow dots) can be seen.
ESA/Herschel/PACS/L. Decin et al
The star Betelgeuse is observed in infrared by Herschel as it rapidly approaches a "barrier" of interstellar gas. The bow shock of the star's stellar winds can easily be seen.
ESA/Bonsor et al (2013)
The star Kappa Coronae Borealis is captured in this infrared observation by Herschel. The star itself is blocked out whereas the ring of debris (likely from asteroid/comet impacts) glows bright.
ESA/Herschel/PACS/Bram Acke, KU Leuven, Belgium
The infrared emissions from dust produced by a huge number of cometary collisions surrounding the famous star Fomalhaut glows in bright blue in Herschel's eye. At least one exoplanet is known to orbit within this ring of dust.
Herschel: Q. Nguyen Luong & F. Motte, HOBYS Key Program consortium, Herschel SPIRE/PACS/ESA consortia. XMM-Newton: ESA/XMM-Newton
Supernova remnant W44 is the focus of this observation created by combining data from ESA's Herschel and XMM-Newton space observatories.
ESA and SPIRE & PACS consortia, Ph. André (CEA Saclay) for Gould's Belt Key Programme Consortia
Herschel picks out 600 newly forming stars inside the W40 nebula cradle of stars -- located 1,000 light-years away in the constellation Aquila.
ESA/Herschel/PACS/MACH-11/MPE/B.Altieri (ESAC) and C. Kiss (Konkoly Observatory)
Herschel could also study solar system objects with ease. In this observation, asteroid Apophis was captured during its approach to Earth on 5/6 January 2013. This image shows the asteroid in Herschel's three PACS wavelengths: 70, 100 and 160 microns, respectively.
ESA/Herschel/PACS, SPIRE/N. Schneider, Ph. André, V. Könyves (CEA Saclay, France) for the "Gould Belt survey" Key Programme
This striking image complemented Hubble's 23rd anniversary optical view of the Horsehead Nebula. Herschel's infrared observation of the Orion Molecular Cloud complex (including the Horsehead Nebula -- visible far right of image) provided a unique perspective on this astronomical favorite.

Stars form when giant clouds of interstellar dust and gas collapse under their own gravity. Steadily gathering into swirling spheres of raw elements, they grow denser and denser, hotter and hotter, until eventually they are hot and massive enough to begin fusing hydrogen into helium inside their cores and whoosh — a star is born.
But sometimes there's not enough material to get to that point. The protostar, for whatever reason, doesn't get massive enough to begin the hydrogen fusing process inside it. It's collected all the dust and gas that was available but it still not enough to ignite. Falling short of full-blown stardom, it's doomed to drift through the galaxy as a cool, dark brown dwarf… and there's one right in our stellar neighborhood.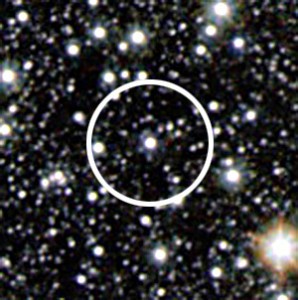 Brown dwarf VVV BD001 located 55 light-years away
This image reveals such a failed star, located a mere 55 light-years from our own solar system (although that's still about 323.1 trillion miles away.) At the very center of the picture lies a brown dwarf — unofficially named VVV BD001 — that was spotted with the European Southern Observatory's 4.1-meter VISTA telescope during the VVV survey.
The VVV survey (which stands for VISTA Variables in the Via Lactea, i.e., "Milky Way") searches the area of the sky near the central bulge of our galaxy in near-infrared wavelengths. It's in these heat-generated emissions that hidden brown dwarfs are most easily found, as they are otherwise optically very dim.
PHOTOS: Top 10 Spitzer Nebula Stunners
Despite the name, brown dwarfs aren't actually brown. But VVV BD001 is even less so (well, kinda sorta) — it's one of a curious breed known as "unusually blue brown dwarfs." These emit shorter-wavelength infrared light than most brown dwarfs for reasons not entirely understood (but then, wouldn't necessarily look blue to our eyes either.) Regardless, it makes VVV BD001 an extra-special find! (Read more on this here.)
In addition, since astronomers don't usually look for brown dwarfs near the bright, crowded galactic center, VVV BD001 — the first object of its type identified by the survey — was located purely by chance.
Makes one wonder how many others may be out there, and how close they might be…
Source: ESO news release
Credit: ESO, and D. Minniti and J. C. Beamín (Pontificia Universidad Católica de Chile). The team's paper was published online in the August 27 edition of Astronomy & Astrophysics.