Storm Shelters Few in 'Tornado Alley'
Seventy-five percent of the world's tornadoes occur in the United States, yet few people who live in 'Tornado Alley' have proper storm shelters.
Scott Olson/Getty Images
Macie Thompson looks over damage at Briarwood Elementary School after a powerful tornado ripped through the area on May 21, 2013 in Moore, Oklahoma.
Wikimedia Commons
Deadly tornadoes have lashed the United States for centuries. Most of the worst occurred before modern warning systems existed, although one occurred almost exactly two years before the deadly twister that struck Oklahoma on May 20.
Tri-State Tornado
The deadliest tornado in U.S. history, the Tri-State Tornado of March 18, 1925, ravaged 219 continuous miles of Missouri, Illinois and Indiana. Nearly 700 people lost their lives in that single tornado, according to NOAA. However the twister was not officially classified by NOAA as an EF5 -- the most damaging type -- because of a lack of data, nor were there official records of wind speeds.
Wikimedia Commons
Joplin, Mo.
On May 22, 2011, the deadliest tornado yet recorded by the new Enhanced Fulita Scale struck Joplin and killed 158 Americans, making it the seventh deadliest in U.S. history. Winds exceeded 200 miles per hour as the EF5 tornado demolished a path that was 22.1 miles long and up to 1 mile wide.
YouTube screen capture
Natchez, Miss.
The second deadliest tornado in U.S. history whipped along the Mississippi River on May 2, 1840, ending 317 lives, according to NOAA's Storm Prediction Center. The tornado killed hundreds on boats and barges on the river until striking Natchez, where the storm killed dozens more. Like all tornadoes from before 1950, NOAA lacks sufficient data to classify the Natchez tornado as F5 or EF5.
Wikimedia Commons
St. Louis, Mo.
St. Louis suffered a tornado's wrath on May 27, 1896, when at least 255 people died. A study published in Weather and Forecasting estimated that the tornado cost $2.2-$2.9 billion in 1997 dollars when adjusted for inflation and wealth increases, making it the costliest tornado in American history. The death toll made it the third deadliest.
Corbis
Tupelo, Miss.
On April 5, 1936, the fourth deadliest tornado in U.S. history struck Tupelo, Miss., and killed 216. A total of 436 people died in the outbreak of 17 tornadoes that included the Tupelo twister. Tetsuya Fujita of the University of Chicago and Tom Grazulis, head of the Tornado Project, retroactively rated the Tupelo tornado as an F5 on the scale invented by Fujita.

Bettmann/Corbis
Gainesville, Ga.
The same storm system that lashed Mississippi in 1936 continued on to Georgia where it unleashed the fifth deadliest tornado in U.S. history and killed 203 people in Gainesville. Fujita and Grazulis rated this tornado an F4, meaning winds reached 207-260 miles per hour.
Corbis
Woodward, Okla.
Oklahoma is no stranger to tornadoes. The sixth deadliest on record struck on April 9, 1947. The storm nearly destroyed the towns of Higgins and Glazier. In Woodward, Okla., 100 city blocks were destroyed and 107 lives lost, according to the Tornado Project. A total of 181 people died in the tornado.
Bettman/Corbis
Super Outbreak
The largest outbreak of F5 super-tornadoes occurred April 3-4, 1974. Seven F5 tornadoes struck in a single 24-hour period. In total, 147 tornadoes whirled through the central portion of the United States on that day.
NOAA
Largest Tornado
On May 22, 2004, the largest tornado ever recorded hit Hallum, Neb. The twister stretched nearly 2 1/2 miles across. No one died in the massive twister.
Jeff Haller/Corbis
Dixie Outbreak
Groups of tornadoes or outbreaks can cause as much or more damage than a single giant storm. The "Dixie Outbreak" of April 27, 2011, killed 316 people according to NOAA's Storm Prediction Center. More Americans died in tornadoes that day than any other in  this century.

Seventy-five percent of the world's tornadoes occur in the United States, yet few people who live in "Tornado Alley" bother with the trouble and expense of a proper shelter from the storms.
Mel Evridge, 69, a retired builder who experienced both Monday's twister in this Oklahoma City suburb that killed 24 and a still deadlier one in May 1999, is a proud member of that minority.
Not only did he put a storm cellar in the smart single-level house he built for his family in the 1970s, but he also opted to use Arkansas Hackett stone tough enough to withstand the worst of Oklahoma's climatic extremes.
Even then, Evridge told AFP as he collected debris from his front lawn, "I was just about as scared (Monday) as I was the first time."
"Ever heard a jet throttle up when holding its brakes?" he asked in describing what a tornado feels like from inside a shelter. "That's what it sounded like. Just one big roar."
Yet few homes in the tornado-vulnerable Great Plains that stretch from Texas to the Canadian border are fitted with tornado shelters -- and public buildings even less so.
In the Oklahoma City area, perhaps 10 to 20 percent of homes have some kind of formal shelter, said John Snow, a professor of meteorology at the University of Oklahoma and an authority on the Great Plains' often unforgiving climate.
No state or local law in Oklahoma, the "bullseye" of Tornado Alley, mandates the installation of residential storm shelters -- and homeowners who do opt for them have to shell out upwards of $4,000 for the most basic option.
"Storm shelters are a good idea. That's a fundamental message," Snow told AFP in a telephone interview. "But there are awesome challenges to building them."
Besides the expense, the region's flat open terrain consists of clay, which expands when wet, contracts when dry and renders the kind of basements common in the eastern United States vulnerable to cracking and crumbling.
There's also the fact that tornadoes as potent as those seen in Moore, with winds of 200 miles (321 kilometers) per hour, are few and far between, compared to the far more common ones that are half as strong.
For those twisters at the low end of the five-step Enhanced Fujita scale, taking cover in the bathtub, under a staircase or inside a closet is typically good enough, Snow said.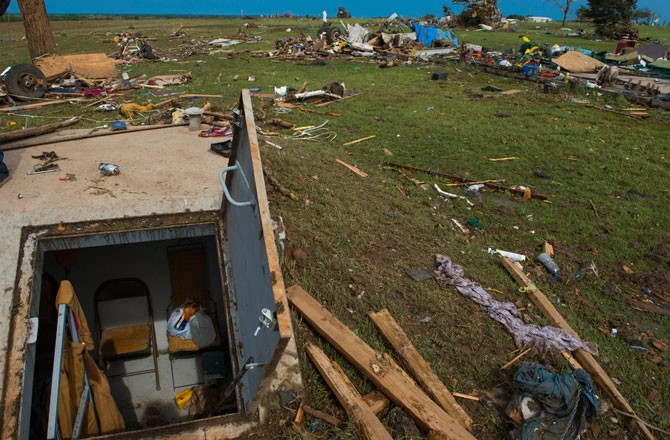 Shown is the storm shelter that Gary and Ferrell Mitchusson used to ride out a massive tornado on May 21, 2013 in Moore, Ok. Their home was completely destroyed in the massive tornado.Ricky Carioti/The Washington Post via Getty Images
Schools like Plaza Towers Elementary, in which at least seven children died Monday, also don't require underground shelters. Instead, teachers are trained to huddle their young charges in hallways and other places well away from windows.
In Oklahoma, only about 100 schools have safe rooms built with federal funding that is no longer available, The Wall Street Journal reported.
"Unfortunately, people prefer homes with swimming pools rather than storm shelters," said Oklahoma State Representative Joe Dorman, who is proposing a $500 million state bond issue to pay for more school shelters.
Public buildings like office and shopping complexes are subject to more stringent construction and engineering codes than homes, and so structurally have a better chance of standing up to a tornado, according to Snow.
"If you look closely, all the washrooms (in shopping malls) have little signs that say, 'This is a tornado shelter,'" he said.
Indeed, the Warren multiplex cinema -- part of a western US theater chain whose owner takes pride in the high quality of his real estate -- took the fury of the tornado so well that it was commandeered as a first aid center.
And there's the character of the people who chose to live in Oklahoma, a land of cowboys, oil workers, wide open skies and endless prairie that encapsulates the American ideal of rugged individualism.
"It traces back to the people who settled this part of the country" in the late 1800s, Snow said. "If you didn't like it here, you left. What you have is a pretty tough lot. Come back (to Moore) in 18 months. You'll see it rebuilt."