Stainless Steel Ice Cubes Look Cool, Keep Your Drink Cooler
It's the biggest complaint from drink lovers everywhere: You need to keep your drink cold, but melting ice dilutes your cocktail into a watery mess. And if your drink is a rare single malt? You want it chilled, not drowned. The solution? You could use those adorably-shaped plastic things your mom thinks are so cute [...]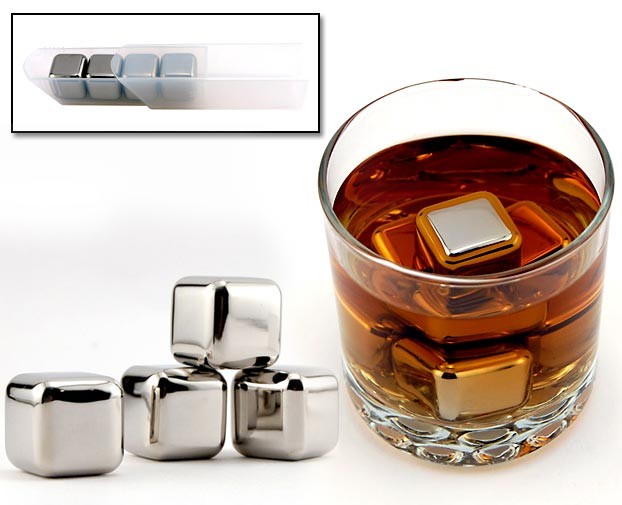 Stainless Steel Ice Cubes bring the chill without diluting (Photos: Kegworks.com)
It's the biggest complaint from drink lovers everywhere: You need to keep your drink cold, but melting ice dilutes your cocktail into a watery mess. And if your drink is a rare single malt? You want it chilled, not drowned.
The solution? You could use those adorably-shaped plastic things your mom thinks are so cute and drops into her wine spritzer. Or you could go stainless.
Check out this set of four food safe, stainless steel cubes. Sealed inside each is non-toxic gel that freezes when you place them in the freezer. Since stainless steel is a good conductor of cold, placing a few of these shiny silver cubes into your gin and tonic lets the chill happen quickly, without watering it down.
And if you're a fan of "A Christmas Story" and wondering what happens when your fingers touch ice cold metal, the designers of these metallic stones are one step ahead of you. They've included a special freezing tray that allows you to slide the cubes into your drink, without ever having to touch them. I'll drink to that. (If you're interested, you can grab a set for $24.95 here.) Via GadgetsIn.com