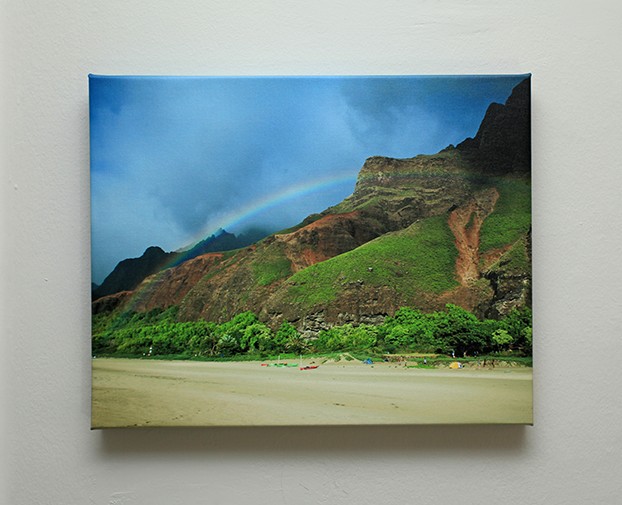 Image: Alice Truong for Discovery Channel
Don't let your images sit untouched in a photo library. Instead, let them breathe life into your walls.
As its name suggests, MyPix2Canvas is an online canvas-printing service that will transform your digital images into wall-ready art. The company says it specializes in color, using environmentally friendly inks and coating its prints with UV protection to keep color from fading. Knowing this, when reviewing the service, I chose two particularly vibrant photos taken in Hawaii.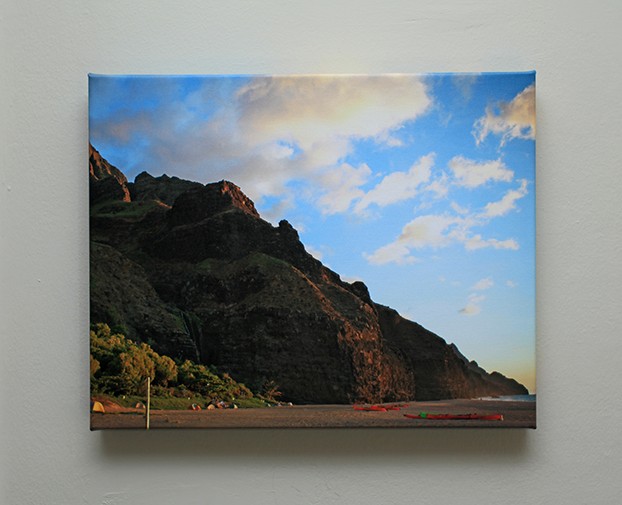 Image: Alice Truong for Discovery Channel
The color reproduction was vivid, and from a distance, the prints looked just like photographs. As expected with the canvas material, closer inspection yielded a more paint-like quality instead of razor sharp pixels. Though this is subjective, I would say more artistic photos would take to the medium better than say landscapes, as I had chosen.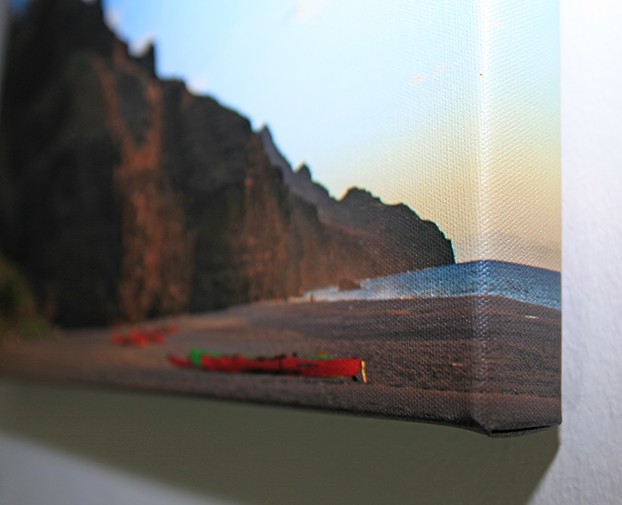 Image: Alice Truong for Discovery Channel
MyPix2Canvas offers a fair level of customization, printing non-traditional sizes with two depths (0.75 inch for framing or 1.5 inches for hanging), in different color profiles (color, sepia, black and white) and with three edge options. Since these are stretched canvas pieces, you can choose an over wrap, which bleeds the image past the surface onto the stretcher bars; mirror wrap, which reflects the side of the photo onto the depth of the canvas; and color wrap, which paints the edge with a single hue. Though the over wrap means further cropping down an image, I chose it for the natural-looking continuity.
Ten days after I placed an order online, I received the prints via mail at home in a cardboard package labeled with handle with care stickers. For those looking to spruce up their walls or come up with a thoughtful gift for the holidays, MyPix2Canvas is an affordable service that outputs prints with accurate color reproduction. If you happen to snag a deal like this one from LivingSocial, at two-thirds off, it's a fantastic buy. (UPDATE: The company's running a Black Friday deal Nov. 23-26 for 70 percent off selected sizes with the online code BestDeal70.) Do yourself a favor and edit the images yourself though. It makes no sense to pay an additional $20 to $40 for editing features you could achieve with a few minutes in Photoshop.