Spring's Cool Contradiction
A very cold spring has left some lakes slow to thaw. But that doesn't mean global warming as vanished, sadly. Continue reading →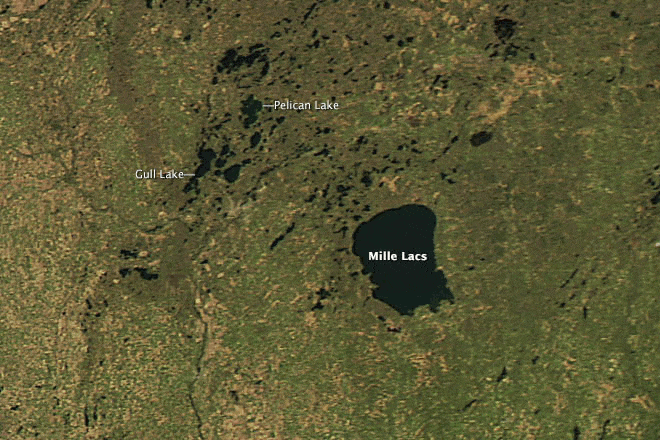 NASA images courtesy Jeff Schmaltz, LANCE/EOSDIS MODIS Rapid Response Team at NASA GSFC
The land may be greening up with spring, but in Minnesota some lakes have been slow to lose their ice, due to a cooler-than-usual spring. The satellite images above show the different between mid May 2013 and mid May 2009. But does this mean global warming has stopped? Sadly, no.
It boils down to the difference between climate and weather, which are analogous to a cart and horse, or perhaps improvisational music. Climate is the horse, and weather is the cart. Climate pulls the weather along, influencing it over the long term, but weather does not drive climate.
Using the musical analogy, climate is the overall mood, tempo and style of the music, while the melody within the piece would be more like weather. These aren't perfect analogies, but I hope they are helpful in making this important distinction, because it's a distinction that's lost on a lot of people, according to the folks at the Yale Project for Climate Change Communication (YPCCC).
Video: Bringing Climate Change to the Classroom
In their recently released national survey Americans' Global Warming Beliefs and Attitudes in April 2013, they report that since Fall 2012, the percentage of Americans who believe global warming is happening had fallen 7 points to 63%. They speculate that the drop was likely influenced by the relatively cold winter of 2012-13 and an unusually cold March just before the survey was conducted.
"As our prior research has found, some people think weather and climate are the same thing," writes YPCCC director Anthony Leiserowitz. "When they experience cold weather or a big snowstorm, they think that perhaps global warming isn't happening. When they experience a heat wave, they are more likely to say it is happening. Recent weather experiences can thus influence the opinions of some members of the public. That's why helping people understand the difference between weather and climate is important."