SpaceX Test Fires Awesome New Rocket
The private spaceflight company has test fired a new rocket that will be used to rescue launching astronauts during an emergency and propulsively land on planetary bodies.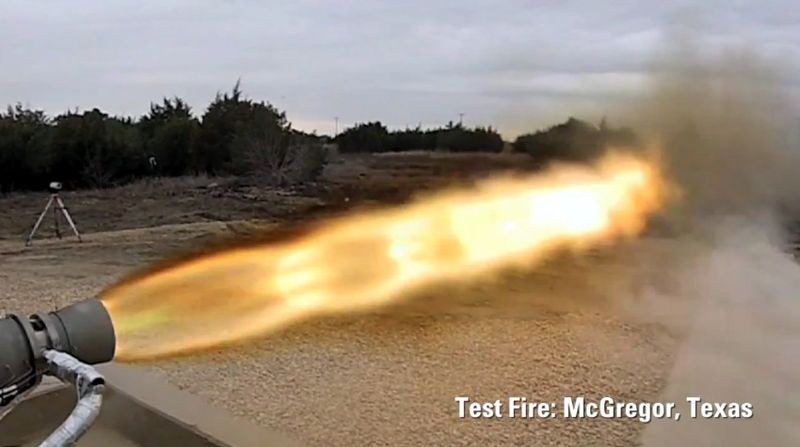 With all the political wrangling over space exploration these days, it can be easy to forget that one burgeoning sector of U.S. industry is making great strides toward getting American astronauts back into space.
Space Exploration Technologies (SpaceX) rolled out a brand new rocket system and successfully tested it in Texas recently. The rocket, called SuperDraco, may not have the mammoth thrust of one of the SpaceX Merlin 1C engines that blasted the Falcon 9 into orbit, but its purpose is possibly more crucial than to "simply" launch stuff into space.
In fact, the SuperDraco won't launch anything into space.
Building on the technology behind the Draco thruster that will be used to maneuver the Dragon spacecraft while in Earth orbit, the SuperDraco is a souped-up version designed to rescue launching crews and land the vehicle on a planetary body — like Earth… or Mars.
"SuperDraco engines represent the best of cutting edge technology," said Elon Musk, SpaceX's founder, CEO and Chief Technology Officer in a statement on Wednesday. "These engines will power a revolutionary launch escape system that will make Dragon the safest spacecraft in history and enable it to land propulsively on Earth or another planet with pinpoint accuracy."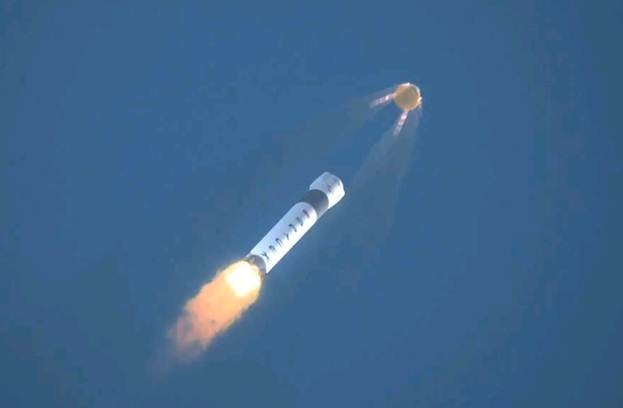 The interesting thing about the SuperDraco is that it is designed as a dual-use rocket. During launch, it will be ready to blast the Dragon vehicle clear should there be an emergency (pictured above). But, assuming the launch goes to plan, the eight SuperDracos will be used as a propulsive landing system (pictured below). Yes, the Dragon will leave the parachutes at home, opting instead to slow down and land under the thrust of rocket power alone.
This may sound impressive, but the time it took to design and build the engine is even more so.
"NASA's Commercial Crew Program awarded SpaceX $75 million in April of last year to begin work developing the escape system in order to prepare the Dragon spacecraft to carry astronauts," Wednesday's statement reads. "Less than nine months later, SpaceX engineers have designed, built and tested the engine."
In the wake of this successful test firing, NASA's Commercial Crew Program Manager Ed Mango said: "SpaceX and all our industry partners are being extremely innovative in their approaches to developing commercial transportation capabilities. We are happy that our investment in SpaceX was met with success in the firing of its new engine."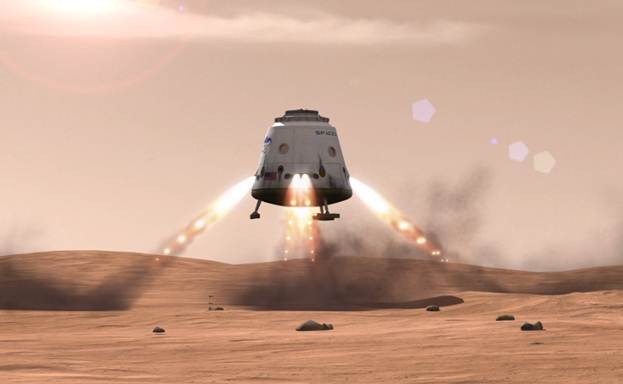 Interestingly, the SuperDraco launch abort system (with eight rockets) will deliver 120,000 pounds of axial thrust if the worst were to happen. This is just shy of the Apollo spacecraft's rocket launch abort system thrust of 147,000 pounds. But there are several key differences.
As already mentioned, the SuperDraco engines will be dual use (used as a launch abort system and powered landing system) — the Apollo launch abort system had one purpose only. Also, SuperDraco will be fully reusable, ultimately making the Dragon vehicle more sustainable. Sustainability, after all, is the "Holy Grail" of spaceflight.
Although SuperDraco will use the same fuel as the Draco maneuvering rockets, it will burn through the propellant 200 times faster ensuring the raw energy of SuperDraco thrust will be delivered 100 milliseconds after the switch is flicked. With any spaceflight system, there will also be a high level of "redundancy" — should one engine fail, there are seven more to take up the slack.
"Crews will have the unprecedented ability to escape from danger at any point during the launch because the launch abort engines are integrated into the side walls of the vehicle," Musk said. "With eight SuperDracos, if any one engine fails the abort still can be carried out successfully."
The next planned milestone for SpaceX is this year's space station docking with an unmanned Dragon vehicle. Though the date has yet to be set for this test flight, excitement is building for the very first commercial space vehicle to begin automated delivery runs — and eventually taxi rides — to the orbiting outpost.
Images: SpaceX fires up the SuperDraco (top); Artist's impression of the Dragon's launch abort system (middle); Artist's impression of the Dragon carrying out a propulsive landing on the Martian surface (bottom). Credit: SpaceX