SpaceShipTwo Ready to Break Sound Barrier
SpaceShipTwo, a six-passenger, two-pilot suborbital spaceship owned by Virgin Galactic, is scheduled for is first rocket-powered test flight on Monday. Continue reading →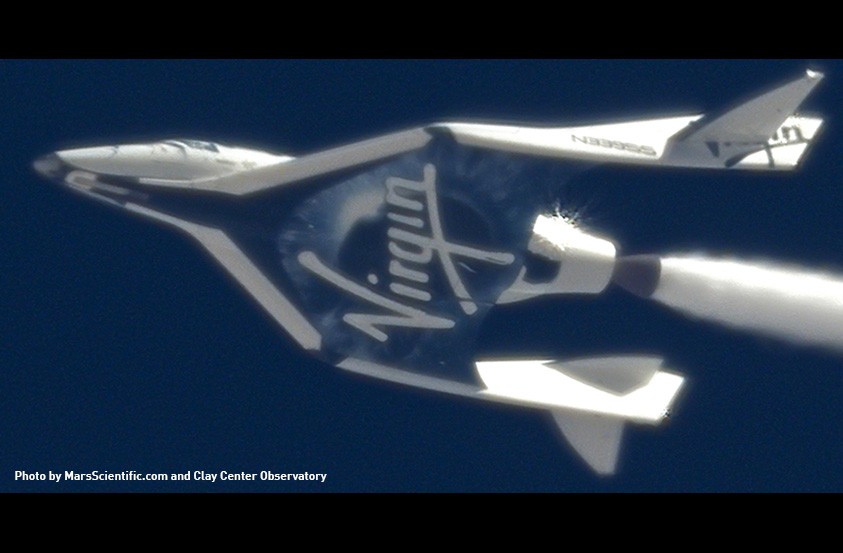 SpaceShipTwo, a six-passenger, two-pilot suborbital spaceship owned by Virgin Galactic, an offshoot of Richard Branson's Virgin Group, is scheduled for is first rocket-powered test flight on Monday, Branson told the Las Vegas Sun newspaper in an interview published on Tuesday.
"We're hoping to break the sound barrier. That's planned Monday. It will be a historic day," the newspaper quoted Branson as saying.
NEWS: SpaceShipTwo Practices Flying — With Engines
During the spaceship's last test flight on April 12, manufacturer Scaled Composites of Mojave, Calif., flowed oxidizer through the vehicle's propulsion system and out its nozzle (pictured top), providing the first visible hint of what the vehicle will look like as it blasts off into space.
"This test proved SpaceShipTwo's rocket's oxidizer flows properly in flight and is a key milestone in our progress towards commercial space flight," Branson wrote in a blog post on  Virgin Galactic's website.
SpaceShipTwo is designed to ignite its rocket engine midair after being dropped from a carrier aircraft called White Knight Two.  The spaceship is modeled after a prototype, called SpaceShipOne, that won the $10 million Ansari X Prize in 2004 for being the first privately developed, piloted vehicle to reach suborbital space.
NEWS: SpaceShipTwo Re-entry System Tested
Scaled Composites is in the midst of a series of test flights at the Mojave Air and Space Port leading up to  SpaceShipTwo's first foray beyond the atmosphere later this year, if all goes as planned.
Virgin Galactic is taking reservations and deposits for the surborbital space rides, which sell for $200,000 per person. More than 500 people have signed up.
Branson is expected to be on the spaceship's official debut, targeted for early 2014.
Virgin Galactic wouldn't comment specifically on Branson's comments, but company president George Whitesides did email the following to Discovery News:
"Test flight schedules have to remain flexible to be responsive to weather and a host of other factors, so can't give you a specific date.  But what is certain is that the team is getting close to first rocket powered flight, which is an important milestone for the company and the program."
Image: SpaceShipTwo completes a "cold flow" test flight on April 12. Next up: firing up the rocket engine. Credit: MarsScientific.com and Clay Center Observatory/Virgin Galactic