Space Music: Shuttle Tracks to Blast Off With
Friday's planned Atlantis launch brings all this to a close and, amid all the emotion, you'll probably want to crank some appropriate space music.
Robert Lamb also co-hosts the "Stuff to Blow Your Mind" podcast and blog.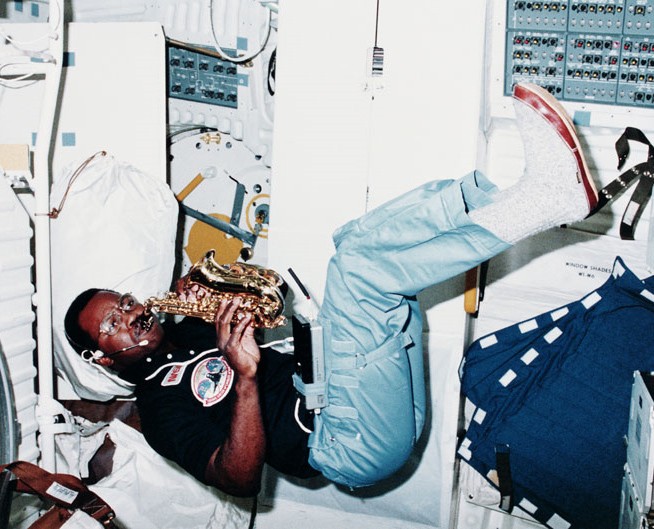 Mission specialist Ronald McNair plays some orbital sax aboard the Challenger in 1984. (NASA/Getty Images)
NASA's final space shuttle launch this Friday brings about the end of an era. If you're like me, you grew up watching the awesome triumphs and stunning tragedies associated with the space shuttle program. Friday's planned Atlantis launch brings all this to a close and, amid all the emotion, you'll probably want to crank some appropriate space music. Here are some recommendations.
"Space Shuttle" by Gil Scott-Heron
Gil Scott-Heron's 1990 track "Space Shuttle" is about much more than the shuttle program. The song takes a critical stance on the space program itself as a pointless waste of funding for the world's impoverished and starving, as well as an inevitable part of humanity's unending war schemes.
Scott-Heron sadly died earlier this year, but the man was a true American poet. Just consider the lyrics, "Space was the place where at least we thought our dreams were safe, ideas of innocence and grace, floating above the planet's face. Ah, but the distance has been erased 'cause Uncle Sam is on the case. ET has joined the Arms Race! Helping with a military base."
If you're unfamiliar with Gill Scott-Heron's work, I highly recommend giving the Paris DJs mix "For Ever Gil Scott-Heron!" a listen.
"Countdown" by Rush
Rock legends Rush watched the launch of the inaugural space shuttle mission STS-1 from their VIP seats and, as Columbia ascended through the atmosphere, the SEEDS of ROCK were already growing in their splendid Canadian brains. The result is an invigorating, cheesy blast of guitars, synth, rock vocals and actual mission audio.
"Flying for Me" by John Denver
The 1986 Challenger disaster was an emotional experience for all of us and John Denver created this moving folk tribute to the men and women who died aboard the shuttle. It's all the more poignant given Denver's enthusiasm for aviation, as well as the private plane crash that claimed his life in 1997.
"Last Rendez Vous" by Jean Michel Jarre
Another musical page from the aftermath of the Challenger disaster, this piece by French new age musician Jean Michel Jarre was originally set to feature a sax solo by astronaut Ron McNair recorded in orbit on that fateful shuttle mission. Jarre dedicated the song to McNair in his memory.
"Final Countdown" by Europe
Finally, we should at least give passing mention to Europe's rock anthem "The Final Countdown." While not specifically written with NASA or the Space Shuttle in mind, journalists and bloggers have a hard time resisting a reference in all their Atlantis headlines. Hey, it's a catchy tune and we're leaving together.
Of course, these are just a few of the songs to reference NASA's space shuttle program over the week. "Blue Sky" by Big Head Todd and the Monsters is another famous track, written for the Space Shuttle Discovery's 2005 return to flight (covered in this post). And if you'd like to experience the sounds of Friday's launch mixed in with some ambient space music, be sure to tune into SomaFM's excellent "Mission Control" internet radio channel.
So there you have it! Let me know how I got it wrong! You can find the Stuff to Blow Your Mind podcast on iTunes, Zune and the RSS feed. And don't forget the free HowStuffWorks App!