Space Music: Eno's Apollo
No discussion of ambient and spacey music is complete without a little Brian Eno thrown into the mix.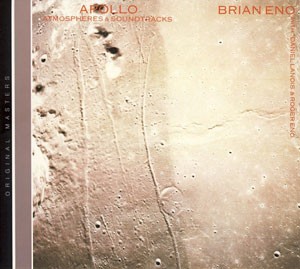 No discussion of ambient and spacey music is complete without a little Brian Eno thrown into the mix.
A master of soundtracks for imaginary motion pictures, Eno originally produced the 1983 album "Apollo: Atmospheres and Soundtracks" to score the nearly-imaginary documentary "For All Mankind." The final film didn't come out till 1989 and by then the score had come to include additional Eno tracks and the work of other artists.
You can read more about "For All Mankind" over at the Criterion Collection, but let's turn back to Eno's "Apollo." You've almost certainly heard the track "An Ending (Ascent)" off the album, especially since its ethereal beauty underlies the brutal violence of such films as "28 Days Later" and "Drive." Eno leaned heavily on the Yamaha DX7 synth for his spaced-out sounds, but he also incorporated quite a bit of pedal steel guitar. Eno's reasoning, as explored in this 2009 New Scientist interview, is fascinating:
When director Al Reinert approached me about doing the
The country music in question, by the way, was the work of Buck Owens — and while it might not be your or my first picks for lunar listening, you have to put yourself in the rugged shoes of the 1960s astronaut. This ESA article dives a little deeper into Apollo-era cassette listening choices, but suffice to say that more varied artists such as The Beatles and The Moody Blues soon made it into rotation.
Meanwhile, Eno's "Apollo," remastered in 2005 and performed live in 2009 at London's Science Museum, continues to stand the test of time. Perhaps it will one day play inside the cabin of a lunar lander as well. Let's listen to a quick excerpt from the track "An Ending (Ascent)."
Sufjan Stevens Goes Over the Cosmic Rainbow
Singer-songwriter Sufjan Stevens isn't a name I tend to associate with space music, but as Paste Magazine points out, Australia's Sydney Vivid Festival recently assembled Stevens, Bryce Dessner and Nico Muhly under a giant space orb in the Sydney Opera House. Stevens whipped out the vocoder and performed a rather cosmic cover of "Over the Rainbow to close out the concert. Here's some video:
DJ Irk's "A Radio for Speaking to God"
Finally, DJ Irk released a new Solid Steel mix last week named for one of the cooler lines by the coolest character in "Raiders of the Lost Ark." It kicks off with some spacey sounds, the classic Indie/Belloq exchange and then proceeds to dive through a comedic scratch skit and into a steady barrage of funky and heavy tracks from the likes of Amon Tobin, Skream, Lazerbeak, Wick-it the Instigator, Quakers and Robot Koch. You can listen to the 30-minute cut over at Sold Steel or Irk's uncut hour-long version.
So there you have it! You can find the Stuff to Blow Your Mind podcast on iTunes, Zune and the RSS feed. And don't forget the free HowStuffWorks App!