South Korea Launches Satellite into Orbit
Spurred by rival North Korea's launch in December, South Korea on Wednesday appeared to have successful placed a small science satellite into orbit. ->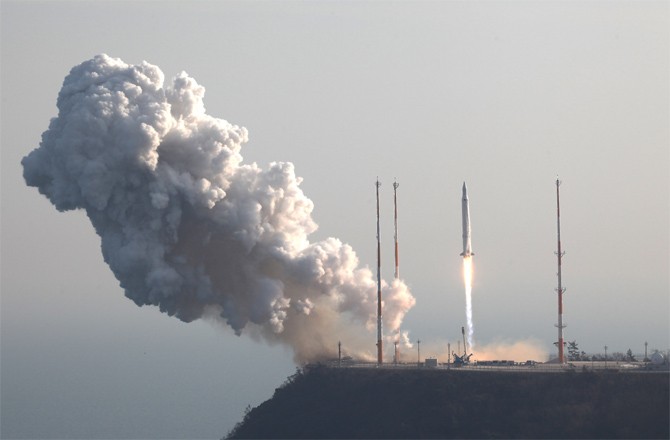 Add South Korea to the growing list of countries capable of reaching space. Spurred by rival North Korea's launch in December, South Korea on Wednesday appeared to have successful placed a small science satellite into orbit.
With TV cameras rolling, 108-foot tall Korea Space Launch Vehicle-1, or KSLV-1 — built in part by Russia — lifted off from the newly built Naro Space Center, located about 200 miles south of Seoul.
"After analyzing the data, we determined that our satellite entered its intended orbit," Lee Ju-ho, the government's minister of education, science and technology, said during a nationally televised news conference, The New York Times reports.
"Today, we took a leap toward becoming a power in space technology. This is a success for all the people," Lee Ju-ho added.
In addition to North Korea and South Korea, Iran has recently joined the small list of countries capable of putting spacecraft into orbit.
Wednesday's launch was South Korea's third attempt. The two-stage rocket includes a liquid-fuel first stage provided by Russia's Khrunichev. South Korea built the solid-fuel upper-stage. The rocket carried a 220-pound science satellite intended to collect information about radiation in space.
Officials said they will need another day to determine if the spacecraft, called Naro, is operating properly, the Times reports.
Five previous South Korean spacecraft were launched by foreign providers.
Image: The KSLV-1 (Naro) rocket lifts off from the launch pad at Goheung Space Center on Jan. 30, 2013 in Goheung-gun, South Korea. Credit: Korea Aerospace Research Institute/Getty Images