Soldier Disobeys Orders, Lands Medal of Honor
Last week, Sergeant Dakota Meyer has become the first living Marine in history to receive the Medal of Honor since the Vietnam War -- and he did so by disobeying a direct order from his commanding officers. Meyer, who was just a 21-year-old corporal on the day of his medal-worthy actions in 2009, was not [...]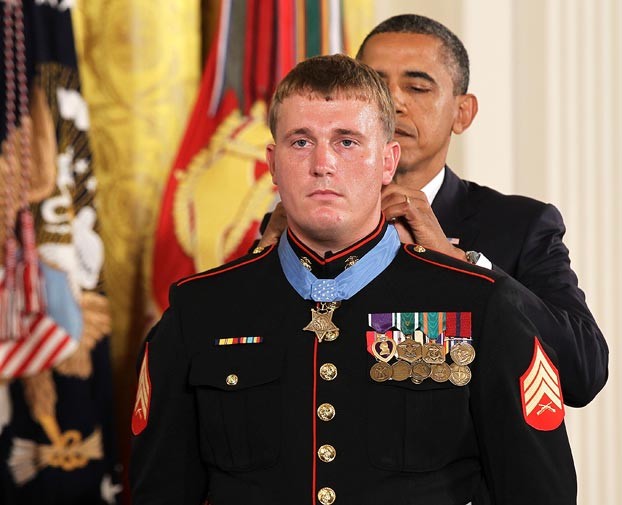 Photo: Alex Wong/Getty Images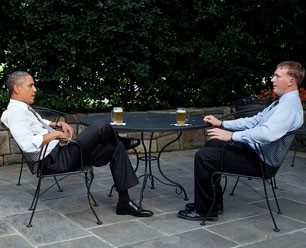 President Obama shares a beer with war hero Sgt. Dakota Meyer. Official White House Photo by Pete Souza
Last week, Sergeant Dakota Meyer has become the first living Marine in history to receive the Medal of Honor since the Vietnam War — and he did so by disobeying a direct order from his commanding officers.
Meyer, who was just a 21-year-old corporal on the day of his medal-worthy actions in 2009, was not alone in his defiance; with him was Staff Sgt. Juan Rodriguez-Chavez. The two of them had been stationed in eastern Afghanistan, and had stayed behind with vehicles while members of their platoon went ahead on a routine mission to meet with tribal elders in the region. It wasn't long before they heard massive gunfire up ahead, and distress calls on the radio from officers; it was a Taliban ambush.
Mission Impossible
Meyer knew that he could not just let this happen, and was ready and willing to help his fellow soldiers. However, he was denied permission from his officers, who assessed the situation and decided to fall back. After multiple requests to go and assist — all of which were denied — Meyer took the initiative to go into the battle zone regardless with a humvee. At the steering wheel was Rodriguez-Chavez, also in defiance, while Meyer manned the gun turret. They faced heavy AK-47 gunfire and explosions, but managed to rescue a group of Afghan soldiers, which they piled into the truck before driving them back to safety. And despite the warnings not to go back, Meyer and Rodriguez-Chavez drove into the battle zone four more times, facing even more gunfire — and managed to save the lives of more than a dozen Marines and two dozen Afghan soldiers.
According to an NPR report, the ordeal lasted a long six hours, and Meyer managed to survive his repeated exposure to the Taliban gunfire with only a hit to his right arm. And although some soldiers did not survive, Meyer was remembered for the lives he did save. He was promoted to sergeant before he left the Marines, when he traded Afghanistan for his native Kentucky — a place where he hadn't seen military action in a while. However, when President Obama awarded him the Medal of Honor in last week's ceremony, the nation was reminded of his actions — heroics that will go down in history.