Solar Plane Begins Coast-to-Coast Flight
Solar Impulse is the first aircraft capable of flying day and night without using any fuel.
Yuliyan Velchev/iStockphoto
Today's solar cell technology has its roots in the early days of America's space program, when in 1958, NASA launched the solar-powered Vanguard I satellite. Solar power technology has become more efficient. But the cost is still two to four times more than other energy sources. Like the space race did a half century ago, the international race for renewable energy technology has a similar sense of urgency. The winners will capture new technology, jobs, new manufacturing industry, and greater energy security. But to cross the finish line, governments need to offer support and require that utilities buy solar power. A pricing structure called a feed-in tariff helps by establishing a fixed price guaranteed for a period of time. Those countries still new to the solar power arena could do well to look at the success being achieved by countries already a long way down the solar road. Here are ten countries, chosen because of how much electricity and other energy they produce from solar power, and for their existing government support, commitment to technology and success in developing a solar industry.
Getty Images/ Darrell Gulin
10. The Netherlands
Most solar energy in The Netherlands comes from solar cells on rooftops. This power replaces electricity that individuals or businesses would otherwise buy from their local utilities. The Netherlands must now meet the European Union's April 2009 directive that its member countries purchase 20 percent of their energy from renewable sources, such as solar power, by 2020. Renewable purchase requirements, as opposed to targets, have proven effective in encouraging solar power.
GettyImages/Shaun Egan
9. France
France's feed-in tariffs and tax credits have been very successful in encouraging solar power and developing solar power industries. France has emphasized research and development in solar panels, recently adopted new feed-in tariffs for solar cells on large commercial buildings and established a tax credit on solar cell equipment, says the International Energy Agency. Most solar power in France is produced from small installations connected to the power grid. But it established national goals for the construction of large solar cell plants like the new one in Narbonne, located in southwestern France.
Getty Images/Bruno Herdt
8. Australia
With its large land mass and remote locations, most of Australia's solar power comes from solar cells that are not connected to the power grid. Off-grid uses include non-domestic applications such as the water pump in the middle of the desert near Alice Springs in central Australia. Australia is not high on the list because it has "not added significant solar cell capacity since 2006 and has really bad market development strategy," says Sven Teske, a lead spokesperson on solar power for Green Peace International. According to the International Energy Agency, the most effective national support for encouraging solar power in Australia has been the doubling of a residential grant for small scale solar cell installations.
Getty Images/Alexander Hassenstein
7. Italy
Italy has feed-in tariffs and new building requirements that require the installation of solar cells. "Italy may be the first country to obtain grid parity for solar," says Teske. At its simplest level, this will allow easier connection by solar producers to the power grid and encourage additional solar power. According to the European Photovoltaic Industry Association, Italy has the potential to become one of the strongest markets for electricity produced from solar cells because of the sunny climate and available land.
Getty Images/Kevin Forest
6. South Korea
South Korea's solar cell capacity more than doubled in 2007, according to the International Energy Agency. About half of this power is produced from centralized plants that sell electricity to utilities for resale to households and businesses. The solar power plant in Sinan, in southern Korea, is Asia's largest power plant. South Korea has set national goals to achieve a low carbon society and to develop its solar industry. According to the International Energy Agency, South Korea views the solar cell industry as a major target for economic growth for exports.
Getty Images/John Wang
5. China
China leads the world in solar water and heat with about two-thirds of the total. Applications include space heating from properly placed windows and hot water systems that use collectors and a storage tank. Because solar water and solar heat are not reported with other data, China does not show up in solar power production or installed capacity data. In addition to its solar water and heat use, China also is now the world leader in solar panel manufacturing; it overtook Japan in 2008. Other major manufacturers of solar cells are Germany, Japan and the United States.
Getty Images/Medioimages/Photodisc
4. United States
Through the Department of Energy, the United States is a leader in funding solar power research and development. It also is one of only two countries in the world that has existing large scale concentrating solar power, says Yasmina Abdelilah, a solar energy analyst with the International Energy Agency. The warm sunny climate in the southwestern United States provides a favorable location for concentrating solar power, which uses heat to power electric generation. But thus far only 1 percent of all renewable energy in the United States, itself only about 7 percent of total consumption, is solar. Solar power has grown primarily from state support. California, the leading state, has a limited form of feed-in tariff, as well as a 20 percent renewable purchase requirement. There has been federal action, for example, to expand tax credits for solar hot water installation. But the federal government has not adopted a national renewable purchase requirement, currently something that is under consideration in Congress, or feed-in tariffs, which policymakers deem to be unworkable in the United States due to the way electricity is regulated.
Getty Images/Tom Bonaventure
3. Japan
Japan has set a goal of developing the technology to increase solar cell efficiency, which refers to the rate that electrons inside solar cells get knocked off of atoms when hit by photons. Japan wants to increase the current 10 percent to 15 percent rate to 40 percent through government subsidies and field tests. Japan has numerous solar power tax and subsidy programs intended to create solar cell industries. Its "long-term industry strategy behind the development of solar cell technology is quite unique," says Teske. Japan's plan to become a low carbon society includes a target increase in solar cell produced electricity ten fold by 2020 and forty fold by 2030.
Getty Images/Photodisc
2. Spain
With a new mandated feed-in tariff pricing structure in 2007, Spain's solar power capacity from solar cells grew in 2008 five times that of the prior year, according to an International Energy Agency report. This increase in solar cell capacity placed Spain ahead of Japan. The favorable tariff encouraged construction of many large "solar farms" like those in La Salana, Milagro, and La Magascana, Spain. Spain also has a favorable climate for concentrating solar power production. Spain, along with the United States, has implemented large scale power generation from concentrating solar power.
Getty Images/Skip Nall
1. Germany
Germany has had a very successful experience with the feed-in tariff. This pricing structure has consistently supported growth in solar cell capacity since 2004, says the International Energy Agency. Germany's commitment has led not only to increased solar power use and installed capacity but to the growth of solar industries such as silicon wafers and solar cell equipment. Historically, Germany has strongly emphasized technological development. Its focus on solar power "has its roots in the nuclear movement" and its conscious commitment "to move away from nuclear and search for alternatives," says Teske. Together, the government, through supports and commitment to technology, has proven successful in encouraging solar power.

A solar-powered airplane that can fly day and night without using a single drop of fuel embarked on an unprecedented flight across the United States Friday (May 3).
The solar-powered aircraft, named Solar Impulse, took off from Moffett Airfield near San Francisco, Calif., shortly after 9 a.m. EDT (6 a.m. PDT). The plane will now head south on the first 19-hour leg of its journey, and is expected to touch down at Phoenix's Sky Harbor International Airport on Saturday (May 4) at 4 a.m. EDT (1 a.m. PDT).
Solar Impulse is the first aircraft capable of flying day and night without using any fuel. The plane relies solely on its solar panels and onboard batteries for power. During today's flight, the aircraft is expected to reach a cruising altitude of 21,000 feet (6,400 meters). (Images: Cross-Country Flight in a Solar-Powered Plane)
Solar Impulse founders Bertrand Piccard and André Borschberg will alternate piloting the single-seater plane over the five legs of the journey. Piccard was at the controls for today's takeoff from California.
This morning's flight was slightly delayed, as officials in the Solar Impulse "mission control center" in Switzerland reviewed final details of the flight plan with air traffic controllers in California. After several quick discussions, Solar Impulse received the go-ahead for the first part of its historic journey.
"Solar Impulse you are clear to proceed. Have a nice flight," flight controllers radioed to Piccard in the cockpit shortly before takeoff.
In mid-May, the ultra-lightweight plane will begin the second leg of its trip, taking off in Phoenix and landing in Dallas, Texas. Toward the end of May, Solar Impulse will depart for St. Louis, Mo.; the fourth leg will take the plane from St. Louis to Washington, D.C.; and the fifth and last leg will end in New York City in late June or early July.
Each leg of the expedition will be streamed live on Solar Impulse's website. The live feed will feature information on the airplane's position, altitude and speed, as well as camera views from inside the cockpit and Solar Impulse's mission control center.
The Solar Impulse aircraft weighs about the same as a station wagon, and its solar panel-covered wings are roughly the same length as a 747 jetliner. Solar Impulse generates about the same amount of power as a small scooter, company officials have said.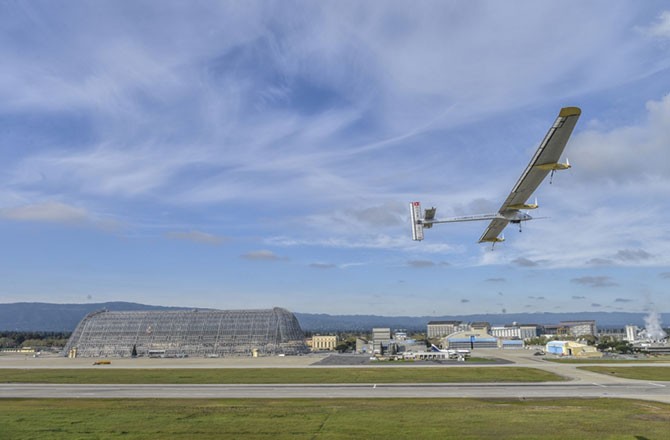 Solar Impulse takes a test flight above Moffit Airfield.J. Revillard/Solar Impulse
The unprecedented coast-to-coast flight is designed to demonstrate the potential for "clean technologies" as viable and efficient sources of renewable energy.
While commercial flights aboard solar-powered airplanes may still be decades into the future, the Solar Impulse journey may one day serve as a model for sustainable air travel.
The coast-to-coast expedition will also launch an initiative called "Clean Generation," which aims to promote the use of clean technologies around the globe. The program seeks to "encourage governments, businesses and decision-makers to push for the adoption of clean technologies and sustainable energy solutions," Solar Impulse officials said in a statement.
Other supporters of the Clean Generation Initiative include Hollywood director James Cameron, former Apollo astronaut Buzz Aldrin, environmentalist and former U.S. Vice President Al Gore, and British entrepreneur Richard Branson.
These and other supporters of the initiative will be able to add their names to a list that will be carried in the cockpit of the Solar Impulse plane, signifying them as virtual passengers on the journey. In the stopover cities throughout the trip, more names will be added, company officials said.
In 2010, the Solar Impulse plane successfully completed a 26-hour overnight flight, followed by a flight from Switzerland to Morocco in 2012. Solar Impulse's founders eventually plan to circumnavigate the world in the solar-powered plane.
More From LiveScience:
Rise of the Drones: Photos of Unmanned Aircraft

Now Boarding: The Top 10 Private Spaceships

Top 10 Craziest Environmental Ideas
Copyright 2013 LiveScience, a TechMediaNetwork company. All rights reserved. This material may not be published, broadcast, rewritten or redistributed.