Universal Pictures
The movie, "Oblivion" traded heavily in images of a post-apocalypse Earth.
ESA
Introduction
If you've seen the trailer for the fall blockbuster-bound "2012," then you pretty much know the entire plot: Earth's crust collapses like a failed souffle, deadly meteor showers chase John Cusack's van and ancient Mayans scoff that they totally called it. In just 157 minutes of screen time, civilization collapses and the U.S.-run Institute for Human Continuity somehow overcomes partisan politics and begin loading survivors onto ships to ride out doomsday. The "2012" viral marketing campaign managed to stir legitimate concerns over humanity's ability to survive a possible extinction event. There's no such thing as the Institute for Human Continuity, but that doesn't mean real scientists haven't thought long and hard about the survival of the human race. We're about to fly through five scientific takes on doomsday survival and the plans they entail, so hold on to that steering wheel.
NASA
5. Near-Earth Object Defense
The Great Wall of China, the complete works of William Shakespeare, that YouTube video of the puppy on its back. Human civilization has created some truly memorable bits of culture, but history has proven that we're just one extraordinary catastrophe away from kissing all of it goodbye. Just consider the 65-million year-old K-T boundary extinction event. More recently, think long and hard about the 1908 Tunguska Event, in which an asteroid spectacularly self-destructed and produced an impact comparable to about 185 Hiroshima bombs in the Siberian wilderness. What happens if we discover a space rock on a crash course with everyone's favorite inhabited world? Scientists have proposed a number of options, such as blasting it off course with a nuclear explosion, strapping rockets to it or even painting it a different color to let the sun push it far, far away. Read Top 10 Ways to Stop an Asteroid for a sampler of all the options on the table.
NASA
4. Planet Hacking
Human culture is on a road trip of sorts and its default Volkswagen minibus is none other than the planet Earth. Obviously we're concerned about events that could wipe out civilization in a single strike, but what about smaller, debilitating events such as melting ice caps and rising sea levels? In the same way you might temporarily kick some more life into that beat-up minibus, planet-hacking schemes attempt to jury-rig a habitable planet in the face of catastrophic climate change. Cutting down on carbon dioxide emissions might work too, but planet hacking tends to involve more drastic proposals to tip the scales back in humanity's favor. Sure, you should have had that engine checked out 3,000 miles ago, but now you're broken down in Death Valley. What would MacGyver do? Well, given major funding, he might attempt to counter incoming solar radiation with everything from reflective rooftops to increased cloud cover stirred up by robotic fleets of ships. He might even install mirrors on orbital satellites or erect forests of fake trees to suck up carbon dioxide. None of these plans would serve as permanent fixes -- and some could potentially unleash unforeseen atmospheric changes -- but the idea is to save the world now and fix the problems later.
Mari Tefre/Svalbard Global Seed Vault
3. Terrestrial Seed Vaults
Should Earth face a cataclysmic event, a great deal more than John Cusack's van might be jeopardized, such as, oh, all the major food crops. You back up important computer files, right? Then you'll probably agree that the best thing to do with the world's seeds is lock them away in an isolated, frozen bunker and surround it with a few thousand polar bears. All right, so the polar bears just happen to live there, but the Svalbard Global Seed Vault is very much a reality. Located on a snow-covered island in the Arctic Ocean, the Norwegian facility consists of three chambers buried 300 feet in the side of a mountain. The facility has the capacity to store 4.5 million different seed samples. With the aid of its own electric machinery, the vault keeps everything on ice. If a generator should, the permafrost should maintain low temperatures. And while Svalbard might not quite hold up to those Tibet-toppling tsunamis in "2012," at 430 feet above sea level, it should withstand rising sea levels. In fact, the vault's designers think it should withstand everything short of a direct nuclear strike. So far, 400,000 seed samples from 22 countries have entered the buried halls of Svalbard. These stocks back up established food crops and prepare us should an altered environment require farmers to depend on new and modified plant species.
NASA
2. Extraterrestrial Doomsday Ark
Seed and gene banks around the world stockpile genetic data, providing backup files on everything from Joe the sperm donor to the extinct Indian Cheetah. That's great news, but, what happens if we lose nearly everything? Enter the New York University-based Alliance to Rescue Civilization (ARC), which, along with the European Space Agency, really wants to establish a vault on the moon. The members foresee a lone redoubt, buried deep beneath endless lunar wastes. In its depths, they hope to store all human knowledge on hard disk, including DNA sequences, technological information, agricultural instructions and, yes, maybe even a copy of "2012." The more ambitious stages of the plan call for a sealed Earth-like habitat in the lunar vault and even a staff of human employees -- eventually a human colony. You may be wondering what good a lunar vault of complete human knowledge would do for a scrappy band of post-apocalyptic wanderers on a forsaken Earth. Well, ARC plans for them to tune into radio transmissions from the moon, perhaps from one of 4,000 heavily fortified radio receiver stations on Earth. Each of these stations would remain constantly tuned in to the apocalypse's only radio station for instructions on rebuilding society. ARC hopes to install the first stage of the project by 2020.
NASA
1. Off-World Colonization
Even the idea of a lunar ark hinges on the existence of human survivors on a habitable Earth. But what if there's nothing left? What if something on the scale of the Hadean Eon meteor bombardment occurs and turns the surface to magma? What happens when the sun eventually swells to consume both the Earth and its ark-laden moon? The answer is something both real-life scientist Stephen Hawking and fictional space emperor Leto Atreides II agree on: Humanity must scatter itself among the stars. "The long-term survival of the human race is at risk as long as it is confined to a single planet," Hawking told BBC Radio 4 in 2006. "Sooner or later, disasters such as an asteroid collision or nuclear war could wipe us all out. But once we spread out into space and establish independent colonies, our future should be safe." In the meantime, however, travel-hungry earthlings could attempt to stave off catastrophe by cleaning up their environment, establishing a sustainable culture and maybe giving world peace a try. Who knows? If we succeed, we might have a culture worth spreading to other worlds.

There's never been a shortage of doomsday scenarios. From the dreaded Mayan Apocalypse of 2012 (remember that?) to the havoc wreaked in the movie "The Day After Tomorrow," people have been predicting the end of civilization for as long as there has been a civilization.
The trouble is, they're sometimes correct: The Roman Empire fell spectacularly, as did the Mayan civilization, the Han Dynasty of China, India's Gupta Empire and dozens of other once-mighty kingdoms.
But how, exactly, do powerful empires collapse, and why? Researchers now believe they've found an answer, one that has troubling implications for today — because we're clearly on the road to ruin. [11 Failed Doomsday Predictions]
Societal collapse — more common than you think
The researchers' first task was overturning "the common impression that societal collapse is rare, or even largely fictional," as they wrote in their report, to be published in the journal Ecological Economics. [Photos: Life and Death of an Ancient Civilization]
In fact, they argue, the rise and fall of great social structures is so common a theme in human civilization — recurrent throughout history and worldwide in scope — that it's more the rule than the exception.
Most studies of a society's collapse have looked at the specifics of how one civilization declined, citing individual causes such as a disaster (earthquake, flood), loss of resources (soil erosion, deforestation) or human conflict (war, uprising) that led to the particular society's downfall.
But the researchers (funded in part by NASA's Goddard Space Flight Center and the University of Maryland, College Park) cast a wider net. They aimed to create a useful mathematical model that could help analyze how any society might fall — including our current global, technically advanced, interconnected society.
The balance of nature
The model they arrived at takes inspiration from the classic notion of predator vs. prey, sometimes referred to as the "balance of nature." When a deer population grows, for instance, the wolves that feed on those deer reproduce more successfully, too, and so the wolf population grows.
Everything is fine until the wolves become too numerous and overreach, eating so many deer that there isn't enough venison to go around. Then, as the number of deer plunges, the wolf population drops due to famine, until equilibrium is reestablished and the cycle begins anew. [Civilization Doomed by Overconsumption, Wealth, Inequality (Infographic)]
Informed by this paradigm, the researchers developed a relatively simple formula with four factors influencing social collapse: nature and natural resources, the accumulation of wealth, the elite and the commoners. The team calls their model Human And Nature Dynamics, or HANDY.
A HANDY tool
The researchers used the HANDY model to analyze three different social scenarios: an egalitarian society with no elite class; an equitable society with workers and non-workers (students, retirees, disabled persons); and an unequal society with a robust class of elites.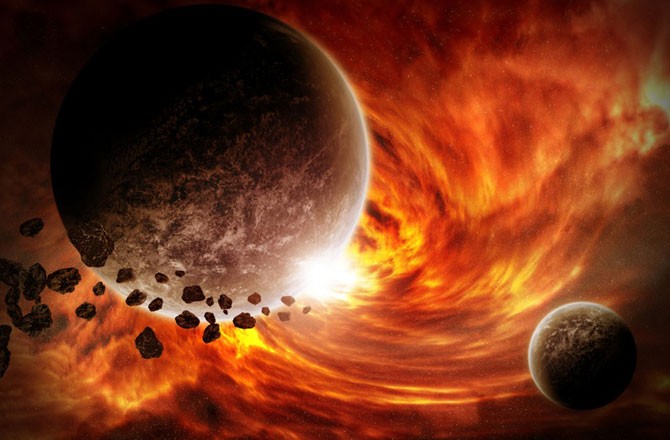 Even if an errant asteroid, nuclear holocaust or other disaster don't doom Earth, in another 1.75 billion years the planet will travel out of the solar system's habitable zone and into a hot zone that will scorch away its oceans.sdecoret | Shutterstock
The egalitarian and equitable societies could produce a sustainable civilization and avoid collapse, even with a high ratio of non-workers. Social collapse was more likely after people overreached and depleted natural resources. Importantly, even without any social stratification, collapse could occur if a society exhausted its natural resources.
In the unequal society, however, collapse was almost unavoidable — and these were the HANDY scenarios that mirrored our current globalized society.
The income gap
"The scenarios most closely reflecting the reality of our world today are found in the third group of experiments, where we introduced economic stratification," the researchers wrote, referring to uneven wealth distribution. "Under such conditions, we find that collapse is difficult to avoid."
Other recent research backs up the authors' claims: A 2012 study from the journal American Sociological Review shows that the income share of the top 1 percent of Americans grew rapidly after 1980 — from 10 percent in 1981 to 23.5 percent in 2007, an increase of 135 percentage points.
Meanwhile, the bottom three-quarters of the U.S. population has seen slow economic growth, with predictable results: A 2011 study published in the journal Psychological Science found that happiness, trust in others and life satisfaction plummet when income inequality is high.
Technology won't save you
For those who believe that there must be a technological fix to all this despair and destruction, the researchers found that the historical record provides "testimony to the fact that advanced, sophisticated, complex and creative civilizations can be both fragile and impermanent.
"It may be reasonable to believe that modern civilization, armed with its greater technological capacity, scientific knowledge and energy resources, will be able to survive and endure whatever crises historical societies succumbed to," the authors wrote.
"But the brief overview of collapses demonstrates not only the ubiquity of the phenomenon, but also the extent to which advanced, complex and powerful societies are susceptible to collapse."
Not all is lost, however: Societies can moderate the two factors that contribute most to social meltdown: the exploitation of natural resources and the uneven distribution of wealth, the researchers said.
"Collapse can be avoided and population can reach equilibrium if the per-capita rate of depletion of nature is reduced to a sustainable level, and if resources are distributed in a reasonably equitable fashion," they wrote.
Original article on Live Science.
10 Surprising Ways Weather Has Changed History

Doomsday: 9 Real Ways Earth Could End

Doom and Gloom: Top 10 Post-Apocalyptic Worlds
Copyright 2014 LiveScience, a TechMediaNetwork company. All rights reserved. This material may not be published, broadcast, rewritten or redistributed.