Snowy Owl 'Baltimore' Provides Best Migration Data Ever
The pale hunter gives watchers at the organization Project SNOWstorm a treasure trove of information.
A banded snowy owl named Baltimore has just returned from the north to his home base in Maryland for the third year in a row, according to his watchers at the organization Project SNOWstorm, his travels providing researchers with a treasure trove of information.
Baltimore, an adult male, age uncertain, sports a high-tech GPS transmitter that has given the project scientists rare insight into the travels of snowy owls. Since first being GPS-tagged in Feb. 2015, he's logged more than 6,200 miles of flight.
"The information we've gotten from Baltimore is by far the most detailed record of the movements of any snowy owl ever tagged," said David F. Brinker, a co-founder of the project and currently a biologist with Maryland's Department of Natural Resources.
"We have locations — accurate to a meter, and in three dimensions, including altitude — every 30 minutes for almost his entire migration," he added. "That's more than 14,000 GPS points, and counting. No snowy owl has ever been tracked for so long with such precision."
And, oh, the places Baltimore's been!
According to Project SNOWstorm, he spent early 2015 wintering in Maryland and New Jersey along their coastlines, before heading north through Manhattan, up to Lake Ontario and then farther north still, ultimately reaching the northern tip of Ungava Peninsula, just 300 miles below the Arctic circle. (See the image below to glimpse an outline of his flight path.)
Last fall, Baltimore headed south, once the autumn Arctic chill became too much. By last December, he was on the shores of Lake Ontario, and now he's back in Maryland.
Snowy-Owl Migration To U.S. Among Biggest Ever
Baltimore was first captured by U.S. wildlife biologists on his first migration in 2014, at Martin State Airport just outside Baltimore. He was relocated safely away from airplane flight paths, given a leg I.D. band, and then left alone. But he came back to the airport in Feb. 2015, and on that occasion he was given his fancy GPS tracker. Ever since, Project SNOWstorm has kept an eye on his travels.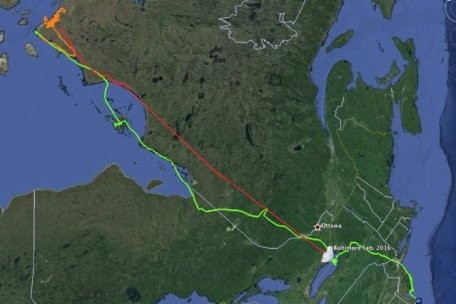 After being tagged on the coast of Maryland, Baltimore flew north (green) to the Ungava Peninsula in Quebec, where he spent the summer wandering more than 1,500 miles (orange). On Halloween, 2015, he began heading south (red), and spent the past winter on Lake Ontario in Canada.Project SNOWstorm and Google Earth
Snowy owls have roughly 5-foot wingspans and can weigh up to 6 pounds. They're the second-heaviest owls in the world (after the Eurasian eagle owl) and make their living across the northern polar landscape. They'll hunt birds, ducks, gulls, and small mammals.
Baltimore won't be around his home turf for long. Project biologists think he will soon head north again. They suspect he may be old enough now to breed, so perhaps starting a family is in his future.
Project SNOWstorm, funded largely by donations, has tagged more than 40 snowy owls since 2013, when it was founded following the greatest migration of snowy owls to the U.S. in more than 80 years. Visitors to its site can track owls interactively and even volunteer to help track the animals themselves.