Smoking Pot and Breast-Feeding: What Are the Risks?
A new mother in Oregon wants to breastfeed her baby even though she regularly smokes marijuana, but experts are concerned about the risks of the drug to the baby's brain.
Norbert Nagel, Wikimedia Commons
Medical marijuana gets all the headlines, but many legal weeds have traditions as medicines too. Although homeowners often consider these plants as lawn outlaws, weeds can serve as a floral pharmacy. However, would-be patients of the plants should consult a doctor before self-medicating.
Chicory
Cichorium intybus, the light blue flower frequently seen along roads, provides the main commercial source of the compound inulin. Patients take inulin to fight high blood fats, including cholesterol and triglycerides, according to WebMD. Research published in Diabetes & Metabolism Journal suggests that inulin intake benefits women with type-2 diabetes by reducing the rate of blood sugar increase after eating. Inulin promotes the growth of certain bacteria in the intestines. While some believe this can help digestion, others suffer serious flatulence when the inulin-fed bacteria build up.
Some people add the dried and roasted root to coffee. Chickory coffee is especially popular in New Orleans.
Böhringer Friedrich, Wikimedia Commons
Red Clover
Trifolium pratense contains chemicals known as isoflavones. These chemicals can act like the female hormone estrogen in the body. Doctors have examined the clover chemicals as a treatment for hot flashes and other symptoms of menopause. However, doctors warn that women with a history or risk of breast cancer should avoid isoflavones, since estrogen-like chemicals have been associated with increased incidence of some cancers.
H. Zell, Wikimedia Commons
Milk Thistle
Silybum marianum has a 2,000 year history as a liver medicine. Modern research has looked at thistle extracts as a treatment for alcohol-induced liver damage. Substances in milk thistle, particularly the chemical silymarin, may protect the liver from damage after a person takes an overdose of other medications, including acetaminophen (Tylenol). Milk thistle may also be an antidote to poison from the deathcap mushroom (Amanita phalloides). Animal studies found that milk thistle completely counteracted the poison if given within 10 minutes of poisoning, according to the University of Maryland Medical Center.
Muffet, Wikimedia Commons
Milkweed
Native Americans used the milkweed (Asclepias sp.) as a contraceptive, according to the U.S. Department of Agriculture. The milky, white sap that gives the plant its name served to remove warts. However, milkweeds also contain chemicals known as cardiac glycosides. These chemicals can cause severe illness in humans and livestock. Monarch butterfly caterpillars eat milkweed and build up high concentrations of glycosides, which makes the insects nasty tasting to predators.
Tony Hisgett, Wikimedia Commons
Horsetail
Ancient Greeks and Romans used horsetail (Equisetum arvense) to stop bleeding, heal ulcers and wounds, and treat tuberculosis and kidney problems. My wife drinks horsetail tea to flush out her body's system and help lose weight. The tea has a mildly bitter flavor, similar to chamomile. Research published in Ethnopharmacolgy found that horsetail tea increases urination which corroborates my wife's contention that the plant is a diuretic, or a substance that increases urination. However, doctors recommend taking a multivitamin when drinking significant amounts of horesetail tea, because it can flush nutrients, such as vitamin B1, thiamin and potassium, out of one's system as well.
J. Carmichael, Wikimedia Commons
Dandelion
In the past, Europeans used remedies made from dandelion (Taraxacum sp.) roots, leaves and flowers to treat fever, boils, eye problems, diabetes, and diarrhea, according to the University of Maryland Medical Center. Practitioners of traditional Chinese medicine take dandelions for stomach ailments and breast problems, such as inflammation or lack of milk flow. Dandelion leaves taste similar to spinach and contains vitamins A, B, C, and D, along with iron, potassium, and zinc.
Uwe H. Friese, Wikimedia Commons
Stinging Nettle
Urtica dioica can put the hurt on an hiker in shorts, but historically the plant has served to treat aching muscles and joints, eczema, arthritis and gout. People still use the plant to treat joint pain, and some studies have suggested that the plant can treat arthritis. Another study found that capsules of dried stinging nettle may reduce the symptoms of hay fever. Europeans frequently use stinging nettle root to treat bladder problems. Boiled nettle makes a side dish similar to collared greens.
For those who brush alongside stinging nettle, a remedy to the sting is often found growing nearby. Applying crushed up dandelion, horsetail, Aloe vera, jewelweed or the leaf of a dock or lock plant can counter the acid in the sting.
Forest and Kim Starr, Wikimedia Commons
Purslane
Like many of the medicinal weeds in this list, purslane (Portulaca oleracea) also makes a healthy snack. The plant contains a high content of omega-3 fatty acids. I ate some that grew in my yard and found it was somewhat sour. A little bit was good, but too much would be overpowering in a salad. In traditional Chinese medicine, purslane treats genito-urinary tract infections. Research published in Phytomedicine found that the plant reduced problems with cognition in older mice.
Robert Steers/NPS, Wikimedia Commons
Plantain
Since the age of the ancient Greek doctors have used plantains (Plantago sp., the weed in sidewalk cracks, not the fruit) to speed wound healing. In the training manual Survival, Evasion and Recovery, the U.S. Department of Defense recommends plantain as a poultice on wounds or as a nutrient-rich tea to treat diarrhea.
Julia Adamson, photographer in the Saskatoon area, Wikimedia Commons
Burdock
Traditionally, healers use burdock (Arctium sp.) to clear toxins from the blood and increase urination, according to the University of Maryland Medical Center. The plant also is used to treat skin ailments, such as eczema, acne, and psoriasis. The leaves and roots of burdock are edible and contains inulin, like chicory, so they may aid digestion and/or cause a nasty case of flatulence. Burdock also contains high quantities of antioxidants that can prevent damage to cells.

A new mother in Oregon says she wants to breast-feed her baby even though she regularly smokes marijuana, but experts say they would be concerned about the risks of the drug to the baby's brain.
The mother, Crystal Cain, said she is a medical-marijuana user who smoked the drug during her pregnancy to reduce anxiety and nausea, according to the Portland TV station KATU. Her baby was born 8 weeks premature, and Cain planned on breast-feeding the child because of the known benefits of breast-feeding.
But doctors at the hospital did not allow Cain to breast-feed until she signed a waiver acknowledging the potential risks of using marijuana while breast-feeding, KATU said.
"There's not enough information [on the risks] because nobody tests it," Cain was quoted as saying. [Trippy Tales: The History of 8 Hallucinogens]
t's true that few studies have looked at the risks of smoking marijuana while breast-feeding, and many of the studies that have examined this question were conducted several decades ago. However, several organizations, including the American Academy of Pediatrics, discourage the use of marijuana by breast-feeding mothers, in part because of concern that the drug may affect the baby's brain development.
What is clear is that the drug can get into breast milk, and into the baby's body.
The active ingredient in marijuana, THC, is fat soluble and can be stored in the fat tissue for quite a while. "Any drug that is fat soluble gets into fat (tissue), and breast milk has lots of fat because that's what's good for the baby," said Dr. David Mendez, a neonatologist at Miami Children's Hospital, who had not treated Cain or her baby. The more marijuana that a woman smokes, the greater the amount of THC in her breast milk, Mendez said.
Babies who have been breast-fed by a woman who smokes marijuana can have a positive urine test for marijuana for up to three weeks, said Martha Lasley, a lactation consultant from Winnie Palmer Hospital for Women & Babies in Orlando. However, the amount of THC that's transferred to the baby through breast-feeding is not enough to produce a high, Lasley said.
There is also some concern that smoking marijuana can lower women's levels of prolactin, the hormone needed for breast-milk production, Lasley said.
A 1990 study found that a baby's exposure to THC in the first month of life was linked with reduced movement and coordination skills at age 1. Doctors have also observed lethargy, less frequent feeding and shorter feeding times in babies exposed to THC, according to a 2005 review in the journal Canadian Family Physician.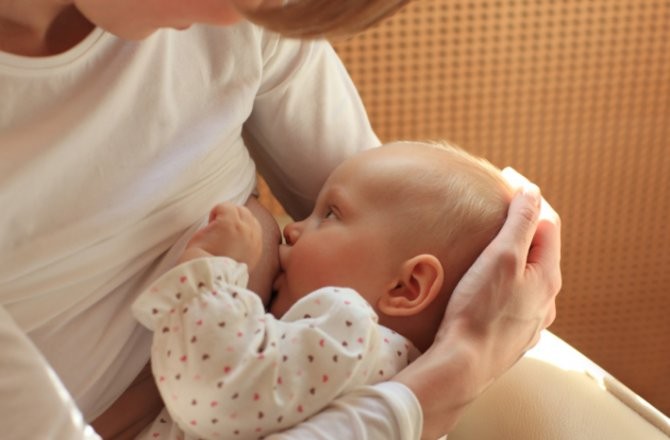 Thinkstock
However, another study conducted in the 1980s found no differences in weaning, growth or mental development between children exposed to marijuana during breast-feeding, and those not exposed, according to a 2009 review. No studies have examined the possible long-term effects of marijuana exposure during breast-feeding. The 2009 review said that there is concern that THC could alter brain cell metabolism as the baby's brain grows in the first month of life.
Mendez agreed, saying that the risk might be particularly concerning for a premature baby.
"For babies born premature, we know they're under more severe neurological stress," Mendez said. "I can't imagine how marijuana would help that at all," Mendez said. "Why would you want to take any risk?"
Mendez added that a drug that alters mood and perception, as marijuana can, may also affect people's ability to care for their children. "This is at a time when your baby is completely dependent on you," he said.
Smoking in general is also discouraged for new parents because it is linked with an increased risk of conditions such as asthma and sudden infant death syndrome (SIDS), the AAP says.
Still, breast-feeding has many known benefits, including a reduced risk of SIDS, leading some sources to advocate taking a more nuanced approach to marijuana use during breast-feeding, as opposed to a complete ban. LactMed, a database from the National Institutes of Health that has information on drug and chemicals during breastfeeding, says that "marijuana use should be minimized or avoided by nursing mothers." But the database also notes that there is little evidence of serious harm, so "it appears preferable to encourage mothers who use marijuana to continue breastfeeding while minimizing infant exposure to marijuana smoke and reducing marijuana use."
A 2012 review on the topic concludes by saying: "There are no studies that support breastfeeding and use of marijuana. However, with conflicting results [of studies], further studies and case-by-case considerations are warranted in cases of occasional use."
Some studies have linked marijuana use in pregnancy to an increased risk of having a low-birth weight, small for gestational age, or premature baby. Some studies also suggest a link between marijuana use during pregnancy and the child having attention and learning problems later in life.
More From LiveScience:
7 Baby Myths Debunked

11 Facts Every Parent Should Know About Their Baby's Brain

Blossoming Body: 8 Odd Changes That Happen During Pregnancy
Original article on Live Science.
Copyright 2014 LiveScience, a TechMediaNetwork company. All rights reserved. This material may not be published, broadcast, rewritten or redistributed.