Smell Like the Hulk, Iron Man and Captain America with Superhero Colognes
When it comes to manly scents, there are a lot of ways to go. Bruce Willis, Justin Timberlake and David Beckham all have their own colognes. But why smell like any celebrity, now matter how successful, when you can smell like a superhero? That's right, there's now a line of colognes based on The Avengers, [...]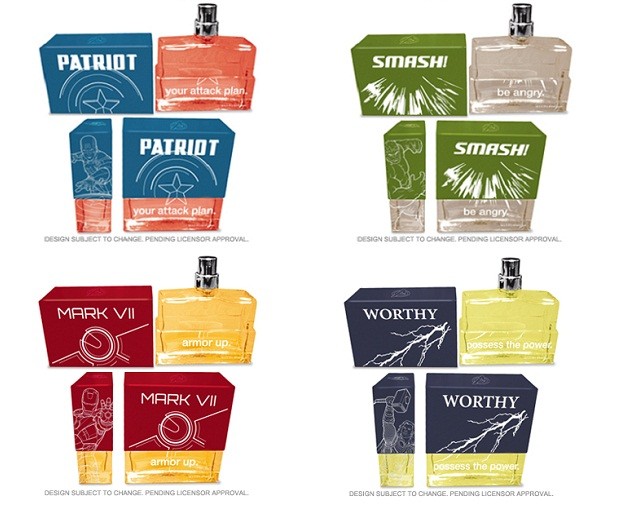 Image: JADS International
When it comes to manly scents, there are a lot of ways to go. Bruce Willis, Justin Timberlake and David Beckham all have their own colognes. But why smell like any celebrity, now matter how successful, when you can smell like a superhero? That's right, there's now a line of colognes based on The Avengers, the Marvel Comic mashup and upcoming film that brings together Iron Man, the Hulk, Captain America and Thor.
Thanks to fragrance company JADS International, you can smell like any of the four, or what JADS imagines they smell like. Each of the four has a somewhat hilarious description, but the Iron Man product, called Mark VII, is my personal favorite:
A resolutely sophisticated cologne forged from the sea, the sun, the earth, and a touch of devil-may-care whimsy. Transparent, aromatic, and modern in nature, Mark VII combines mandarin, neroli, nasturtium and jasmine layered with light patchouli to create a contemporary expression of "I don't play well with others" confidence; leaving you always ready for whatever a genius, billionaire, playboy-philanthropist might encounter along the way.
Discovery News has questioned before whether superheroes make good marriage material, but what if you could take a fine, if not so super, husband and make him smell like Thor? (The musk of the Norse God of Thunder, it turns out, is similar to "bergamot, frozen ginger and wheatgrass blended with a hint of fresh natural grapefruit and layered deeply with aromatic cypress.")
If you're more into Star Trek or Star Wars, JADS also offers Sulu, "Shirtless Kirk," "Slave Leia," and Eau Lando (the bottle comes with a cape!). The Avengers colognes run for $59.99.