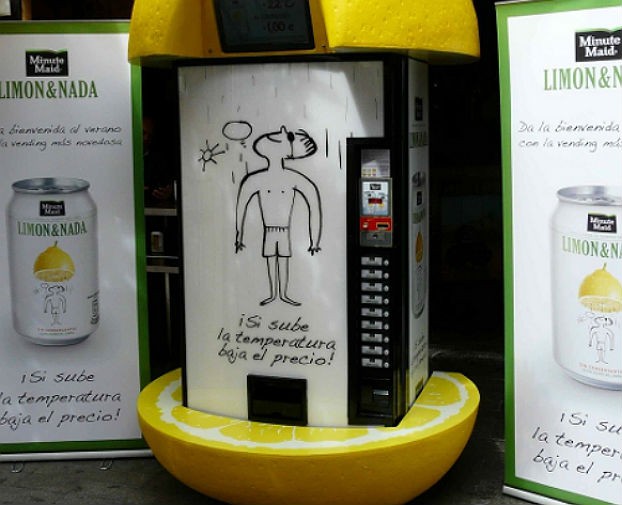 A Spanish marketing agency has started installing several smart vending machines around the country that lower the price on cold drinks when the temperature starts to rise. The hotter the temperature, the bigger the discount.
Each machine displays both the temperature and the price, with three different price levels depending on just how hot it is. Up to 77 degress Fahrenheit and the price is 2 euros or about $2.45. From 78 degrees F to slightly above 84, the price lowers to about 1.4 euros or $1.70. Anything over 86 degrees F and the drinks are 1 euro or $1.22. Special software allows the machine to automatically adjust. Hat tip to Ubergizmo's Edwin Kee.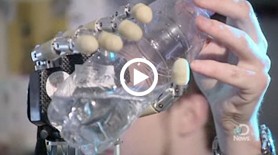 DNEWS VIDEO: IS IT FUTURE YET?
This rollout is the brainchild of marketing agency Momentum for Minute Maid's Limon & Nada lemonade. (Minute Maid is owned by Coca-Cola.) So far, 18 smart vending machines have been installed around Spain, primarily in water parks and amusement parks, according to an article on MarketingNews.es. Temperature-dependent prices will be in effect from July through September, when the weather hopefully begins to cool down.
Fortunately the machines primarily sell lemonade and not soda, which can make dehydration worse. To be clear, I'm not promoting this lemonade brand by highlighting these machines — I've never even tried it. My favorite lemonade is the kind made on the spot at street festivals from fresh lemons, sugar, water and ice.
With temperatures rising again after a rainy spell here in Colorado, I wish we had smart vending machines that could do the same thing, only with frozen treats. Drop in some coins and out comes an ice cream bar or a frozen fruit pop. Put one of those around the corner from me and that would spell some tasty trouble on a warm day.