Smart Objects Could Manage Your House
Researchers are finding that 'smart objects' can generate their fair share of empathy from humans.
Paramount Pictures Corporation
June 29, 2011 --
In the movie "Transformers: Dark Side of the Moon," Autobots, transforming robots from the planet Cybertron, work alongside humans to battle the Decepticons, a rival group of robots bent on destroying the universe. The latest Transformers installment may just be a work of fiction, but would real-life robots on Earth be up to the task of saving the planet from the threat of an overwhelming destructive force? Of course not, but that doesn't mean they won't get there one day. Until then, we present the next best thing in this slideshow of incredible real-life robots.
Alex Kossett and Nikolaos Papanikolopoulos, U
Rolling Robot
We begin the slideshow with an actual real-life transforming robot. Although it doesn't tranform into a sentient, humanoid machine, this robot can transform from what appears to be an elaborate motorized rolling pin to a helicopter when the terrain starts to get rough.
Take a look at this flying robot in action here. BLOG: Rolling Robot Transforms into a Helicopter
Boston Dynamics
CHEETAH
What's more terrifying than a hungry, fully grown cheetah chasing you down? How about if it were made of metal? Meet CHEETAH, a robot designed by Boston Dynamics for one purpose: to hunt you down like an animal. Once built, this robot will be fast, agile and strong enough to chase down, catch and subdue even the fastest human runners. This robot is one of a line of prototypes known as "terror bots." An appropriate name, especially if you see this guy biting at your heels as you run full speed. BLOG: TERROR BOTS BEING DESIGNED TO HUNT YOU DOWN
CITEC
HECTOR
If this robot reminds you of Scorponok from the "Transformers" film series, you wouldn't be far off. Designed by researchers at the University of Bielefeld, this advanced walking robot is based on a rather simple creature: an insect. HECTOR, short for Hexapod Cognitive autonomously Operating Robot, has six legs and elastic joints that allow its motions to mimic muscle movement. This construction allows the robot to navigate over uneven terrain. At a little more than three feet long and weighing in at 26 pounds, this robot probably won't be involved in any world domination schemes anytime soon. BLOG: HECTOR THE WALKING ROBOT INSPIRED BY INSECTS
Georgia Tech
Snake Robot to the Rescue
Cheetahs and insects aren't the only animals inspiring robotics' engineers. Mechanical snakes are also being designed to mimic their mechanical counterparts. Unlike CHEETAH, which is made to hunt you down, this snake robot, created by researchers at Georgia Tech Univeristy, is actually designed to come to the rescue. Their unique body shape allows them to burrow through uneven soil. With this unique feature, emergency responders could deploy these robots after a particularly devastating natural disaster, such as an earthquake, when victims are buried and out of reach. BLOG: SNAKE-LIKE ROBOT SWIMS TO THE RESCUE
Vstone
Running Robot
Robots may not yet be able to conquer the Earth, but what about the wide world of sports? They're already playing soccer and tossing baseballs. Now it looks like they're competing in marathons. (Well, robot marathons anyway.) Last February, five bipedal robots ran a non-stop 26.2-mile race on a 100-meter indoor track in Osaka, Japan. But don't expect these machines to compete with humans anytime soon. Robovie-PC, the winner of the race, finished in just under 55 hours. BIG PIC: TOY-SIZED HUMANOID WINS ROBOT MARATHAN
Ingmar Posner, Oxford Mobile Robotics Group
Reading Robot
No this robot can't run or jump or slither or swim. So what can it do? This machine, known as Marge, has a very different ability entirely: It can read -- and it can learn. Marge may just look like a Tonka truck underneath a coffee pot, but this machine is actually smart enough to read The New York Times and BBC Online. It is even a skilled editor and can identify and correct misspellings. And because Marge's brains are built in its software, not its hardware, this same programming could make its way into other devices, such as cell phones. BLOG: ROBOT CAN READ, LEARN LIKE A HUMAN
Bret Eckhardt
Ethical Robot
Can anyone really tell the difference between right and wrong? Well, this robot can. This robot's ethical code is based on a software program modeled on an approach to ethics developed in 1930 by Scottish philosopher David Ross. As a result, this robot is designed to take the moral high ground -- and will tell on you if you're doing something wrong. Sure this robot doesn't have the firepower of an Ironhide or a Starscream, but a judgmental expression and a jittery nod of disapproval can be just as damaging. BLOG: ROBOT MAKES ETHICAL DECISIONS
NASA
Robonaut 2
Meet Robonaut 2, a humanoid robot that could one day be your co-worker -- or even take your job. Yes, this robot has everything any employer looks for in a diligent worker: It's capable and tireless, and it doesn't ever need lunch or bathroom breaks. In fact, you'll never guess where this robot is currently employed: the International Space Station. Robonaut 2 is currently working along astronauts, helping with basic maintenance tasks, such as cleaning. DNEWS VIDEO: MEET 'ROBONAUT 2,' YOUR FUTURE CO-WORKER
NASA
Dextre
Robonaut 2 isn't the only robot on the space station with a job. Dextre, the Canadian robot that lives outside the International Space Station, has been tasked with refueling satellites while in low-Earth orbit. The robot will also be capable of performing minor repairs. In other words, this robot is essentially a space mechanic. Although a gas-pumping robot may not seem like much, Dextre could pave the way for an entirely new industry for satellite servicing. NEWS: SPACE STATION ROBOT LANDS A JOB

Right now, a robot can vacuum your house or change your cat's litter box, but good luck carrying on a conversation with one. In the next few years, however, that could change: Robotics researchers have discovered that "smart objects" — household objects with rudimentary social interaction abilities — can generate as much empathy from tech-savvy humans as fully humanoid robots.
Dr. S. Shyam Sundar and a team of researchers at Penn State set up a sly experiment to measure responses to a "smart" tissue box. Sixty-three undergraduate students participated in a study they believed would measure their cognition during an online game.
During the experiment, the presenter sneezed, at which point either a research assistant, a humanoid robot or a tissue box would say "Bless you!" and "Here, have a tissue." This delighted a number of students, some of whom exclaimed, "That is cool!" or "Where did that come from?"
The students completed a survey afterwards, still ostensibly about the game, but with a number of questions intermittently incorporated about the sneeze and whichever entity — humanoid robot or smart tissue box — consoled the sneezing presenter.
"Right now, [smart objects] are just kind of invisible," Sundar told TechNewsDaily. "But we think that down the road when they become ubiquitous, they need to start communicating with us."
The initial findings on smart object communication were encouraging: When measured for traits like friendliness, sociability and intelligence, the smart tissue box scored similarly to the human research assistant, and occasionally exceeded the humanoid robot. "We did not find that there was a visible negative reaction," Sundar said.
Results also varied based on individual predispositions to technology (the study deemed tech-savvy students "power users") and "parasocial" intelligence, or "the tendency for being immersed in media," according to Sundar. "A 'parasocial tendency' is the ability to be in a social relationship with a mediated entity as if it were real." In other words, viewers who get attached to characters on TV shows are likely to view smart objects with amusement rather than uneasiness. [See also: Top 7 Useful Robots You Can Buy Right Now]
A talking tissue box may not be the scientific world's most pressing advancement, but Sundar believes that smart objects have a more important role to play in the future.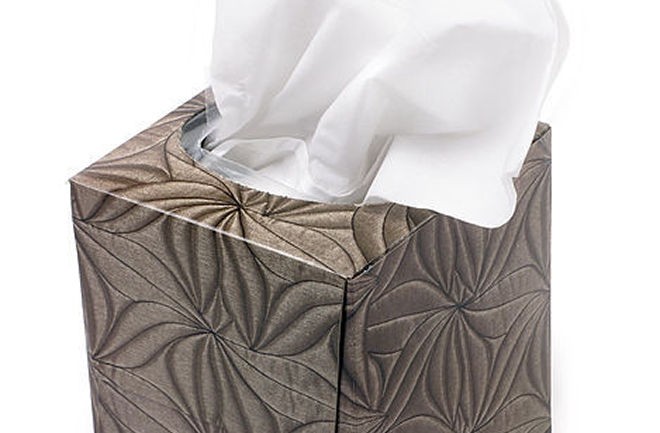 A talking tissue box tests 'smart object' technology.Public Domain
"The baby boomer generation is going to explode into retirement in the next few years," he said. "They're going to have a whole bunch of smart objects, including a pillbox that talks to them."
Sundar also envisions a refrigerator that can inform people when they're low on food via Twitter, and even a "smart house" where all the appliances communicate with each other to keep affairs in order.
With only 63 participants (most of whom were female, and all of whom were about 20 years old), the experiment does not necessarily predict how most people will react to smart objects. "Some people are going to be more accepting than others," Sundar said. "This is not something that would be universal, at least right now."
Useful household robots and an aging population that wants to stay put may well create a desire for more companionable machines. They won't be "more human than human," to take a line from "Blade Runner," but robotic vacuum cleaners and pillboxes will likely be more efficient at a rote task than true androids.
Follow Marshall Honorof @marshallhonorof. Follow us @TechNewsDaily, on Facebook or on Google+.
More from TechNewsDaily:
'A Boy and His Atom': IBM Makes World's Smallest Movie

10 Sci-Fi Predictions That Came True

2013 Best Robot Vacuum Reviews and Comparisons
This article originally appeared on TechNewsDaily.
Copyright 2013 TechNewsDaily, a TechMediaNetwork company. All rights reserved. This material may not be published, broadcast, rewritten or redistributed.