BIG/Amager Resource Center (ARC)
The Amager Resource Center (ARC), an energy plant to be finished by 2017 in Copenhagen, will incinerate the city's garbage and provide a ski slope on its roof.
Christian Pondella/Getty Images
Levi LaValle of the USA takes flight during Snowmobile Freestyle at the X Games in Aspen on Jan. 24, 2013.
Stockbyte
Sure, motorcycles are great -- and snow is great -- but what if you put them ... together?
Mark Wieland/Getty Images
A surfer rides the man-made Eisbach (Ice Brook) wave in Munich. It's been surfed since 1972, and officials made it legal to ride in 2010.
Richard Bord/Getty Images
Aluan Ricciardi from France rides the Superpipe during the Winter X-Games Europe in Tignes, France.
Doug Pensinger/Getty Images
Greg Joyce hangs on to his shovel while shovel racing -- an annual event -- in Steamboat Springs, Colo.
Doug Pensinger/Getty Images
Snowboarder Mark McMorris of Canada soars off a jump as he qualifies for the Winter X Games in Aspen, Colo.
Richard Bord/Getty Images
Shaun White from the USA rides the Slopestyle at the Winter X-Games in Tignes, France.
Carl Court/AFP/Getty Images
Freestyle skiing is just slightly more extreme when you do it in front of the Battersea Power Station in London.

In a few years, skiers in Copenhagen will swish down black-diamond slopes while garbage burns underneath them. The garbage incinerator/ski resort is being billed as a year-round green retreat for skiers seeking powder while promoting the city's mission to become carbon-neutral.
Meanwhile, skiers at Canyons Resort in Park City, Colo., line up for a ski lift with heated seats -- "talk about carbon emission!" said Jorge Rivera, associate professor of public policy at George Washington University, who is working on a paper on how ski resorts are adapting to climate change.
The two represent opposite ends of how ski resorts are responding to global warming. Today, the Ski Area Citizens' Coalition released its annual report card that ranks ski resorts in the western United States on their environmental impact.
While this year's report found that ski resorts are increasingly using alternative energy produced onsite, the expansion of many resorts continues to infringe on wildlife and reduce water quality of nearby streams.
Even since it started issuing scores 12 years ago, climate change has become more of a threat to the sport -- so much so that researchers have shifted how criteria are weighted in the scorecard. The 2013-14 version, for example, gives more credence to issues related to climate change than the inaugural scorecard.
"We're getting worse and worse ski seasons, which increases the need for snowmaking, which starts a cycle" because the more water is artificially added to the environment, the less snow actually falls, said Gavin Feiger, senior program associate for the Sierra Nevada Alliance, which coordinated the scorecard.
At Bear Mountain near Los Angeles, for example, snow guns are a necessity.
"Snowmaking equipment makes skiing possible there," Rivera said. "Twenty years ago, they didn't need to make that much."
That equipment has gotten more efficient, and some resorts have found innovative ways to use their resources: Arizona Snowbowl, for example, recycles its sewage water into snow.
Researchers have used the Coalition's scorecards to pinpoint how resorts are affecting the local and global environment.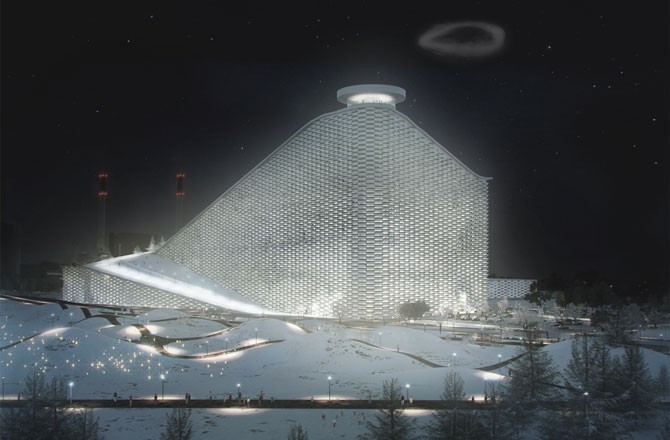 The Amager Resource Center (ARC), an energy plant to be finished by 2017 in Copenhagen, will incinerate the city's garbage and provide a ski slope on its roof. BIG/Amager Resource Center (ARC)
"Our results show that, as ski resorts' average winter snowpack depth becomes smaller over the years, they are more likely to increase their use of snowmaking, expand their skiing terrain to previously undeveloped areas, and develop real estate in previously undeveloped areas," said Peter Tashman, an assistant professor at Portland State's School of Business, who is leading the research with Rivera.
"These practices appear to lower a ski resort's environmental performance with respect to how well they are protecting sensitive wildlife habitats, ecosystems and riparian zones."
Washington's Stevens Pass tops the scorecard this year with a grade of A, in part due to a project to power its lift station lights, heaters and backup batteries with solar energy. (The Eastern United States isn't included in the report, but Berkshire in Massachusetts became the first ski resort to produce 100 percent of its own power.)  
At the opposite end is Mt. Spokane, which is proposing to add a ski lift and seven trails without preparing an Environmental Impact Statement.
Several resorts are also going year-round, proposing additions such as zip lines and roller coasters, Feiger said. The potential environmental impact of running air conditioning and gondolas during warm months is unclear.
While the National Ski Area Association (NSAA) has organized voluntary programs for ski resorts, like "Keep Winter Cool" and the "Sustainable Slopes Program" to lower their environmental footprints, researchers shared tips on what skiers can do themselves:
Stay close to home. "Flights are probably the main generators of carbon. It's not so much what you do on the slopes," Rivera said. Instead of flying from New York to Steamboat Springs, consider carpooling to an Eastern resort.
Choose "A" resorts: "I hope people choose to vote with their wallet and patronize environmentally friendly ski resorts," Feiger said. And if you're not sure about a resort's environmental policy, ask. "Some ski resorts are very good about drawing attention to their efforts at reducing emissions and waste (through recycling, low-water toilets, motion sensors for lighting). Skiers can be on the lookout for these signs at proactive resorts, look for similar signs at other resorts and then comment to resort management about practices they've seen at other resorts if they are not directly visible," Tashman said.
Be a megaphone: "People can tell all of their friends about how climate change is threatening their favorite sport," Tashman said.