Six Awe-Inspiring Art Installations Worth the Road Trip (or Scuba Dive)
Planning a summer museum tour? Don't miss Damien Hirst's The Physical Impossibility of Death in the Mind of Someone Living (the infamous shark suspended in formaldehyde) at London's Tate Modern or I Spy: Photography and the Theater of the Street exhibit at Washington D.C.'s National Gallery of Art. Then again, it's almost summer. Here's where [...]
Planning a summer museum tour? Don't miss Damien Hirst's The Physical Impossibility of Death in the Mind of Someone Living (the infamous shark suspended in formaldehyde) at London's Tate Modern or I Spy: Photography and the Theater of the Street exhibit at Washington D.C.'s National Gallery of Art. Then again, it's almost summer. Here's where to get outside and immerse yourself in great art.
The Lightning Field, New Mexico
Prepare to be electrified—especially if you visit this remote Quemado, New Mexico, installation by Walter Demaria in the height of lightning season, mid-July through August. Sitting on a wide-open plain at 7,200 feet, 400 polished stainless steel poles sizzle when lightning strikes. Reserve the basic three-bedroom cabin for shelter far in advance from May through October.
Museo Subacuatico de Arte, Mexico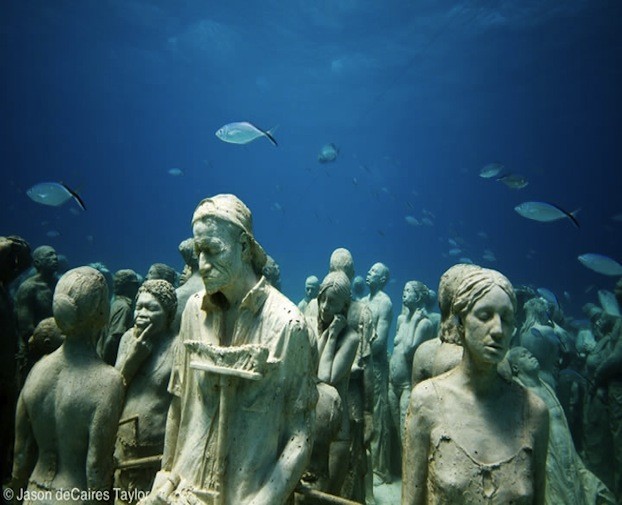 Photo: www.jasondecairestaylor.com
This underwater installation in the warm Caribbean water of the Riviera Maya has more than 403 permanent life-size sculptures made from specialized material that promotes coral life. In addition to providing snorkelers and scuba divers with an eerie, exciting subaquatic experience, Jason deCaires Taylor's four-part series diverts the Cancun Marine Park's annual 750,000 visitors away from natural reefs to allow them to recover. Good news: Taylor has expanded his artistic conservation efforts with 65 sculptures sunk in Molliniere Bay off the west coast of Grenada.
Prada Marfa, Texas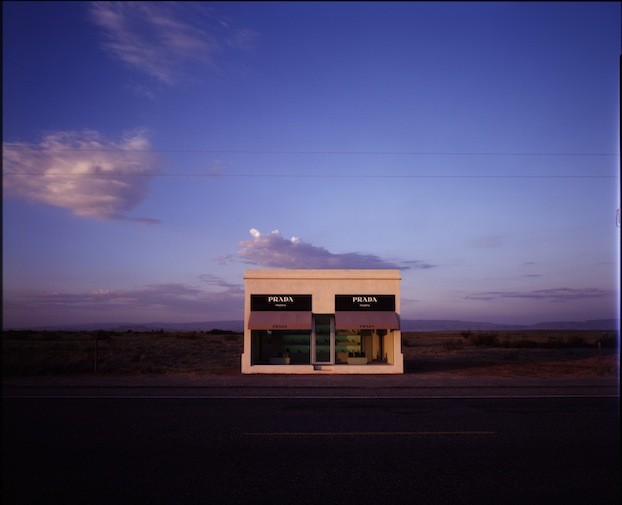 Photo: James Evans
No, you can't buy a pair of stilettos at this Prada outlet—the door doesn't open—but you can long for the luxury goods from Prada's fall 2005 collection through the windows. You can also get a laugh over the wild juxtaposition between the Prada store front and the vast lonesomeness surrounding it. Conceived by Elmgreen & Dragset and co-produced by Ballroom Marfa and Art Production Fund, Prada Marfa sits on a stretch of Route 90 just outside of Valentine, Texas, just northwest of Marfa. If the scenery looks familiar, the hair-crawling Oscar winner "No Country for Old Men" was filmed around here. Coming soon: Ballroom Marfa Drive-In, an outdoor cinema house, gallery, music hall, theater, and park designed to resurrect the community of the 60s-era drive-in movie theaters.
Burning Man, Nevada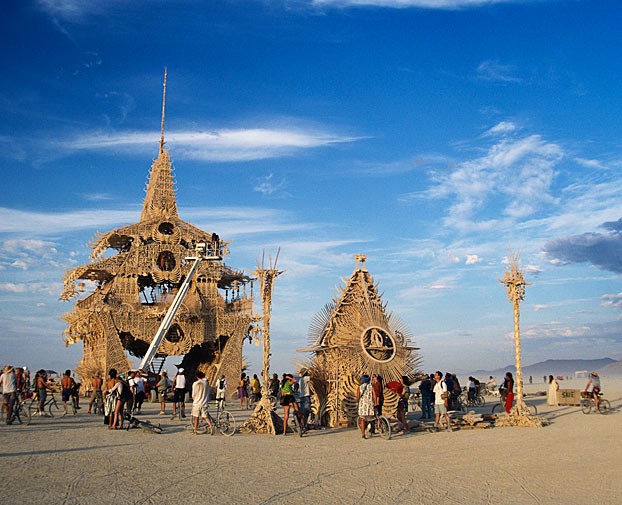 Photo: Craig Lovell/CORBIS
Every summer for a week, Black Rock City springs up in the middle of the Black Rock Desert. With it comes a fantastic, eclectic, whimsical, powerful, and oftentimes hallucinogenic myriad of art installations, all centering around an annual theme. The above Installation, "Temple of Joy," from 2002, was built out of recycled wood from a toy factory. This year's focus: Fertility 2.0, which "contemplates the tendency of any being or living system to create abundant life." This year's festival, August 17 to  September 3, is "beyond sold out," according to one Burning Man official. So start planning for next year.
Color Jam, Chicago
Chicago is a Mecca of outdoor art installations, with a 50-foot-tall untitled Picasso, Marc Chagall's "The Four Seasons" mosaic, Richard Serra's "Reading Cones," and Anish Kapoor's 110-ton elliptical "Cloud Gate," just to name a few. In June, artist Jessica Stockholder's "Color Jam," a Christo-inspired installation, will fill a to-be-determined State Street intersection with bursts of color using fabric, painting, light, and sculpture to create imagery that looks like an animated film.
The Ice Hotel, Sweden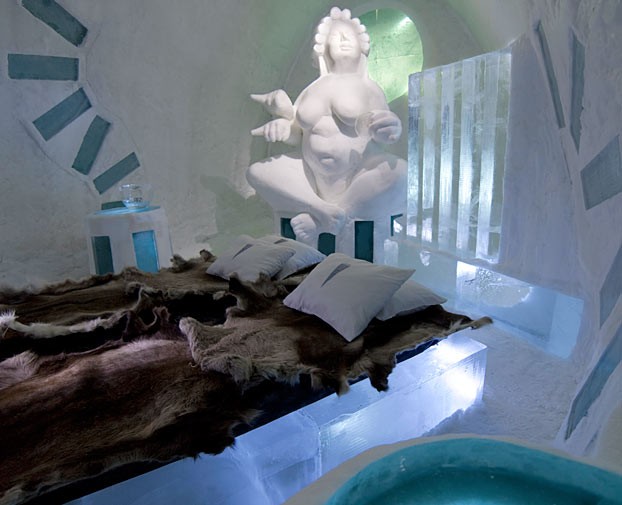 Photo: Photobigben.com
Book your New Year's trip to Jukkasjarvi, Sweden, now: Each fantastical room in this 5,500-meter palace built from ice mined from the nearby Torne River is designed and sculpted by famous artists from around the world. The 2013 lineup is still to be determined, but a favorite room from 2012 was the Coffee Mudra, sculpted by Swedish artists Nina and Magnus Hedman, where a female Buddha overlooks an ice bed covered in reindeer pelts, where you can, as the Ice Hotel's website puts it "Leave the cold world behind…to find the warmth and comfort that comes with the softness of a woman's body and a cup of freshly brewed coffee."