Silkworm Drives Robot, Cruisin' for Ladies
A small, two-wheeled robot has been driven by a male silkmoth to track down the sex pheromone usually given off by a female mate.
Paramount Pictures Corporation
June 29, 2011 --
In the movie "Transformers: Dark Side of the Moon," Autobots, transforming robots from the planet Cybertron, work alongside humans to battle the Decepticons, a rival group of robots bent on destroying the universe. The latest Transformers installment may just be a work of fiction, but would real-life robots on Earth be up to the task of saving the planet from the threat of an overwhelming destructive force? Of course not, but that doesn't mean they won't get there one day. Until then, we present the next best thing in this slideshow of incredible real-life robots.
Alex Kossett and Nikolaos Papanikolopoulos, U
Rolling Robot
We begin the slideshow with an actual real-life transforming robot. Although it doesn't tranform into a sentient, humanoid machine, this robot can transform from what appears to be an elaborate motorized rolling pin to a helicopter when the terrain starts to get rough.
Take a look at this flying robot in action here. BLOG: Rolling Robot Transforms into a Helicopter
Boston Dynamics
CHEETAH
What's more terrifying than a hungry, fully grown cheetah chasing you down? How about if it were made of metal? Meet CHEETAH, a robot designed by Boston Dynamics for one purpose: to hunt you down like an animal. Once built, this robot will be fast, agile and strong enough to chase down, catch and subdue even the fastest human runners. This robot is one of a line of prototypes known as "terror bots." An appropriate name, especially if you see this guy biting at your heels as you run full speed. BLOG: TERROR BOTS BEING DESIGNED TO HUNT YOU DOWN
CITEC
HECTOR
If this robot reminds you of Scorponok from the "Transformers" film series, you wouldn't be far off. Designed by researchers at the University of Bielefeld, this advanced walking robot is based on a rather simple creature: an insect. HECTOR, short for Hexapod Cognitive autonomously Operating Robot, has six legs and elastic joints that allow its motions to mimic muscle movement. This construction allows the robot to navigate over uneven terrain. At a little more than three feet long and weighing in at 26 pounds, this robot probably won't be involved in any world domination schemes anytime soon. BLOG: HECTOR THE WALKING ROBOT INSPIRED BY INSECTS
Georgia Tech
Snake Robot to the Rescue
Cheetahs and insects aren't the only animals inspiring robotics' engineers. Mechanical snakes are also being designed to mimic their mechanical counterparts. Unlike CHEETAH, which is made to hunt you down, this snake robot, created by researchers at Georgia Tech Univeristy, is actually designed to come to the rescue. Their unique body shape allows them to burrow through uneven soil. With this unique feature, emergency responders could deploy these robots after a particularly devastating natural disaster, such as an earthquake, when victims are buried and out of reach. BLOG: SNAKE-LIKE ROBOT SWIMS TO THE RESCUE
Vstone
Running Robot
Robots may not yet be able to conquer the Earth, but what about the wide world of sports? They're already playing soccer and tossing baseballs. Now it looks like they're competing in marathons. (Well, robot marathons anyway.) Last February, five bipedal robots ran a non-stop 26.2-mile race on a 100-meter indoor track in Osaka, Japan. But don't expect these machines to compete with humans anytime soon. Robovie-PC, the winner of the race, finished in just under 55 hours. BIG PIC: TOY-SIZED HUMANOID WINS ROBOT MARATHAN
Ingmar Posner, Oxford Mobile Robotics Group
Reading Robot
No this robot can't run or jump or slither or swim. So what can it do? This machine, known as Marge, has a very different ability entirely: It can read -- and it can learn. Marge may just look like a Tonka truck underneath a coffee pot, but this machine is actually smart enough to read The New York Times and BBC Online. It is even a skilled editor and can identify and correct misspellings. And because Marge's brains are built in its software, not its hardware, this same programming could make its way into other devices, such as cell phones. BLOG: ROBOT CAN READ, LEARN LIKE A HUMAN
Bret Eckhardt
Ethical Robot
Can anyone really tell the difference between right and wrong? Well, this robot can. This robot's ethical code is based on a software program modeled on an approach to ethics developed in 1930 by Scottish philosopher David Ross. As a result, this robot is designed to take the moral high ground -- and will tell on you if you're doing something wrong. Sure this robot doesn't have the firepower of an Ironhide or a Starscream, but a judgmental expression and a jittery nod of disapproval can be just as damaging. BLOG: ROBOT MAKES ETHICAL DECISIONS
NASA
Robonaut 2
Meet Robonaut 2, a humanoid robot that could one day be your co-worker -- or even take your job. Yes, this robot has everything any employer looks for in a diligent worker: It's capable and tireless, and it doesn't ever need lunch or bathroom breaks. In fact, you'll never guess where this robot is currently employed: the International Space Station. Robonaut 2 is currently working along astronauts, helping with basic maintenance tasks, such as cleaning. DNEWS VIDEO: MEET 'ROBONAUT 2,' YOUR FUTURE CO-WORKER
NASA
Dextre
Robonaut 2 isn't the only robot on the space station with a job. Dextre, the Canadian robot that lives outside the International Space Station, has been tasked with refueling satellites while in low-Earth orbit. The robot will also be capable of performing minor repairs. In other words, this robot is essentially a space mechanic. Although a gas-pumping robot may not seem like much, Dextre could pave the way for an entirely new industry for satellite servicing. NEWS: SPACE STATION ROBOT LANDS A JOB

A team of Japanese scientists has built a tiny robot that is driven by a male silkworm moth to find a female moth's seductive pheromone smell. The idea is to somehow engineer the same kind of natural mechanism the moth uses and translate that into a device or sensor that could help autonomous robots track hazardous smells or environmental poisons, for example.
The team built a motorized wheeled car that the moth steers with a small trackball, similar to the ones used in a computer mouse. The male silkworm moth was strapped into a driver's seat. It was chosen because this kind of moth does a mating dance, consisting of a repeating pattern of moves and zigzags. The moth did its dance on top of the trackball, which then translated its movements to follow the path of the pheromone.
The experiment was published in this week's edition of the journal Bioinspiration and Biomimetics. Lead author Noriyasu Ando, an associate professor at the University of Tokyo's Research Center for Advanced Science and Technology, has been working on the project for the past three years. He said the goal is to figure out how an insect can control a machine.
"From biomimetic perspective, researchers expect that a biomimetic autonomous robot based on the insect sensory-motor system to be simple, fast and adaptive to the environments, however, nobody had evaluated that whether the insect-based system could behave adaptively," Ando said in an e-mail to Discovery News.
See the video.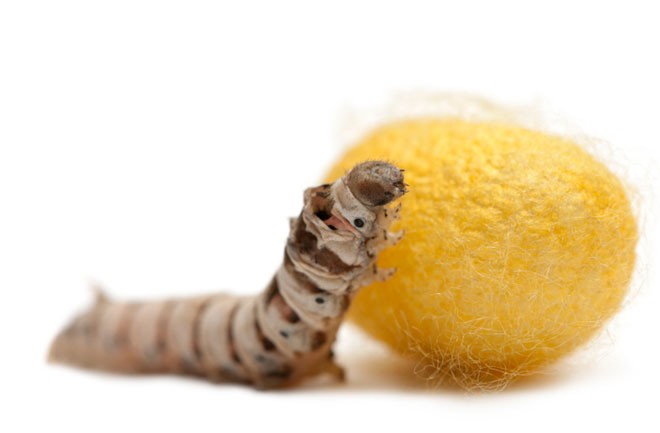 Future cruiser: Silkmoth larvae and cocoon.Photodisc/Getty Images
The researchers also tried to introduce something called "turning bias" in the experiment, which purposely steered the robot buggy the wrong way sometimes, forcing the silkworm moth to frantically adapt and change directions to follow the sexy smell.
But one expert was not overly impressed with the experiment. Jelle Atema, biology professor at Boston University and the Woods Hole Oceaographic Institution, has been studying how animals follow smells underwater for more than 20 years. He and colleagues built a "robo-lobster" in the early 1990s that used smell to detect potential prey.
"It's stunning engineering, but they are doing it in very artificial conditions and I'm not sure what we've learned," Atema said about the paper.
Atema noted that developing an artificial autonomous device that can track smells – as opposed to visual or auditory cues – has proven extremely difficult. That's because of the way smells form plumes and patches in the atmosphere.
"When you look at an odor plume, there are very holes in the concentration. It's not like a smoke plume out of a stack, you see dense concentration that breaks up in patches that drift away with the current. The problem everyone is having is how do animals connect with the plume in the first place."
Atema said by using the fans to blow the pheromone to the moth, it eliminates this key step in the smell-detecting algorithm.
Ando said that he and his colleagues have been studying neuronal mechanisms of the moth brain and trying to reconstruct it into a supercomputer. From there, the idea is to build a sensor "which is an ultimate bottom-up approach to achieve the artificial brain," Ando said. "We also think that the insect-controlled robot will be a 'reference' when we evaluate accuracy of the artificial brain comparing to the real one."
The ultimate goal is to mimic the abilities of the moth.
"If we can increase the performance of the robot by manipulations, more than that of naïve insects, it might be useful for finding odorants for the future," he said.
Atema did have some praise: "I'd like to work with those guys and ask different questions about their robot," he said.