Should We Worry About Terror From Chechnya?
Two Boston bombers had family ties to the bloody region, although terror links remains unclear.
Corbis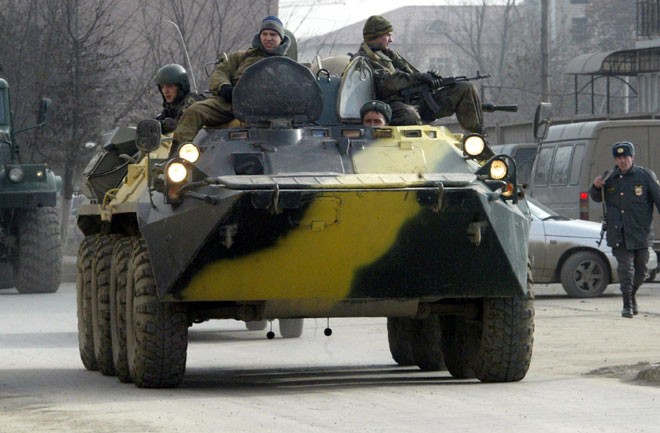 Russian military personnel sit on an armoured vehicle as they patrol the central part of Chechen capital Grozny.Corbis
Two brothers with origins in the volatile northern Caucasus region have spread fear and terror throughout Boston just a few days after police say they were suspected of setting off bombs at the finish of the city's famed marathon.
Chechnya and the surrounding region are the homeland to refugees seeking to escape a war zone for a better life in the United States or Western Europe. The area is also home to several Muslim terror groups, experts say, who are trying to exploit poverty and conflict to expand the influence of radical Islamic ideology.
Details are slowly emerging about the lives of 26-year-old Tamerlan Tsarnaev, who was shot and killed by police last night, as well as his 19-year-old brother Dzhokhar Tsarnaev, who is still on the loose. The older brother was born in Kyrgystan, while the younger was born in Dagestan, a Russian republic. Their families are ethnic Chechen, according to their uncle, who spoke to reporters Friday outside his home in Montgomery Village, Md.
Chechnya is a province of Russia and has been fighting the central government for more than two decades. But the conflict has evolved from a war for independence into one about religious ideology, according to Svante Cornell, director of the Central Asia Caucuses Institute at Johns Hopkins University in Washington.
Cornell said he did not have any information about the Tsarnaev brothers, but was speaking about previous terrorist events.
"Young Chechens are not focused on an independent state, but a jihadi ideology," Cornell told Discovery News. "This is the way to understand what might have been going on. Perhaps they (the Tsarnaevs) were sucked up into an Islamic and jihadi vortex and were diverted into an organization or network that was very much unrelated about their place of birth."
Chechen rebels, or terrorists, depending on the definition, have a history of spectacular attacks in the former Soviet Union that arose after a bitter war. Between 1991 and 1996, an estimated 70,000 civilians died and hundreds fled during the battle for Chechen independence. In the end, Russian troops were forced to leave, but the resulting chaos led to the rise Islamic terror groups that continue to operate, Cornell said, even after Russia regained control of the region in 1999.
Then the terror from Chechnya spread to Russia, according to the Council on Foreign Relations.
In 2002, Chechen rebels seized a theater in downtown Moscow with 700 people at a performance. Opium-related gas fired by Russian authorities killed 120 people, mostly civilians.

In 2004, Chechen militants took over a school in Beslan, Russia. The resulting siege and armed response by the Russian military led to the deaths of more than 300 civilians.

In 2010, female suicide bombers detonated explosives in a Moscow subway station, killing 39 people. A Chechen leader took responsibility.
Cornell pointed to two such radical groups, the Islamic Emirates of the North Caucuses and the Islamic Jihadi Union, as particularly worrisome. Both have ties to Al-Qaeda and related groups in Pakistan and Afghanistan.
Four members of the Islamic Jihad Union were behind a foiled terrorist attack against U.S. military and civilian targets in Germany in 2007. The men -- two Turkish citizens and two German citizens -- were convicted and serving prison sentences.
Another analyst said that it's too early to know the links behind the brothers who spent the past 10 years living in Cambridge, Mass., and the land of their parents, which has a recent history of bloodshed.
"Just because they are from Chechnya, doesn't mean they are Chechen terrorists," said Michael Dodge, a policy analyst at the Heritage Institute in Washington. "We will see where the traces lead. Have they traveled to Russia? Do the authorities have information on these individuals? There is a wide range of possibilities of how this could play out."
This 2012 report from the Heritage Institute gives a comprehensive history on the troubled region, and possible solutions.
Russian authorities are already taking steps to prepare for possible Chechen-related terrorism at the 2014 Winter Olympics in Sochi, a Black Sea resort.