IKEA Monkey: People in a Toronto Ikea encountered a bizarre fellow shopper over the weekend — a monkey in a stylish shearling coat.
Since we live in a social media world, word (and photos) quickly spread and at least two Twitter accounts were started with Tweets like: "What's all the fuss about?" and "Police say a man with a yellow hat has come forward to claim monkey seen inside Ikea store."
It was later revealed that the monkey had managed to open its crate where it had been left in a car by its owners. After escaping the crate, the monkey unlocked the car door and went for a stroll in the Ikea parking lot.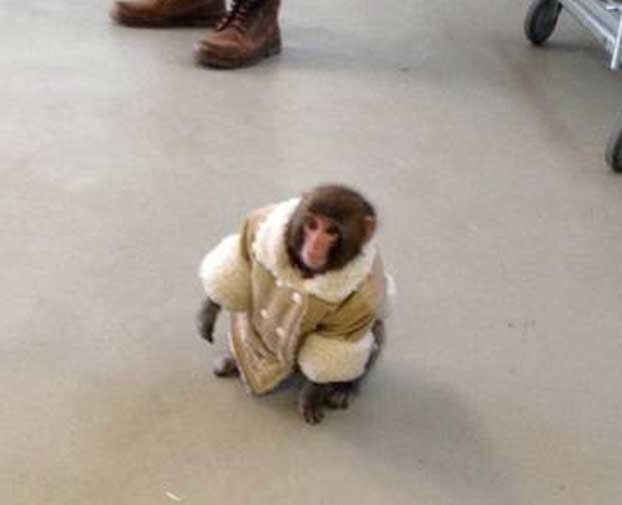 Photo: Bronwyn Page/Twitter
The monkey was directed to a corner of the store by Ikea employees and
police until animal services arrived. The monkey was not hurt, although it seemed rather stunned.
"It was pretty scared. It was a tame monkey," Sgt. Dzingala said. "Nobody got hurt. The monkey was a little scared, that's all."
Toronto city spokesman Steve Johnston told the Globe and Mail that the monkey is seven months old and a rhesus macaque, a
species that is illegal to have in Ontario. Charges were
filed against the owner for having a prohibited animal in the city. The owner was fined $240 and will not get the monkey back.
As for the coat, Tom Podolec of CTV News reported on Twitter that it is primarily wool and is said to be the monkey's favorite.