Shark Attack Victims Still Fighting to Save Sharks
The legislative battle to conserve sharks has been brutally challenging, but it remains vitally important, writes shark attack survivor Debbie Salamone.
Guest commentator Debbie Salamone is Communications Manager at the Pew Campaign to End Overfishing in the Southeast.
My fellow shark attack victims and I have survived serious injuries or lost limbs, but our quest to persuade the U.S. Senate to save sharks is proving nearly as challenging.
Capitalizing on our ability to forgive our attackers and our passion for conservation, nine of us trekked to Washington, D.C. last summer to ask senators to close loopholes in the nation's shark finning ban. But we are still waiting for results.
Shark attack victim Chuck Anderson tells his dramatic story of survival and calls for shark conservation (from Adam Enatsky on Vimeo).
Finning is a process where fishermen slice off a shark's fins and dump the animal, sometimes still alive, back in the water. The sharks drown or bleed to death. Up to 73 million sharks are killed annually for their lucrative fins, which can fetch up to $300 per pound as a soup ingredient — mostly in Asian markets.
The U.S. banned the practice in 2000, but a major loophole became obvious two years later when the Coast Guard boarded a U.S. ship chartered by a Hong Kong company and found it loaded with 32 tons of shark fins. The government lost its court case when a judge ruled the law applied only to fishing vessels, not all ships.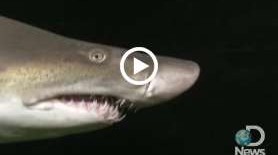 WATCH VIDEO: Shark attack victims take the fight to save sharks to Capitol Hill
Following the shark attack survivors' visit to Washington, organized by my colleagues at the Pew Environment Group, more senators agreed to close the loopholes by sponsoring the Shark Conservation Act, which the House already has approved. Today, 30 senators have signed on and a key Senate committee has passed it. But we need the full Senate to vote on the measure or approve it through a procedural process.
The Senate has been busy with pressing matters such as health care and financial reform, not to mention another vital ocean protection issue: fixing the laws to help prevent a repeat of the Gulf of Mexico oil disaster.
But as we wait, shark finning continues to take a dramatic toll. Combined with pollution, overfishing, climate change and other problems, almost a third of the world's sharks are threatened or near threatened with extinction.
These top predators, which often take long to mature and have few young, are vital to the ocean ecosystem and need our help. If a group of shark attack survivors can see the value in saving sharks, we think the U.S. Senate should also understand it and act before their session ends in January.