Sexually Frustrated Dolphin Gets Frisky with a Couple of Scuba Divers (Video)
You may have seen the slogan of street-stylin' apparel maker Aardvark NYC on stickers and t-shirts: "Dolphins Rape People." This may appear to be just a counter-culture phrase for shock-value marketing, but the reality is, dolphins do in fact try to sexually assault humans. According to cayCompass.com, a dolphin known locally by humans as "Stinky" [...]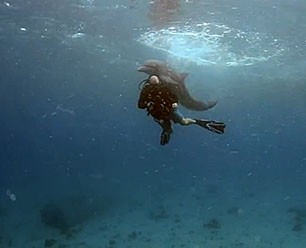 Photo via Michael Maes on YouTube
You may have seen the slogan of street-stylin' apparel maker Aardvark NYC on stickers and t-shirts: "Dolphins Rape People." This may appear to be just a counter-culture phrase for shock-value marketing, but the reality is, dolphins do in fact try to sexually assault humans.
According to cayCompass.com, a dolphin known locally by humans as "Stinky" has been terrorizing divers and snorkelers in West Bay off the coast of Grand Cayman Island. Stinky is one sexually-mature dolphin that is single and ready to mingle, but unfortunately, he is a lone marine mammal that is away from any of his kind. He has been "forced" to resort to relieving his sexual tension with people, e.g. snorkelers, scuba divers, and casual swimmers.
This actually is no laughing matter; GrindTV reports that Stinky has gotten quite aggressive lately, and Cayman officials have urged everyone to "avoid interacting with or feeding the solitary dolphin because it has been sexually aggressive toward humans and poses a great danger."
Underwater filmmaker Michael Maes has documented an encounter with Stinky, so you can see for yourself.
So just when you thought it was safe to go into the water, now there's this. If this keeps up, we'll be having Dolphin Week right after Shark Week.